Má Pêche

As part of my recent initiative to eat a real lunch every few weeks, I ended up at Má Pêche one-day-shy of its first anniversary. Apparently, 364 days is how long it takes me to eventually try a restaurant (and I won't be back, at least not during the day, anytime soon, if only because 35 minutes each way during a workday just isn't feasible).
I shared two versions of the $25 prix-fixe (which never end up being a bargain after ordering two glasses of wine—it was nice seeing a Jura wine by the glass on a short list, though) with a friend.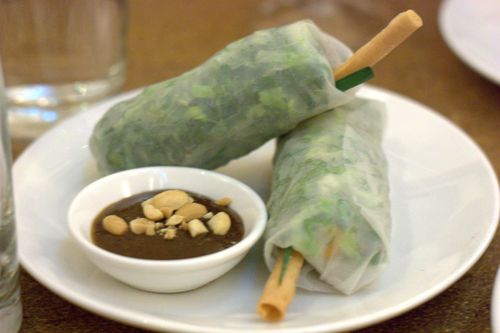 We were hesitant about summer rolls. Would they be any different that at a nicer Vietnamese restaurant? They were certainly heftier with more pork (there's an unseeable slab on the far side of the roll) and greens than one would normally see. What at first I thought was sugar cane turned out to be a fried wonton, resembling a rolled wafer cookie. I liked the added crunch.
Oxtail terrine with pickled carrots, mushrooms and violet mustard skewed more French. I would've probably preferred this first course if I had been dining alone.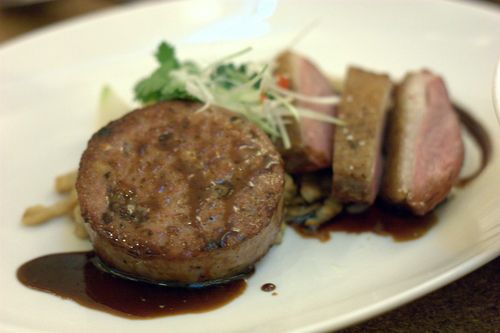 And the rosy slices of duck breast and Jimmy Dean-esque puck (in looks only) of duck sausage with spaetzle would've been my main. Super meaty, so what.
As it was, the half portion of duck was just right with shared rice noodles, sheets formed into tubes not strands and sautéed for textural contrast. Other than pork and what appeared to be fried shallots, I'm not sure what else was in this dish. This looks a little more naked than versions I've seen online.
We took our third course, double chocolate and corn cookies, to go. I forgot to take a photo, but I did not forget to eat the sizeable brown cookie as an early evening snack. I think it broke my pancreas.
Má Pêche * 15 W 56th St., New York, NY