Un-American Activities: Sizzler Bangkok

I had recently been thinking how I never ever think about Sizzler. It's a non-entity in the casual dining universe of New York City suburbs. The chain's prominence in Thailand really threw me for a loop. At prime dinner times, groups were actually crowded around the entrances waiting for seats. Maybe this merited a visit?
Of course it did. We hit the end of a lunch rush, lots of office groups and predominantly Thai, if you must know. No Malibu Chicken, the caloric charmer of my youth. The lure appeared to be the salad bar (which I didn't realize until later was all-you-could-eat). Iced tea so sweet it makes its southern relative taste like a health tonic, was also unlimited.
The salad bar wasn't wildly different than an American one, but there were certainly differences like the pumpkin cashew salad and spicy pork. I don't imagine we have tom yum soup in our buffets either.
The blue cheese, however, was nearly thick and unspreadable as refrigerated peanut butter.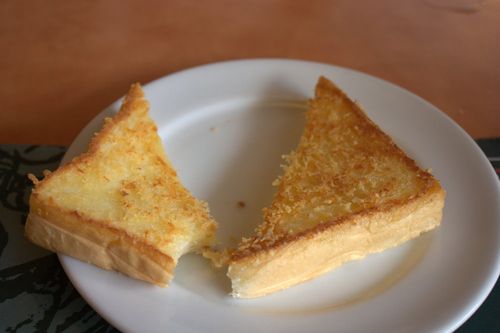 Portions were very un-American, completely reasonable yet petite. The Texas toast cut into halves was meant for two.
I was certain they'd bungle my medium-rare request, and the steak, which I only ordered out of duty wasn't bad. I was expecting the dull, blandness that you get from places like Outback Steakhouse. This little filet actually had flavor and a pleasant texture. I have no idea where the meat comes from. Obviously not Australia since imported beef from down under is a special weekend promotion. Bangkok, only, though.
I was owed a dessert so I picked up the mauve fluff instead of the brown fluff. It just tasted like artificial raspberry-flavored (oops, it's supposed to blueberry—see? It's impossible to tell) whipped cream.
Sizzler * CP Tower, 313 Silom Rd., 2nd Fl., Bangkok, Thailand