La Biznaga

I was a little embarrassed to tell anyone that I ate at La Biznaga twice in one short week in Oaxaca. (Though I was more reticent to admit I was staying at the Holiday Inn Express, an unforeseen event that occurred after not being able to get wireless internet access to work at either the cheap and cheerful B&B or the middle class Mexican hotel I moved to the second night. By the third day I began feeling isolated and crazy since this wasn't intended as a get away from it all vacation. My phone wouldn't work either even though I saw plenty of tourists using theirs. I packed it in and headed for the Holiday Inn where you could also put toilet paper in the toilets and drink the tap water, incidentally. Only then did I realize a wireless switch had been bumped to off on the front of my laptop, likely the problem all along. As punishment I was never able to receive stronger than a LOW signal at the American chain and webpages took five minutes to load, if they did at all before the network connection died.) To the Americans it implied you weren't very adventurous and to the Oaxacans it made you look ostentatious.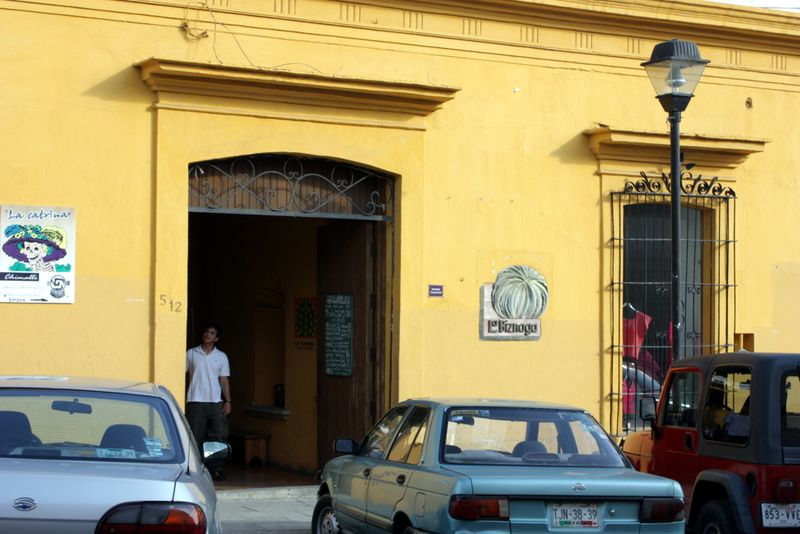 But it's not expensive by even non-NYC American standards and I don't believe it was completely filled with tourists, at least not from the US. I heard plenty of Spanish being spoken by large families with little kids, dates, same-sex and heterosexual, as well as by men with slick silver ponytails, rumpled earth toned suits and white sneakers, though I was told by two separate residents that the restaurant is popular with Chilangos (Mexico City residents). Maybe this was them.
I ended up at La Biznaga my first night and it appealed instantly because I have a terrible phobia of dining alone. I don't even like to eat lunch by myself at casual worker bee spots so I always end up eating at my desk even though I know it's healthier to get out of the office for an hour. I've also never traveled alone before and food-wise (the main reason I travel) it did prove tough because you can't share and get full too quickly to experiment. I never once got to sample a postre because I just didn't have the capacity and felt weird and decadent about leaving parts of my appetizer and entrée behind in order to try dessert.
The room is dim, at least at night. It took me a while to realize we were under open skies. Many of the nicer restaurants in Oaxaca are set inside courtyards with a retractable roof. It seems classically Mexican but I never encountered this style once in Mexico City. I wouldn't be so conspicuous, especially since I was always given a four-seater everywhere I ate and even more opposite of NYC, the tables were spaced with so much distance a person could stand between two, jump around and not touch either with arms outspread. The were enough distractions and ambient noise to deflect any unnecessary attention to my photographing my food (I did draw curious stares elsewhere). You can also smoke, which I only engage in NYC when I'm drinking or partying, which is to say not very often. But on vacation it's a not-so-guilty pleasure; all health-related restrictions are ignored when I'm out of town. It's a rare, rare restaurant in the world that lets you smoke indoors so I take advantage when I can. Non-dance club type bars seemed nonexistent and I felt like sitting in a cantina alone would be asking for trouble, despite my advanced age. However, I could see myself at La Biznaga with a glass of wine (or a shot of mezcal) and a cigarette.
The power of no (gracias) became very necessary, not just while fending off troubadours and bookmark, candy, jewelry, towel and painting vendors from ages six to 80 while sitting the tourist cafes surrounding the zocalo, but in the nicer restaurants, as well. In NYC, you really only get the occasional DVD vendor, usually Asian, in casual Latino restaurants around Jackson Heights and Sunset Park. The staff at La Biznaga allowed some of the little candy-and-bracelet-hawking kids sit at the bar and eat chips, which seemed kind. No one gets gruff with beggars and in turn, those asking for pesos aren't all that aggressive.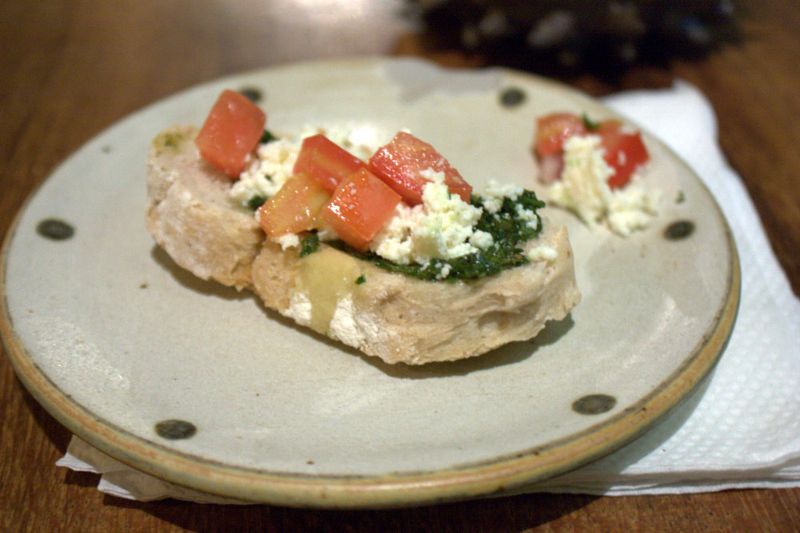 I think I may have been starving on my first day in Oaxaca because the seemingly nothing special tomato, queso fresco and pesto bruschetta tasted like summer in winter (technically, late November). I think it was the salty cheese, not the tomatoes. The crumbly white stuff enlivens anything.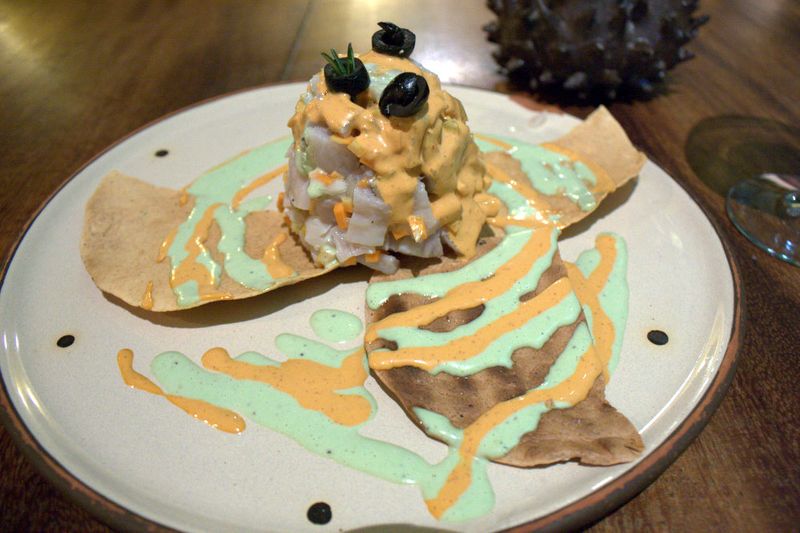 Ceviche de pescado, zanahorias y challotes. The appetizers, or entradas as they say, are substantial. If you'd eaten a heavy mole-sauced lunch, a starter would be plenty for your evening meal. I didn't know that, though. The type of fish wasn't specified, though huachinango, red snapper seemed like the most common fish served in Oaxaca. The flesh was very firm and the flavor very tart and heavy on the lime. The creamy mayonnaisey (Mexicans like mayo almost as much as the Japanese) swirls toned down some of the acid. I'm guessing the carrots referenced in the title are what colored one of the sauces orange because I didn't detect the vegetable anywhere else.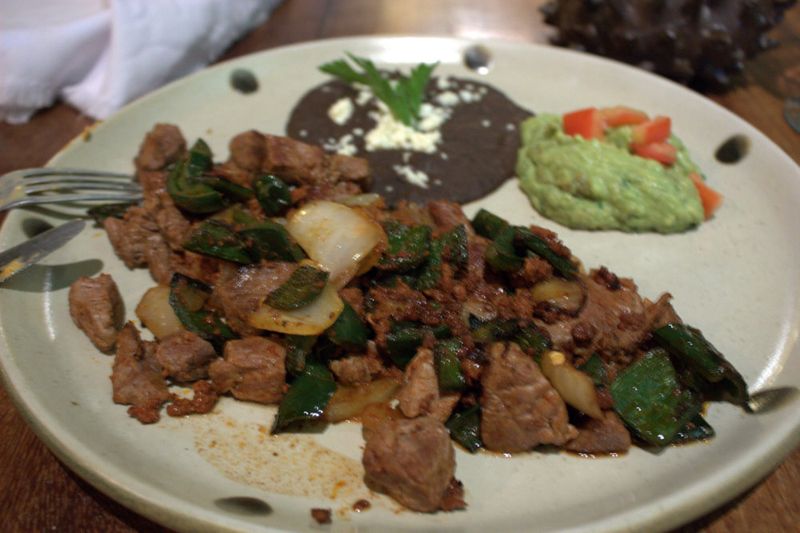 Puntas con poblanos, cebollas y chorizo. Classic Mexican, not so much Oaxacan. A carne asada dish with frijoles and guacamole. I recreated this earlier this week minus the guacamole and chorizo with nice dry-aged flank steak from The Meathook. That was some damn fine meat for a workaday cut and I cooked mine much rarer.
One of my favorite phrases I learned in Spanish class was no vale la pena, it's not worth it, because so much wasn't like taking a six-hour bus ride from Mexico City to Oaxaca when the flight was only 40 minutes (never mind my layover was five hours—I'd rather sit in the airport than on a bus). My teacher described a salad served at La Biznaga as expensive but vale la pena.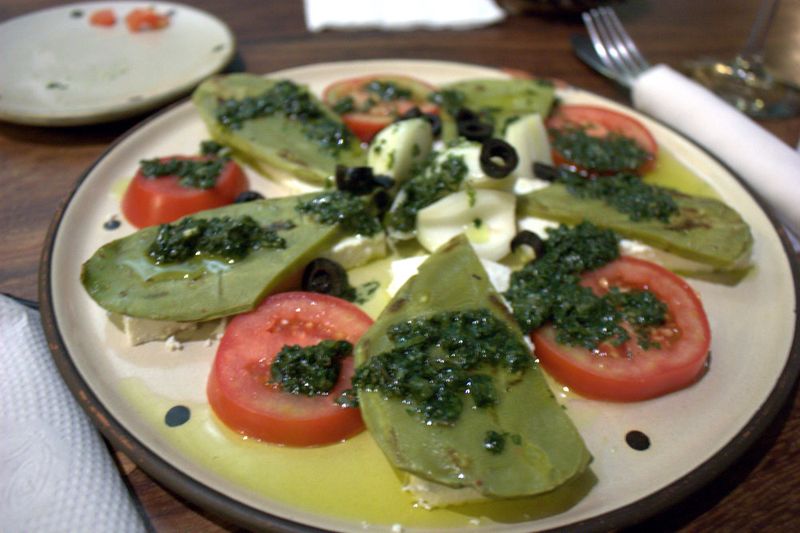 Ensalada de nopales, tomate, queso y aceitunas. Out of curiosity I ordered it on my second visit right after that class. I didn't expect it to be so hearty; those are slabs of queso beneath each cactus paddle and the olive oil was drizzled with a heavy hand. Dressed salads and salads in general are very un-Mexican I was later told in a cooking class so this was very nuevo. Salty, rich and also refreshing (I hadn't eaten any vegetables up until this point) from the limey pickled onions composed in the center. I would definitely say it was vale la pena. It cost 59 pesos or $4.64 as of this writing.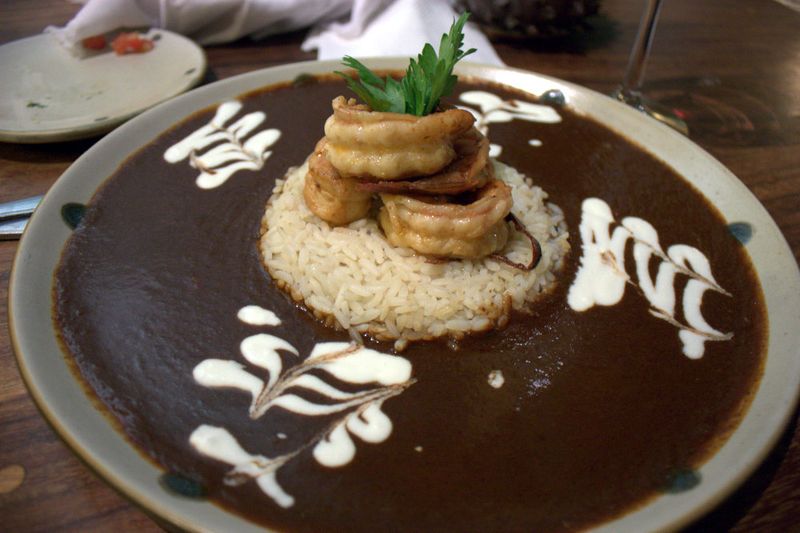 Camarones al ajillo y mole de tamarindo. The expensive salad knocked out any appetite I may have originally had so it was hard to focus on the shrimp. The rice was a little undercooked and the mole was way sour from the tamarind. The shrimp did have more sea flavor than you typically find in the US.
Some would call the service leisurely, others might say neglectful. I thought I might never get my check. After meeting a couple in my first cooking class from Seattle who'd befriended friends from San Francisco at their hotel it turned out we'd all (as well, as two sisters from NYC, also in the class) been at La Biznaga the night before, and they remarked how everyone on staff was high. It would explain a lot.
 La Biznaga * Garcia Vigil 512, Oaxaca, Mexico