Charles' Country Pan Fried Chicken

Charles Gabriel's fried chicken is one of those fundamentals that every food knowledgeable New Yorker is supposed to be familiar with. For burgers the benchmark has become Shake Shack, though I was late to that game too with my first visit being in September (I've still never been to the Madison Square Park location). DiFara is a big duh pizza-wise, but I haven't been in years because I'm impatient. And by years I'm merely talking early 21st century; no one would believe me if I claimed my fondness began as a Jewish boy growing up in 1960s Midwood.
So now that Charles' Southern Style Chicken has been reopened as Charles' Country Pan Fried Chicken and the city has become frenzied over wings and thighs, I really needed to go straight to the source.
A wiser soul would've gone during the weekend buffet and made sure to get a fresh batch straight from the skillet. I went on a random weeknight and figured that if the chicken had already been sitting awhile under heat lamps that another 45 minutes to the fancy $18 fried chicken enclave of Carroll Gardens wouldn't cause much further damage. (I still can't explain how a 14.3-mile ride from 155th St. to Brooklyn only takes five minutes longer than my daily 4.4-mile commute to Whitehall, the southernmost R/W station in Manhattan. I would take a cheaper, further, express train neighborhood any day and have been trying to convince the person I live with of this for years.)
What I'm taking a long time to say is that I know my fried chicken wasn't at its peak. And it was still moist, crispy edged and covetable at room temperature. The skin was sturdy not heavy with a light, flaky powdered quality. I devoured a drumstick walking around (I never eat standing up) getting out plates for the collard greens (made smoky from turkey rather than ham hocks), soupy black eyed peas and leftover Thanksgiving sweet potatoes driven up from Northern Virginia.
Sitting down with a breast and my sides, I was glad that we'd ordered what I initially thought was too much chicken for two. I still have a wing I'm holding onto for today.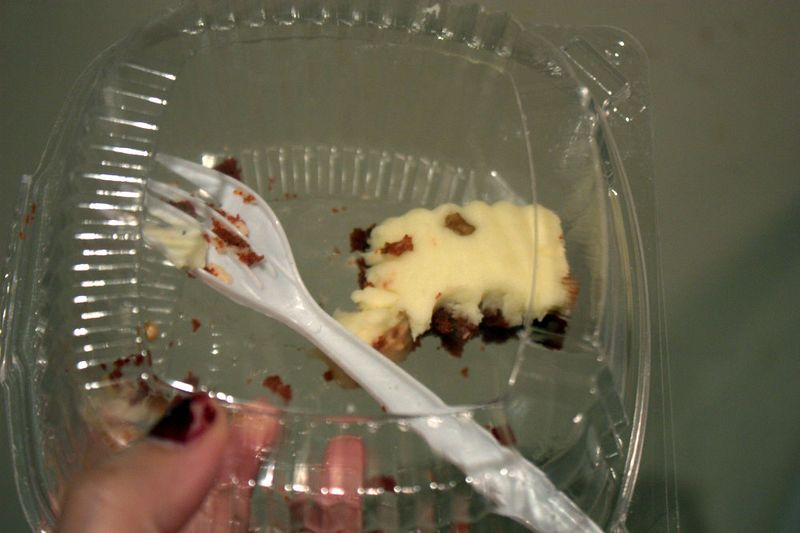 My only recommendation is to not eat 95% of a slab of red velvet cake in one go. Normally, I share such things. As someone whose sugar intake is limited by necessity not choice, I go overboard when faced with my favorite form of glucose: a hefty, wincingly sweet slice of super-American layer cake frosted and filled to the nines. I didn't even remember to take a photo. This is all that's left.
Before going to bed I quickly clicked on the New York Times dining section and there Charles' Country Pan Fried Chicken was getting the under $25 treatment. I made up to Harlem just in the nick of time. ( I also cracked open the new Saveur this morning only to be faced with a feature on mezcal, a subject I researched in Oaxaca last week, written by the Fort Defiance gentleman. Not that I was looking to publish in Saveur and not that they would let me, but I feel a quiet, nervous attachment to the subject in the same way I get anxious when I read others' blog posts about chain restaurants, which thankfully isn't a daily occurrence.)
Charles' Country Pan Fried Chicken * 2841 Frederick Douglass Blvd., New York, NY