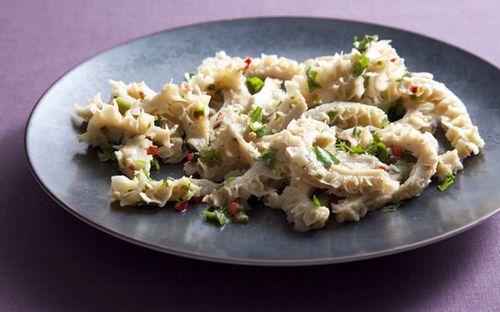 I completely missed Gourmet.com's Another Offal Monday series that began in June when recently surveying the sudden proliferation of organ worship on the web. So far, they have four diverse entries: Mexican tongue tacos, southern-fried sweetbreads, dim sum-style spicy tripe (pictured above) and dowdy American classic liver and onions Spanished-up with a little sherry vinegar.  I'm liking these recipes very much.
They'd better be careful, though, with all those international flavors or they're going to get more angry letters from the crackpots like Marlynn Marroso who don't want unpatriotic food in their July issues, or any issues for that matter. Who knew that adobo and black beans could muster such ire?
Oh right, we did know after all the letter-writers equating a love of tacos, pupusas and pollo a al la brasa with glorifying illegal immigration crawled out of the woodwork after Gourmet published its September 2007 Latin American food issue.