Cowgirl Sea-Horse

Cowgirl Hall of Fame will always be the '90s to me–squarely in the same camp as Moustache or Mugs Ale House–places I ate when I first moved to New York and didn't give much serious thought to food.  Cowgirl Hall of Fame is where birthdays tended to be celebrated or large groups would convene. Just last month a vegetarian friend (I point this out because people who can only eat a small proportion of the menu don't always have the best sense of what's generally good) asked for restaurant advice to give to visitors from Germany. She had steered them to toward Cowgirl, among others. Eh, if they wanted "American" food, The Redhead might be a better choice. Clearly, Cowgirl still holds sway with many, though.
2009 or not, I, myself, was curious about Cowgirl Sea-Horse (I'm still not clear why seahorse is hyphenated—would you say cow-girl?). It's quintessential Friday night fare. By 6pm I've all but given up and fried food and beer walking distance from my office sounds like the best idea I've had in ages.
A week after opening, the restaurant, on a lonesome corner across from the Brooklyn Bridge's underbelly, was hopping. An enormous party of 25+ youngsters were attempting to take over the back room (where we were seated), little kids were running around and falling over each other, a few of James' coworkers even randomly stopped in. Service was upbeat but clearly overwhelmed. I wouldn't want to make any strong judgments about the slow as molasses pacing so soon. I expected as much on a weekend.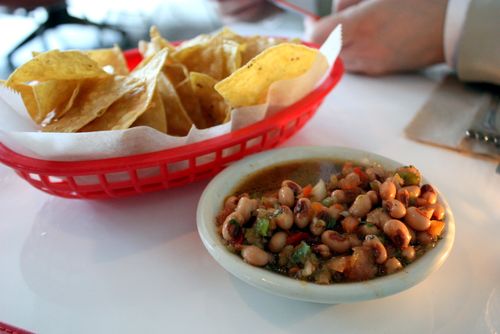 Texas caviar, a.ka. black eyed peas in a vinaigrette, were a gratis starter despite being listed on the menu for $3.50.
Rattlesnake bites are grilled bacon-wrapped jalapenos stuffed with shrimp. These smokey vegetal poppers are a form of Russian roulette, every third one you get a seriously hot chile. As you can also see, some are more done than others.
I wouldn't have ordered the clam fritters, not only because we already had plenty of starters but because inevitably you end up with a mouthful of bready filler. There was a decent amount of firm meat in these, though. More jalapeno in the tartar sauce.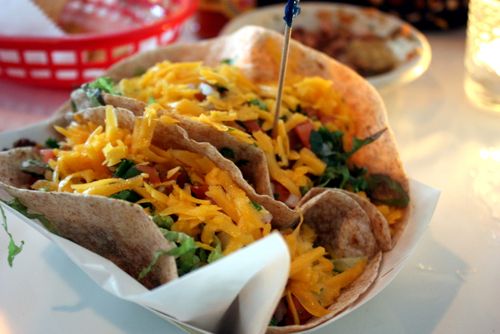 Trying to avoid any more oil-bathed items (James had the oyster po boy and onion rings) I went for the tacos. Weird, yes. Sometimes I like the American shredded lettuce and cheddar style, but hard shells would've been too much. I wasn't expecting wheat tortillas as the "soft" option, though. These were floppy fun handheld drinking snacks. The pulled pork was on the dry side, even if it wasn't sharply obvious with all the accouterments.
Afterward, I wandered over to the Water Taxi Beach to see how it compared to Long Island City's version. Well, for one you don't have to pay $10 to enter in Queens. At umbrella'd tables on the other side of the barrier next to the shops, groups had set up their own party complete with R&B blasting from a boom box. Smart? And as you continued around the back of the shopping center, the crowd became whiter and whiter until it suddenly became very '90s for the second time in one hour. The big stage was encircled by a tightly-packed crowd, disproportionately gray-haired and crows-feeted, bobbing up and down to Superchunk. Yes, Brooklyn babysitters must've made a killing that night. Despite being of that demographic, I was never a fan, but that didn't stop me from grabbing a $6 plastic cup of beer just to stand a while and ponder the state of 2009.
Cowgirl Sea-Horse * 259 Front St., New York, NY