I'm trying not to talk about illness any more but one fascinating (well, if you're like me and find malls enlightening) part of being told by a doctor to not spend time outdoors due to the heat and humidity aggravating your bronchitis, is that in Singapore you don't have to spend much time in open air. You can walk for what feels like miles through malls connected to each other by passageways, underground tunnels and sky bridges.
Our goal was to get from Suntec City to Gluttons Bay at the Esplanade with as little outdoor exposure as possible. And with the exception of a single outdoor walkway and escalator, we accomplished this. The major problem, we were both aware of, is that Gluttons Bay is outdoors and that was a no go. It sounds like I'm being melodramatic but James literally couldn't walk more than 10 feet outdoors without starting to wheeze and gasp for air. Frankly, it was a little irksome for a tropical vacation but I have a hard time mustering sympathy for sick people, which is probably why karma caught up and sickened me the following week. Satay probably isn't worth your health but whatever, it had to be done. The plan was to grab food to go and catch a cab immediately, which was a touch unrealistic since there always seems to be woefully long taxi stand lines in Singapore. No street hailing allowed.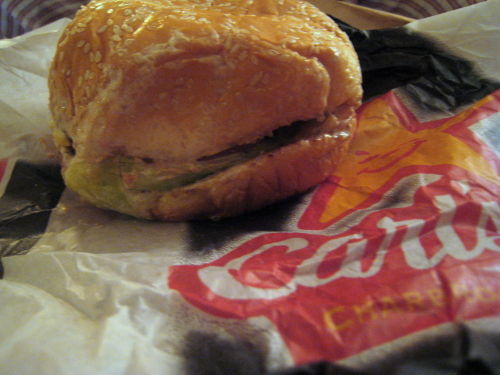 Along the way we found a Carl's Jr. Not having any on the East Coast, James felt compelled to get two humongous Super Star with Cheeses for the road (neither of us allowed a little illness to hamper our vacation eating). One for later that night and one for the flight to Hong Kong the next day (when I was seriously hurling the entire plane ride–let's just say that that monster burger inches from me didn't help matters). The burger in the pic looks pathetic and squashed, but that has more to do with my photography.
Some may deride Makansutra's Gluttons Bay as an overpriced marketing gimmick. I don't know who specifically, not me, maybe I've been in NYC too long because I automatically assume people will have a problem with everything. The concept is a collection of hawkers in one spot that was organized by a popular food site. It would be like having a Chowhound-created Porkers Pier at South Street Seaport or some such.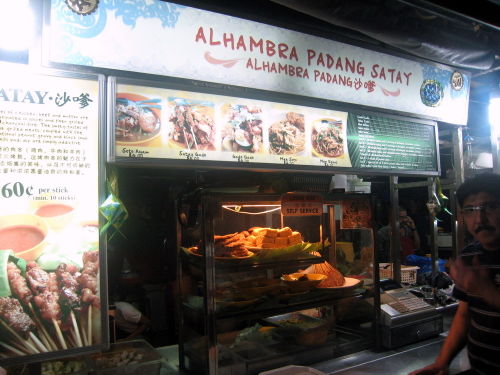 We weren't even hungry because we'd already eaten Indonesian food, prata and had two enormous cheeseburgers in a bag. But I'd made a fuss about coming so we had to get something, something small and snacky from Alhambra Padang Satay. Except James ended up getting suckered into some too-large combo deal with 20 sticks of mixed lamb, beef and chicken.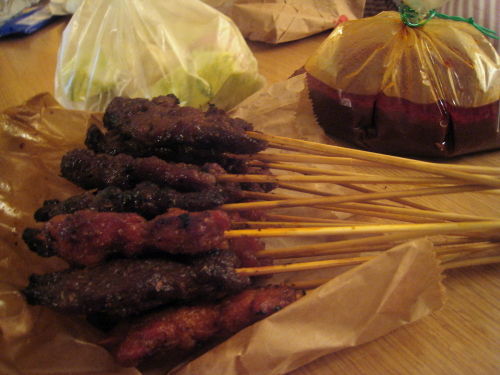 Real satay is tiny, thankfully, no tough meat slabs awkwardly threaded onto a skewer. Three bites per stick. We were given enough sauce, in dangerous Asian-style plastic bags, to practically fill a sink. And most important to me, the accompaniments: lontong, pressed rice cubes, and chunky slices of cucumber and shallots. You could tell the lontong was made traditionally, steamed in banana leaves, because the curved edges had a pale green hue.
I think I made myself sick eating so much rice dipped in peanut sauce. I ate a bunch for breakfast before heading to the airport and I do wonder if that had some impact on the intestinal issues that plagued me that entire day. But no, I won't put the blame on the poor satay.
Ah, it appears that Gluttons Bay is having a holiday promotion through Jan 1, 2009. I'm amused by the promise of "cool December" weather for dining when I was just there a few weeks ago and temperatures approached 90 degrees. Wow, eight hawker courses, "Rose Shandy, Roast Turkey with Fruit Chutney, a stinging BBQ stingray, Crispy Cereal Prawns and let's not forget the Satay, White Fried Carrot Cake, Banana Tempura with Kaya sauce and a cool coconutty Chendol" for S$ 89 per couple. That's $31 each (sure, spendy for Singapore) and you can BYOB. Now, I could get into that kind of New Year's Eve festivity. I'd rather sit at home this evening than spend $100+ per person for the mediocre food and drink that's the norm on December 31st in NYC. I'm officially old.
Alhambra Padang Satay at Gluttons Bay * 01-15 Esplanade Mall, Singapore