King Ludwig Beerhall

While I love Asian mall food, I also have a fascination with pockets of moderately upscale Western food. Clarke Quay in Singapore is overpriced and kind of obnoxious, plus I don't find sitting outdoors in 90 weather to be luxurious. Sure, I'll eat a bowl of laska in stifling humidity, but not a three-course meal with wine. They do have a Hooters, though.
Knutsford Terrace in Kowloon, however, kind of charmed me despite its veering toward tackiness. The collection of restaurants, including fare such as Spanish tapas, Russian I'm-not-sure-what, French bistro and Australian steak, is built onto a steep hill and painted in sunny pastels to evoke a Mediterranean plaza.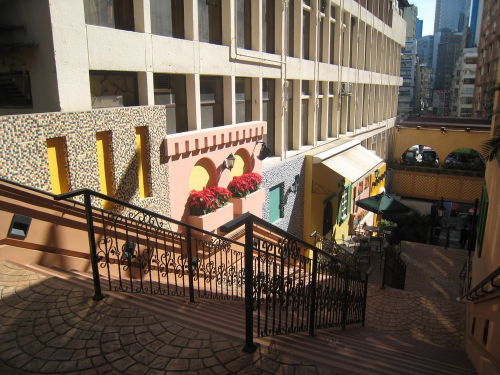 We had to pay a visit, especially since it wasn't too far of a trudge from our hotel. Hong Kong is very walkable and the mild winter weather (you barely needed a light jacket) was energizing instead of the island's usual life-draining climate. It was hard to make up our minds where to stop and it's hard to focus when you're being constantly touted Sixth Street style. I was thinking tapas because I was curious about what cured meats and cheeses they would have, though I was also kind of wowed by Bahama Mama's and Que Pasa not so much for a potentially amazing meal but to see how Chinese might interpret Latin fare.
Then I remembered reading about a German beerhall and that was that. Even though we originally were looking for snacks not a full on meal, the siren song of the massive pork knuckle was too powerful ignore. But we couldn't find the restaurant anywhere. It turns out that King Ludwig is a chain affiliated with the same parent company, King Parrot, the Chinese B.R. Guest, as many of the Knutsford Terrace restaurants but wasn't on the premises. Even better, it was directly across the street from our hotel via an underground footpath. We hotfooted it back quickly as it was getting late for a Sunday.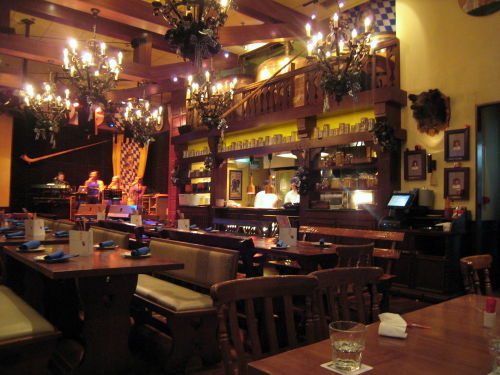 The upstairs section was surprisingly full, and no, not with expats, but predominately Asian patrons, possibly tourists but definitely not horrible Westerners who can't bear to eat local food. These multi-culti restaurants are really geared towards Hong Kongers and I had no problem justifying bratwurst over lap cheong for a night. We were seated on the less populated main level near the long wooden tables, semi-open kitchen and stage, yes, stage. I had been surprised the entire vacation how Christmas decoration crazy they were in S.E. Asia, and King Ludwig's was no exception. I wouldn't have imagined anything less from a pseudo-German establishment.
And it wouldn't be Hong Kong without a live Filipino band (it's a known fact that they are the showmen of the continent). This group appeared to be made up of three sisters and a middle aged dude on a keyboard, for all I know he was their father. James was the only one in the entire restaurant who clapped after sassy renditions of Bette Davis Eyes, Daniel, and We Are Family.
So, pork knuckle was a must. That would've been plenty for the two of us, combined with a pint of house brew. But James also ordered a spicy sausage that turned out to be an unusually long chile-flecked hot dog. I didn't sample any because frankfurters always give me a stomachache and I'd already suffered enough intestinal trauma that week.
You wouldn't think there was much affinity between German and Asian food but compared to Filipino lechon there is middle ground with the pork knuckle. I've also had a version in Hunan restaurants. And interestingly, we were sitting next to a Pinoy family who yep, had the meaty dish on their table. It was certainly large enough to feed a small group. And our santa hat-clad waitress even carved it tableside for us.
Our neighbors seemed surprised that we also ordered the pork knuckle and kept ogling us, which weirded out James because he's a grump and has childhood issues. When he was a kid Filipino relatives made a fuss over him liking rice, "oh, look he eats rice" like only Filipinos eat rice, when duh, the entire world enjoys the grain. This was similar to what appeared to be going on here, like only Filipinos eat pork knuckle and how could we know about it. Personally, I don't care who wants to claim what food. Like I said, issues.
(Speaking of the Philippines, at some point during this trip James mentioned possibly visiting Manila on business during 2009 because his company had acquired another in that city, and that maybe I could tag along and we'd schedule a side excursion to Thailand to make up for our disappointing vacation. When I brought this up later, he pretended like he hadn't said it so I am repeating it here so that it becomes public record. I've always wanted to go to the Philippines and just to be a pain he's vowed to never set foot in the country. We'll see.)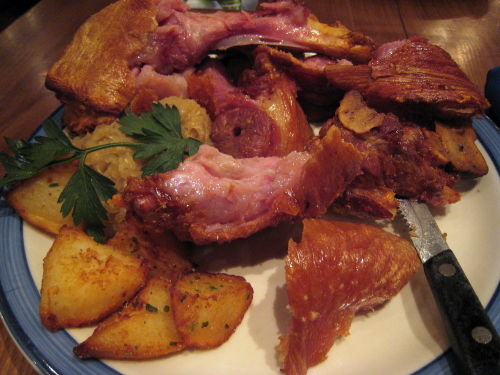 The pork was all I had hoped for, the right balance of crisp skin to fatty bits and juicy meat. Even the potatoes were winsome; I'm pretty sure because they were deep-fried. Why not Bavarian treats in the tropics?
Strange solo alfresco table.
King Ludwig Beerhall * 32, KCR East TST Station, Hong Kong