Apple (Burnt to a) Crisp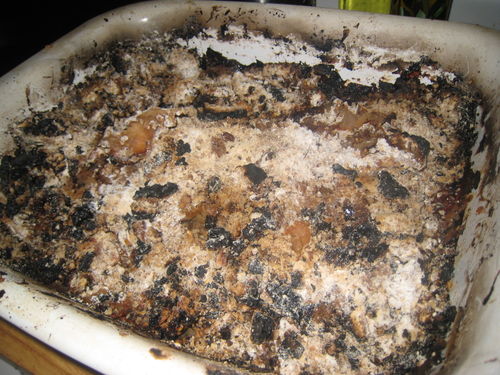 I'm starting to think that many Chinese are onto something with their non-use of ovens. I'm about sick of mine because nothing but sadness comes out of it. Last week I bungled my attempt at a simple roast chicken (the skin wouldn't crisp and the juices stayed bloody despite doubling the cooking time).
Sunday I tried making what I thought would be a simple apple crisp to get rid of a glut of on-the-verge-of-rotting apples given to James by his mom. I really hate unsolicited fruit (there were also oranges that already molded) and just don't enjoy it enough to eat a serving a day. Nature's candy, my ass.
This mishap was partially my own fault because after 45 minutes in the oven, the topping was still white and floury, no buttery crispness in sight. It was only after I took a dry test bite that I realized the mistake was not so much the temperature but that I'd forgotten to add a cup of brown sugar. Duh. In a last ditch effort to save the dessert, I rubbed the sugar over the top anyway and put it back in hoping for caramelization.
I think this would've succeed somewhat, and here is where blame is hard to pin down. James decided to take the pan out put it in the broiler. Despite not agreeing with this move, I then turned the knob to broil from 375. Within a minute, the treat had burst into foot-high flames rendering the entire thing charcoal black (once we were able to put the fire out). A total bust, which steamed me over the amount of time it took to peel and slice a million apples, not to mention the expense of wasted Plugra, pecans and hazelnuts.
Above is the salvaged version, after the blistered black top had been scraped off. It still tasted like shit and was dotted with persistent white floury patches. Just looking at the disaster makes me feel physically violent.
I say it was James' fault for putting the dish in the broiler. He says it was mine for turning up the temperature. Really, I think I'm being punished for wanting to eat dessert. I try not only to minimize my sugar intake, but to keep it out of the house or else I'll pick at it all week (I'm still bummed over the ice cream maker downstairs that's only been used once). I had already made a minor health concession by making a pure apple crisp when I really wanted to make a version with a caramel layer. I'm definitely being punished.