Killmeyer's

1/2 Googling killmeyer's vs nurnberger bierhaus
recently brought someone to this site, and strangely, I had the exact
same question last week. This is German food weather, but where to go?
Manhattan just doesn't work, though I'll admit that I haven't given it a chance. I probably would appreciate the kitsch factor at Rolf's, especially this time of year. Queens is rife with options, and part of me is curious about Manor Oktoberfest since it's in that bizarro Atlas Park Mall…um, and they serve a Cuban panini. Schnitzel Haus is Brooklyn's only contender (and might just have the best food of any I've tried so far–two words: schweinshaxe "hofbrauhaus" a.k.a. pork knuckle ). But really, the best ambiance is in Staten Island, yes, Staten Island.
Killmeyer's is barely even in the city. After winding for miles on woodsy dimly lit Arthur Kills Road, you could practically be in the Black Forest. If you really pushed your imagination, this isolated pocket could even be the setting for my favorite Grimm Brothers' fairy tale, "The Bird, the Mouse and the Sausage."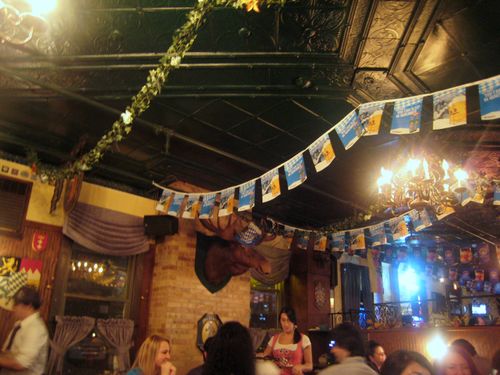 Due to its inconvenient location (though there are bus stops outside) the crowd tends to be very local, and on a Saturday night the bar was more crowded than the dining room. I sipped a Bitburger at a lone unoccupied table while waiting for friends to arrive (the same ones that I'd randomly ran into at Wegmans just a few hours earlier).
I wonder if forcing the staff to wear festive costumes is key to the experience? Maybe that's why I shy away from Manhattan…too much dignity. But what is German food without a Snow White-style building, moose heads and dirndl-clad lasses? (I'm seriously looking forward to Hua Hin where I'll be in two weeks because the coastal town is thick with German expatriates who run businesses staffed by Thais in lederhosen and the like. So wrong for the tropics.)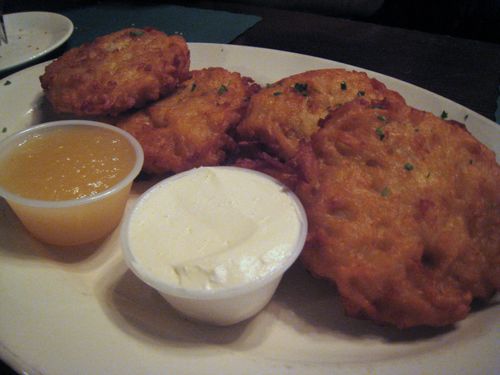 Potato pancakes with the requisite sour cream and applesauce were shared by all. They were a little oily but not offputtingly so.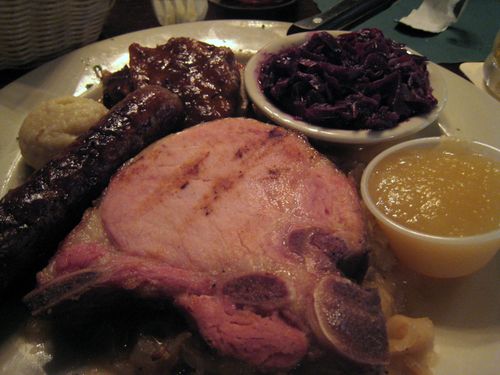 I was a little disheartened that there wasn't any pork knuckle on the menu (I checked Nurnberger Bierhaus' and Zum Stammtischs' too and same deal. Sure, Schnitzel Haus seems oddly located in Bay Ridge, but they have the massive, crispy, fatty pork knuckle!). In order to try and satisfy my pork tooth, I opted for the farmer's feast, which includes pork loin, smoked pork chop and pork sausage with sauerkraut, red cabbage and potato dumplings. It's a lot of food. I could've survived on sauerkraut and kassler rippchen, but was happy for variety (and lunch the next day). The overall effect was sweet, tart and salty. Perfect with dark wheat beer whose name I've forgotten but in a style called dunkelweizen.
Sausage trio for a recently lapsed herbivore. On my last visit to Killmeyer's I was accompanied by two vegetarians and it was tough going variety-wise. They do have a vegetarian plate, if need be.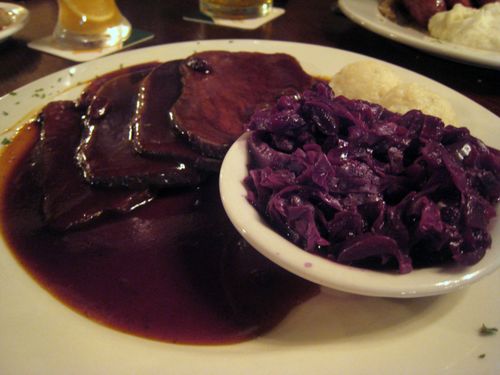 Sauerbraten. This looked wonderfully dark and rich. I always intend to branch out into something non-porcine (though chicken or fish is pushing it) but after once ordering a lackluster sauerbraten at Schnitzel Haus instead of my favorite dish, yes, that damn pork knuckle, I was deeply disappointed. No German beef ever again.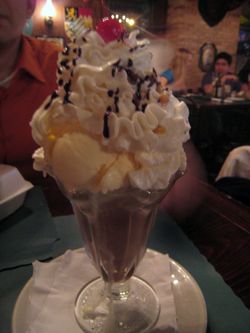 There was no need for dessert and yet James was swayed by ridiculously fluffy overflowering sundaes being brought to tables throughout our dinner. No, there's nothing particularly Bavarian about ice cream covered in walnuts and Bailey's Irish Cream. But seriously, look at that thing.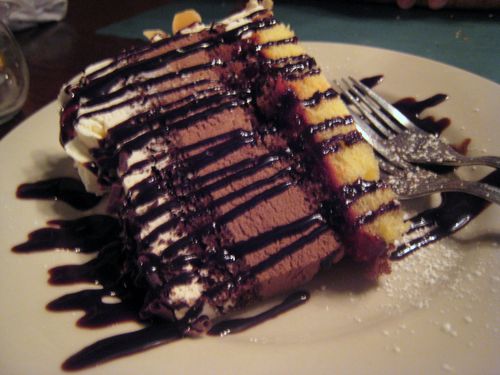 Is black forest cake authentic or one of those regionally whack things like English muffins or Singapore noodles?
I can't help but notice the "Book your holiday party now!!" plea on their website. I wish. After last year's foodie-planned office party fiasco at Bacaro, someone else took over holiday celebration duties and we're now going to someplace I've never heard of called Kemia Bar where I doubt squid ink, head-on sardines or chicken livers will make an appearance. (11/15/08)
I did an Oktoberfest roundup of Glendale, Queens German restaurants for the
NY Post a few years ago. While the slant of the article was alcohol not
food, we did stay for supper at Zum Stammtisch, the best of the lot (Von
Westernhagen, up the street, was the site of one of my creepiest ever NYC
experiences courtesy of a multigenerational white pride patrons who honest
to goodness greeted each other "sieg heil"). Zum Stammtisch was
such a hit that I've since returned with different groups of friends, and
even the vegetarian was happy despite the 99% meat menu.
I gathered that Killmeyer's was cut from the same cloth (or in this case,
tapestry bearing castles and unicorns), but the location more obscure (at
least Glendale is subway accessible if you don't mind a walk). Even driving,
it felt like a haul, I think we were as close to New Jersey as possible
while still being in NYC (which was further evidenced by the preponderance
of large men in baggy jeans, leather jackets, and gold chains).
Pre and post dinner courses were unnecessary bookends. A cheese and meat
plate wasn't terribly exciting with thick sticks of grocery store swiss,
muenster and cheddar (though the mustard was lively) and suffered from a
lack of good dark bread. Desserts were unremarkable, the black forest cake
felt institutional and dining companions insisted the sundae was made with
ice milk rather than ice cream. Go for the hearty mains, and with gusto,
everything else is just filler anyway.(1/9/05)

Killmeyer's*
4254 Arthur Kill Rd., Staten Island, NY