Pining Away for Nuts
Wegmans, my newfound grocery diversion, doesn't quite bring tears to my eyes, but it is growing on me.
Despite just about everyone I know, professional and personally, living in Brooklyn, I never ever run into people I know while conducting routine business. Yet while spending an early Saturday evening at a supermarket 27 miles from home, I bump into friends next to the brussels sprouts bin. Ok, it wasn't really that crazy since Sherri's boyfriend lives right near the Wegmans in question, but it was still absurd.
I've only been twice so I'm still figuring out the lay of the land. The store is enormous and laid out nonsensically, if you ask me. However, I was proven wrong about the two unfindable items on my maiden visit. This time I stumbled upon the polenta, weirdly placed with organic produce (not that I'll ever need it again since I rarely cook polenta). And Evan had a shot of corn tortillas on his phone, which I did double check on, though I know for a fact that they were missing from the refrigerated case last time.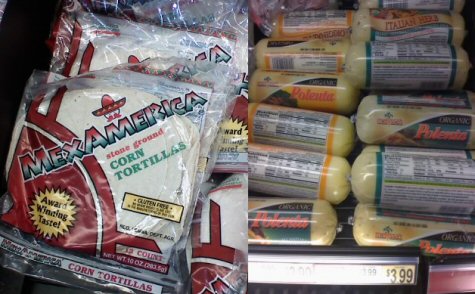 But just to ensure at least one bugaboo, this time pine nuts were nowhere to be seen. Not even in the bulk section, where to their credit, I was able to buy 48-cents worth of currants. Thwarted by pignolis.