Sunday Night Special: Chopped Wing Bean Salad & Clams with Basil and Chiles
Sunday nights are the worst. There's always something vaguely important that I'm supposed to be doing so I come up with a cooking project (or just watch lots of TV—I'm very disturbed that the quippy, marginally humorous talking head commentary concept has been co-opted by home and gardening shows, like you really need little pseudo-comedians yukking it up about landscaping jobs gone bad) to occupy my time instead. I'd probably be rich by now if I knew how to tame procrastination.
I was supposed to be doing my state taxes (I got my tiny federal refund way back in early Feb. because I'm quick to claim cash) and writing a review of the scary renovated Palm Court in the Plaza Hotel, but instead I decided to make my own nam prik pao.
There are a million minutely different variations. I chose one from David Thompson's Classic Thai Cuisine that's fairly sweet. I love the palm sugariness but it could've used a few extra chiles. After making it, I noticed Kasma Loha-unchit's rendition used double the dried peppers. Well, he does call his jam rather than the more commonly used paste.
Strangely, I never use blogs for recipes and stick to cookbooks like an old lady. It's an odd bias considering I skim 50+ sites almost daily. But after the fact, I noticed there was a useful nam prik pao recipe on Chez Pim.
Roasted Chile Jam
Nam Prik Pao
4 cups oil
4 cups shallots, sliced lengthwise
2 cups garlic, sliced lengthwise
1 cup dried shrimp, rinsed and dried
10 dried long red chiles, deseeded and chopped
1 cup palm sugar
1/2 cup thick tamarind water
1 tablespoon salt
3 tablespoon fish sauce
Heat oil and separately deep-fry the shallots and garlic until golden. Add the shrimp and chiles and deep-fry for 30 seconds or until fragrant; drain. Puree the deep-fried ingredients together in a food processor, moistening with 1 cup of the oil from the deep-frying to facilitate the blending. Transfer the puree to a medium pot, bring to a boil, then add the palm sugar, tamarind water, salt and fish sauce. Simmer, stirring regularly, for about 5 minutes, or until quite thick and tasting sweet, sour and salty. Store in an airtight container.
Makes an insane amount, maybe three cups, possibly closer to four but it doesn't really go bad and for all the effort you might as well do it up big.
I'm not a Thai food expert, obviously, but I think this not-crazy-spicy paste can kind of be added to anything. You can use it as a vegetable dip, to season soups like tom yum, and a few spoonfuls gussy up stir-fries, too.
I specifically made mine as a component for a wing bean salad (yam tua poo) I'd made a few summers ago. There were leftover rotisserie chicken and green beans in the fridge that needed to be used up, and thought of this recipe No, there aren't wing beans around these parts but I survived.
I couldn't even say if this is a legitimate recipe—I've never seen anything like it and similar ones online includes ground pork. I haven't cooked much from Joyce Jue's Savoring Southeast Asia because it seems more like a coffee table book (that it's a Williams-Sonoma book weirds me out) but authentic or not, this is a tasty dish.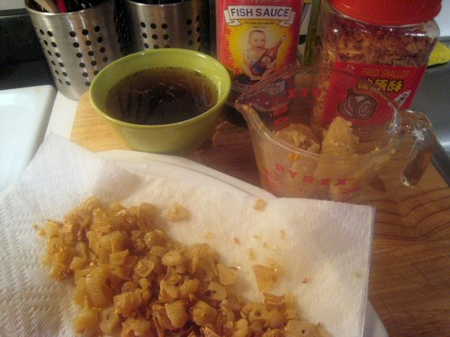 Tamarind water, fish sauce, fried shallots, palm sugar, fried garlic. I didn't make the shallots from scratch because I only had two bulbs on hand and this plastic tub needed using up.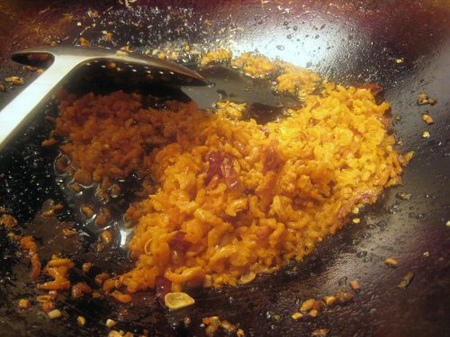 Chopped shrimp and chiles. I didn't deep-fry the ingredients, but rather sauteed on high heat with a generous amount of oil.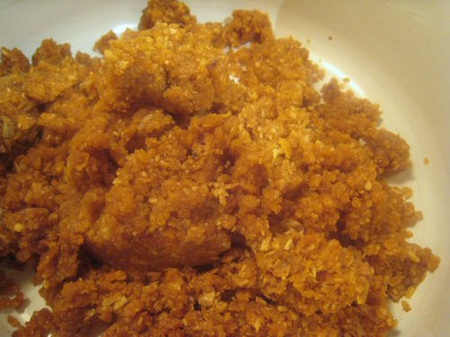 Raw puree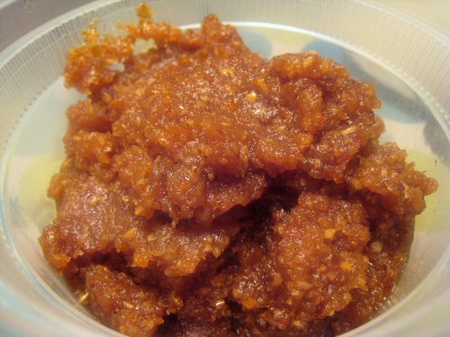 Final glossy product
Chopped Wing Bean Salad
Yam Tua Poo
1 tablespoon salt
1 boneless, skinless chicken breast, about 6 ounces
1/2 pound winged beans, long beans or green beans, trimmed
1/4 cup unsweetened grated dried coconut
1 red jalapeño chile, seeded and thinly sliced
Dressing
1/3 cup coconut cream
2 teaspoons roasted chile paste
2 tablespoons fresh lime juice
1 tablespoon fish sauce
1 tablespoon sugar
2 tablespoon fried shallots
1 ½ tablespoons fried garlic
3 tablespoons unsalted roasted peanuts, crushed
Coconut cream for garnish (optional)
Poach the chicken breast (you don't need me to detail that) or use leftover skinned, shredded chicken parts like I did. Dark meat isn't scary.
Blanch the beans, keeping them green and crunchy.
Toast the coconut in a dry pan until it turns golden. Set aside.
Combine chicken, beans and chopped chile (I never see red jalapeños or even Anaheims and used a few tiny Thai chiles instead) in a large bowl.
In a separate smaller bowl, mix coconut cream, roasted chile paste (the nam prik pao), lime juice, fish sauce and sugar.
Add the dressing to the chicken and beans and toss. Sprinkle with toasted coconut, fried shallots and garlic and peanuts. Mix before serving.
Serves 4-6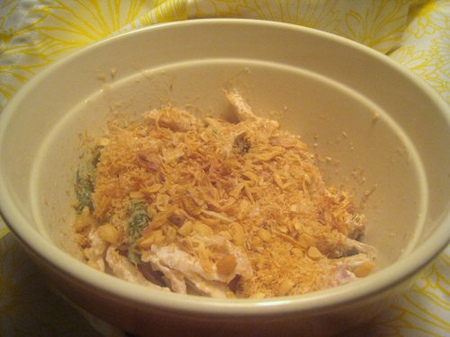 If I didn't know better I would say that the end product looks like a green bean casserole, canned onions and all. But the creaminess is all-coconutty and Campbell's free. I would've preferred more beans to chicken but I'd underestimated the amount of leftover vegetables and overestimated how much meat was still on the chicken. Sweet and spicy is the overall theme, and it makes for a great not-terribly-carby lunch, if you care about that sort of thing. Even if you don't, it's a good lunch or light dinner.
That was all I was going to make but I had picked up a couple pounds of clams the day before, so I searched Dancing Shrimp: Favorite Thai Recipes for Seafood by Kasma Loha-unchit for ideas and came up with an easy recipe that also used my nam prik: clams stir-fried with roasted chile sauce and basil (hoi pad nahm prik pow).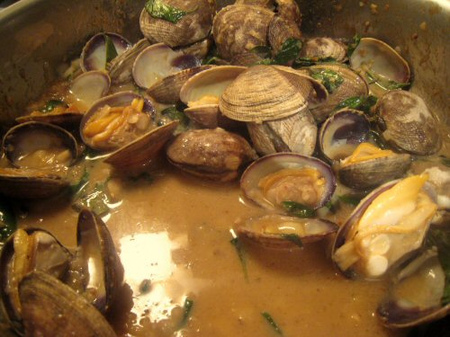 I would've gotten into trouble on Top Chef because there was a tiny bit of grit in a few of the shells. Not enough to ruin the dish, but you definitely don't want to hear a crunch when eating mollusks. Instead of using the prescribed water or broth I threw in a few tablespoons of the thin coconut milk leftover in the can from the wing bean salad. It upped the richness quotient a notch and mixed with the chile paste and clam liquor created a sauce that was so good I didn't mind eating it with brown jasmine rice.