Moksha

It's not that I'm forced into eating at chains on my occasional New Jersey shopping forays, it's that I like eating at chains when I leave the city. That's why when posed with the premise "let's try a nice suburban restaurant this weekend," I became stumped.
Obviously, nice is subjective. I think it means sit-down, non-diner/take-out, not necessarily expensive. New Jersey certainly has edible diversity as written about recently in the New York Times, but deep-fried hotdogs and subs weren't what we were discussing. Technically, Blue Hill at Stone Barns is a nice suburban restaurant but I don't know any other places of that caliber in an hour and a half radius (I'm open to suggestions). I hate Italian-American food and anything even veering into continental territory, that's the stuff I fear getting roped into.
Newark Portuguese sounded fun and I've always felt remiss in never trying any of the Ironbound offerings. But we like shopping in Edison and have never sampled any of the gazillion Indian restaurants in nearby South Plainfield, either. As usual, Asian won out and I picked Moksha, South Indian but not vegetarian. And I didn't quite adhere to the non-chain criteria either, as the owners have a mini-empire in the area.
First, we were forced into an unexpected detour to East Brunswick and were almost swayed by the Bonefish Grill. I had a shopping list that could only be satisfied by the giant Hong Kong Supermarket in South Plainfield. If you're accustomed to the little ratty ones in Manhattan, Brooklyn or Queens, it would bring a tear to your eye. They're not even super clean or full of hyper fresh produce, they're just spacious with shopping-cart friendly aisles, non-chaotic fish counter and tons of variety you can actually browse without being body checked by elderly Chinese ladies.
Well, it turned out that our favorite HK Supermarket location has given up the ghost (that phrase weirds me out, I never use it, and I've seen it countless times in 2008 so I will jump on the bandwagon). Damn them, and it was kind of fitting since the way we originally stumbled upon the grocery store was looking for a non-urban Goodwill that was supposed to be in the same strip mall but had gone kaput and has turned into an Big Lots, which I didn't have time to explore because we had to track down the next nearest HK Supermarket in East Brunswick.
An old Vietnam vet from Princeton that was in a Thai cooking class I took in the early '00s was raving about the huge HK Supermarket in East Brunswick and I recalled Lloyd's wise words while fiddling with Google Maps via Blackberry.
As it turned out, East Brunswick was no South Plainfield and the best of the Chinese chain is gone for good. I still got what I needed, though: Thai basil, chiles, clams, rau ram (which I never see in Brooklyn), palm sugar, fried shallots, rice vinegar, pork belly, preserved radish, spicy bamboo shoots and bean curd.
But yes, nice suburban restaurants. I suppose Moksha is a little fancy in that the décor feels upscale Pier 1 rather than Christmas light garish, all earth tones, natural materials, and subtle water features, Oh, and things like rice, naan and chutneys come with a surcharge. Like how no free chips and salsa signals Mexican food to be taken seriously (not that it necessarily tastes better). I didn't take any non-food photos, though.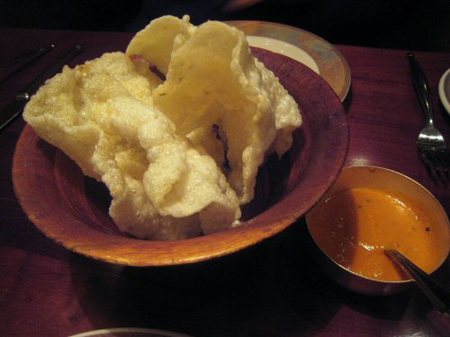 A chicharon-like puff instead of the typical papadum. I don't know if this is a traditional snack or made up. It's kind of like pani poori but not really. There were spices imbedded in the white crackly blob and I'm certain that it was meatless.
Onion bhajis and chile fritters, a.k.a. Indian jalapeno poppers, were kind of run of the mill, but definitely not heavy or too greasy. I meant to order a another more salad-y appetizer but forgot.
Ok, all of the entrees look the same on the surface, but the flavors were all distinct, quite hot and if you scrutinized the bowls, you would notice that the murky shades hinted at green, brown and orange. I originally ordered a whole fried fish that they were out of, which is what forced me into a second-choice of shrimp, causing a curry overload.
Bottom: Karuvaepillai Eral Masala. This shrimp masala was the herbiest, the green likely came from curry leaves and almost seemed Thai in comparison to the others. The spice didn't catch you until you'd chewed half a mouthful and burning ensued with full force.
Top: Iguru Mamsam. Minus the meat, lamb hot pot almost seemed Cajun, super dense, cuminy, hot and oil-slicked but tangy from chopped tomato.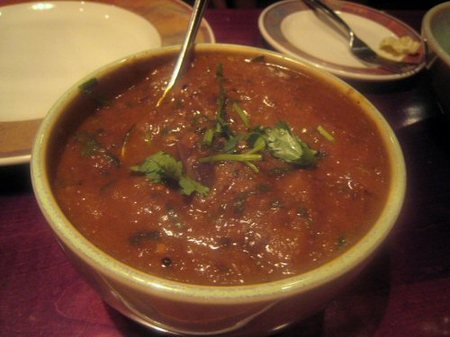 Guthi Vonkaiya Koora. The tiny mushy eggplants were said to come with sesame seeds. I didn't see any seeds, so I wonder if they were pulverized into the sauce.
There's definitely more exploring to be done in South Plainfield's Indian hub and I'll make it to Newark eventually. However, I'm still kind of curious about better than average, even mildly creative American food that's not a Kitchen Nightmare waiting to happen.
Moksha * 1655 Oak Tree Rd., Edison, NJ