Prima Taste

1/2  Is eating laksa at a Singaporean chain restaurant in Shanghai any less blasphemous than shamelessly patronizing Pizza Hut? Well, we did both in the same afternoon and I feel very little guilt. It's a rare vacation where we don't indulge in our must-sample-everything second lunch, second dinner plan. And this was a rare vacation because Prima Taste enabled our only second lunch in China.
As much as I'm fond of all of Chinese food iterations (it's strange how much loathing for Shanghainese cooking I've run across on the internet—no, I'm not calling anyone out) coconut milk, shrimp paste and fresh hot chiles suck me in like nothing else. I'm already planning (at least in my mind) a 2008 Malaysia excursion.
I was initially tempted by the out of place smell of belacan in a Beijing food court. It was the first Prima Taste restaurant I'd ever seen. I only knew the name from packaged spice pastes I bought at a Carrefour in Singapore a couple years ago. Apparently, they have one American branch in San Jose. I'll admit the concept of brand-inspired restaurant is off putting. I wouldn't be in a rush to eat at a Hamburger Helper café. But somehow Asians get away with that crap.
And the food's not even bad. No, of course it wouldn't get the Makansutra seal of approval, but not everyone is blessed with hundreds of hawker stalls to choose from. We don't have any Singaporean food in NYC (nah, Singapore Café barely counts, it's totally Chinese) so a Prima Taste wouldn't offend me.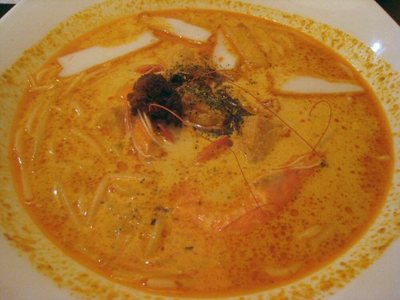 Admittedly, I wasn't that hungry but I did get through most of my shrimp laksa. The broth was very lemak with fish cakes and quite a bit of chunky, shrimpy sambal that came already mixed in, no cockles. I'm still not sure why all my favorite food hails from hot, sweaty climates when I'm a firm believer in temperate weather. To me, laksa would be best enjoyed somewhere in the 60s, just like Shanghai in autumn.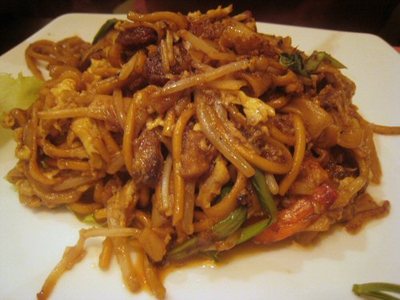 I only had one bite of the char kway teow so I can't fairly assess it. I've never had a version with flat and thin noodles mixed together—I'm sure sticklers would have a problem with that. I was kind of surprised that it contained crispy bits of fried pork lard, it's not atypical but I don't recall ever getting porky nuggets in Penang. See? Now, I have to go back to taste test more seriously.
Prima Taste * 3/F 1111 Zhao Jia Bang Rd., Shanghai, China