Wurst Ad Ever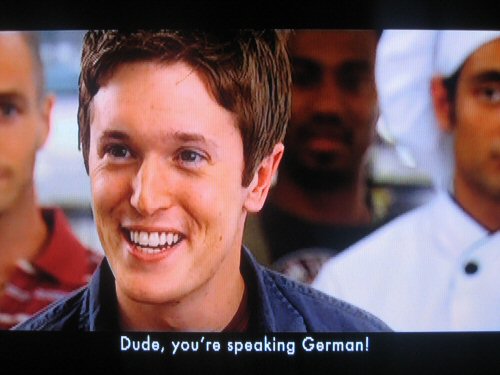 It's times like this where YouTube fails me. And I'm not savvy enough to make videos from DVRd television, so a still will have to suffice. A few weeks ago I started noticing a commercial for what appears to be a new international culinary program at the Art Institutes. Never mind that AI lacks the cache of CIA, the problem is that they use German cuisine to win over the viewer. Apparently, the students' cooking is so authentic that they start to sprechen Deutsch. The secrets to bratwurst and kuchen revealed? Sign me up.
What I'm trying to figure out is if the Art Institutes are hopelessly out of touch with gastronomic trends or if they're cutting edge. Based on the following tidbits from the past month, I declare the Art Institutes eerily prescient.
November 5th: Gridskipper maps out Berlin's haute culinary haunts.
November 14th: the New York Post posited that a schnitzel revival is underway.
November 18th: The New York Times devoted nearly 3,000 words to neue Deutsche küche, a.k.a. new German cuisine.
November 21st: Eater predicts the lamb schnitzel at newcomer The Smith will be removed from the menu due to being "absurd." A backlash already?
Someone has to put an end to the whole Spanish avant-garde thing, right?