Hot Pot King

1/2  Hot pot restaurants were way more plentiful than I'd anticipated—there's practically one on every block. But I had to make sure there were English menu translations because I don't like leaving anything to chance…or pointing. In many cases, picture menus ended up being my friend.
Strangely, Hot Pot King was actually more accessible and less confusing than Happy Family in Flushing, the only other place I've had huǒ guō. That's the funny thing about New York; pockets of the city are less penetrable than foreign countries.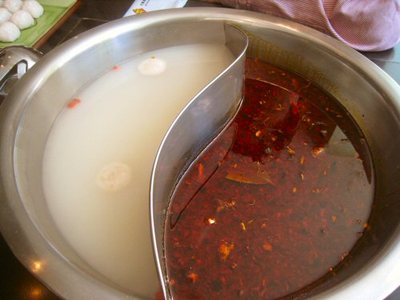 There are a zillion styles of hot pot, but it seems like Mongolian and Sichuan are the two distinct types in China. I intended to try the lamb-centric Muslim version in Beijing but it didn't happen. Here, we ordered the yin yang broth, hot and spicy on one side, mellow and pork-based on the other. At Happy Family, I think the white side is made with soy milk and is slightly sweet. And the red side is fierce, way more intense and oily than this Shanghai rendition.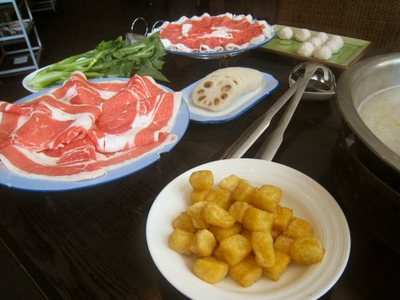 There are pages and pages of choices for things to dip and cook, it's tough to decide. We were encouraged to order six items, which was possibly an upsell, but the number was right on. I tried to get a wide variety and picked fish balls, mustard greens, lotus root, flank steak, lamb and tofu puffs.
The part I find most confusing is choosing sauces. On the side of the room, there were containers of a least twenty different pastes, oils and condiments and at least twenty more chopped and granular things like garlic, sugar, scallions and sesame seeds. I saw that other diners made mixes in little bowls, and that most went with about 80% sesame paste. I copied that, and doctored mine up with multiple similar looking chile oils and purees, then sprinkled green onions on top. James made one with peanut butter, garlic and Sichuan peppercorns. You could get very creative, ff you were so inclined, After dipping all meal long, the concoctions all turn muddy anyway.
It wasn't until we got up to leave that we noticed everyone was eating from bowls and ours were sitting untouched on a cart next to our table. We'd been using small plates that got all gross and soupy. The bowl/plate dilemma plagued us throughout China. I think chopsticks and small rice bowl is the preferred eating style, but it wasn't universal.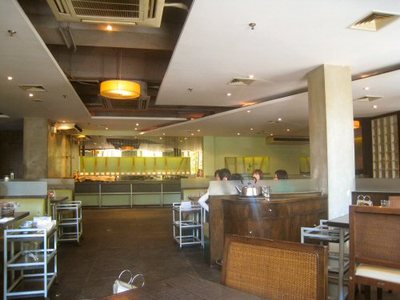 Hot potting tends to be raucous and restaurants frequently stay open until wee hours. We went for lunch but if I'm correct they don't close until 4am. I got the feeling that Hot Pot King was sleeker and more expat-friendly than some. But then, Shanghai seemed gentler all-around compared to Beijing.
Hot Pot King * 2F, 1416 Huaihai Zhong Lu, Shanghai, China