Made in China

Originally, I had no plans to eat at Made in China. (The name seems even more ironic now that Americans are hell bent on avoiding everything Chinese made. It seems like every day work I find a new toy recall survey to glean data from) But as I mentioned while discussing Da Dong and Quanjude, we showed up randomly on a Sunday afternoon out of Peking duck desperation. It wasn't like we had to go out of our way. Made in China happened to be in the Hyatt ("five star all the way") which also happened to be attached to Oriental Plaza, the mall a few blocks from our hotel that we took a shining to. Our impromptu lunch ended up being our most expensive meal in Beijing, though the tab did get a bump due to a few gin and tonic-esque cocktails, made with Maotai.
We didn't have reservations so we were delegated to counter seating facing the dumpling-making station. It didn't feel like a punishment. It turned out the duck wasn't available so we defeatedly ordered beggar's chicken, which we almost didn't get either. I didn't understand the hubbub or the "it'll take 40 minutes" business, but as I discovered that was because I didn't understand beggar's chicken.
I had no idea it was so elaborate. Other people were eating simple handmade noodles and dumplings and here we were with complicated orders. Beggar's chicken is stuffed with various things (in this case salted plums, ginkgo nuts…and I can't remember what…maybe, lily buds?), wrapped in lotus leaves and baked in a shell. The sweet, salty and funky preserved quality of the mysterious purplish stuffing was unique.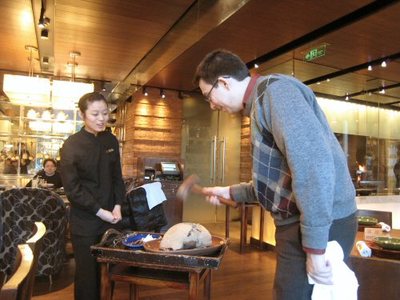 For some reason I thought it was salt-baked but all the recipes I see say that it's encrusted in mud or clay. Maybe traditionally. It's a big production and James was asked to ceremonially crack open the casing with a mallet. Men get to have all the fun.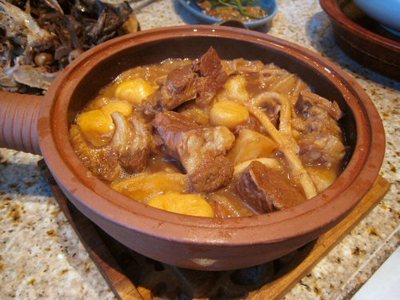 If I knew we were getting a whole chicken, I would've been more restrained in further ordering. I also chose a claypot of beef, pumpkin and chestnuts from an autumn menu. The stew also contained noodles that I couldn't figure out because they were so light and springy like nothing I've had before. I suspect that they didn't contain wheat.
The spinach looks like it's dressed in a plain sesame sauce but it's spiked with a spicy mustard.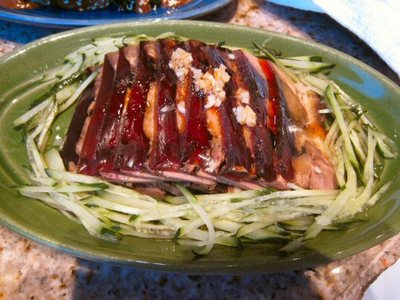 I thought pork knuckle in chile oil would be just that, but it was presented fancily as a sliced terrine.
The food at Made in China wasn't like anything else I ate on vacation. It's not easy to balance hearty with refined. The flavor combinations and use of ingredients were complex and not what I expected. I do still wonder what they would do with Peking duck.
Made in China * 1 E. Chang An Ave., Beijing, China