China: KFC & Pizza Hut

Yes, strange that I would start my China restaurant recaps with Pizza Hut. I really intended to steer clear of western food, I swear, but curiosity eventually got the better of me. Pizza Hut and KFC (both Yum! Brands) definitely seemed to be the dominant US chains in China. You might think of McDonald's or Starbucks as the global evils, but pan pizza and fried chicken are prevailing in that corner of the world.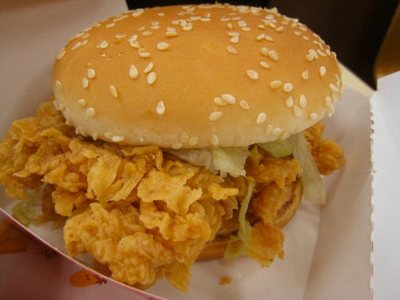 KFC got the better of me while killing time in the Beijing airport, which is far from a fun way to spend two afternoons (Singapore's Changi airport is completely engaging but I've never needed to hang around for lengths of time). Though I later saw ads for buckets, simple fried chicken didn't seem to be the attraction. All the combo meals were focused on sandwiches and wraps, and crunchy breaded cutlets between buns appeared to be the snack of choice. As English was non-existent on signage or spoken by staff, James pointed at a random picture and that's the combo we split.
The bonanza entailed the popular chicken sandwich, four drummettes/wings, a creepy mayonnaisey vegetable salad that I didn't taste out of fear and lack of cutlery and what tasted like orange Tang. I don't really eat at KFC in the US so I can't accurately compare the two. I don't think extra crispy is our default, though.
I intended to get two egg tarts for dessert and somehow ended up with four. As far as miscommunications went, this was a fairly minor and tasty mishap. The little custardy pies are served warm and were way better than a fast food apple pie (yes, I'm mixing up my chain desserts).
Malls, each with a unique name and different stores, can span multiple blocks connected by overpasses and underground walkways. The only inevitable commonality are the KFCs and Pizza Huts. I only meant to peek at the Pizza Hut menu posted outside a corner location (there was also a Papa John's nearby, but I've never been to one and didn't think I should start in Shanghai). But after seeing appetizers like escargots and catching a glimpse of the slightly upscale interior, I had to try one of their seafood pizzas, no way around it.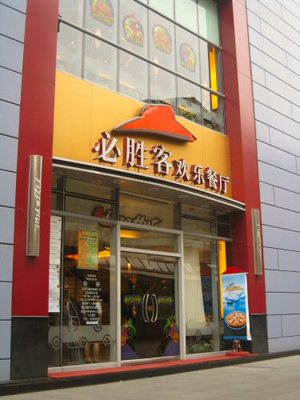 I haven't eaten inside a Pizza Hut in years (though I did briefly work in a drive-thru only one in college) so maybe they've fancified here too. Chinese Pizza Huts are more of a full service restaurant with soups, pastas and light jazz tinkling in the background.
I wasn't bold enough to start with escargots, the New Orleans wings gave me pause; it was the cumin lamb meatballs that won me over. I just wasn't expecting the cold marina-style dipping sauce that came on the side.
Because I'm a grotesque American (despite attracting a 98% Asian clientele, we got nasty looks through the window by some young white folks. I really don't get the big deal. No one ever takes issue with Japanese chains like Yoshinoya or Coco Curry House that were all over the place. I wouldn't have a problem if someone from China wanted to try mediocre Chinese food in NYC) I ordered the most expensive pizza (around $8) from their Gourmet Line. This doozy contained smoked salmon, shrimp and squid and was drizzled with creamy wasabi sauce.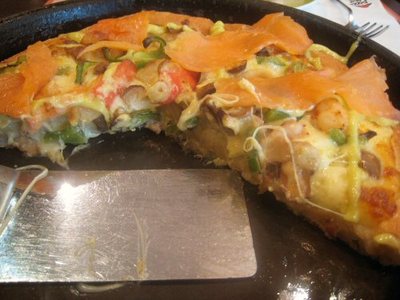 Lacking any Italian-ness whatsoever in my DNA, cheese paired with seafood doesn't bother me in the least. And sure, the dairy and spiciness dominated but the mix of flavors was strangely compelling.
KFC * Beijing Capital International Airport, Beijing, China
Pizza Hut * Metro City, 1111 Zhaojiabang Lu, Shanghai, China