Sunday Night Special: Crispy Pancetta, Burrata & Tomato Sandwich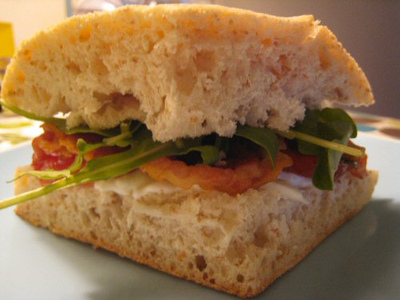 The last thing I wanted was to be a summertime loser. It's already August and I haven't eaten a single real tomato (at least not while sitting on my couch watching the increasingly opaque John From Cincinnati). I managed to drag myself up to the Grand Army Plaza greenmarket just shy of closing time, and then reminded myself why I'm lucky to live two blocks from Caputo's.
I had browsed tomato recipes on Epicurious and actually chose three, two for later in the week, but it was the crispy pancetta, burrata and tomato sandwich that seemed low maintenance enough for a scalding Sunday night. I'll admit that Bon Appetit isn't on my regular reading list so I had no idea that I was making this month's cover recipe until I saw the picture on another site's banner ad. Maybe I'd been subliminally influenced all week?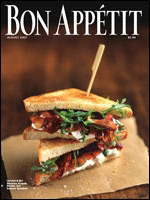 Simple as they are, sandwiches and salads are two things I like to leave to professionals. My versions always end up as weak imitations or when made up by me, just plain weak. You only need to compare my version to the original for a glaringly disproportionate bread/filling ratio. I didn't think it was a big deal if I substituted pane rustico for brioche but that was a bit of a mistake. The crust was hard on the mouth and the inner crumb kind of dominated.
The only blob of burrata left at Caputo's was truffle-laced, so that subtly changed the flavor. Not for the worse, though. I will freely admit to being borderline ignorant with Italian food (I hate it when home cooks are all unabashedly clueless with cuisines that I love, though). I wasn't familiar with panna and had no idea what type of leaf the wet cheese ball had been wrapped in (I think it's a leek relative).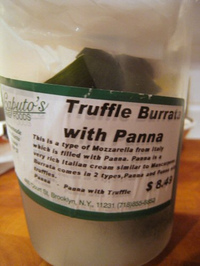 Once you got past the breadiness, the center was a cohesive blend of all ends of the flavor and texture spectrum: salty, gooey, fleshy, bitter, a little tart and not terribly sweet (using the prescribed egg bread would've taken care of that). I made a second small sandwich using the same bread sliced thin, crosswise and it was close to ideal. 
Next mission is to find uses for ripe tomatoes that don't involve cheese, olive oil and basil. I know that's a classic combo but I'm keen on this rendition using fish sauce, white anchovies, cilantro and ginger. The strange thing is that I'm 85% certain that I made this dish before but I don't remember getting the idea from Food & Wine.