Sidecar

Sidecar and Sunshine, dinner and a movie choices I made Saturday night, both left me with the same message: stick with your original mission. Sunshine I'll leave nebulous and unspoiled. Sidecar, I'll explain a bit.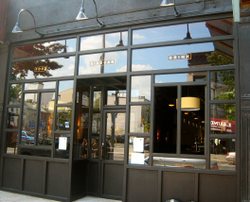 Newly opened restaurants should be approached with caution and patience. But curiosity got the better of me with this South Slope oddity near the Blockbuster and Rent a Center (only the classiest neighborhoods have leather sectionals and plasma TVs on installment plans).
They didn't have their liquor license yet, which was a minor disappointment because their list of cocktails sounded promising. But I wasn't too crushed because a BYOB six-pack is a money-saver. We made our first mistake by turning down a weirdo small table in the window that practically had you sitting with the party next to you. We thought we'd wait at the (alcohol-free) bar until something opened up.
The space is high-ceilinged and handsome with de rigeur mid-'00s hanging filament bulbs. More seating  is allotted to drinking than dining which would be fine if there were drinks. And there were people who seemed to be just drinking, which was kind of baffling. Who would hang out a bar not serving drinks, drinking? I guess it's better than imbibing in your own living room.
We skimmed the menus that were given to us, cracked open a couple Stellas obtained on the corner and figured we'd wait it out. The couple sitting next to us at the bar, who I swear walked in after us, approached the hostess and next thing I knew they were seated. Not cool.
There's nothing as annoying as being in line at a grocery or drug store when a cashier yells "next" only to have a newcomer walk right up with no one in charge acknowledging who was actually next. I like a tight ship.
As long as we were waiting, we weren't going to go hungry so we ordered crostini topped with a sweetish pate, served with a mixed salad and a few beet cubes. This is where the stay-the-course plan began falling apart. Our mission was to eat dinner sitting at a table and apparently, we had strayed the second we ordered food from the bar. The place started clearing out and every single person who'd come in after us was now sitting at booths.
Clearly, we'd been brushed off.  I realize once you order food at the bar it's kind of like your request for a table has been cancelled out (though the original couple next to us who were immediately seated had also ordered food at the bar first) but we still had entrees coming and no one else at the bar was eating full meals. At this point there were two empty tables, so we asked once again to be seated (I was either going to walk out or seat myself). You would've thought we were Al-Qaeda with the amount of reluctance received. We were given the eye for the remainder or our meal.
So, after about 45 minutes we got a booth and our entrees that I saw sitting on the metal shelf for at least ten minutes. They were looked at and touched numerous times, though no one seemed to have any idea where they were intended to go. It's not that big of a restaurant for such confusion.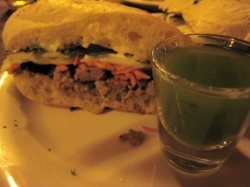 My creative grilled cibatta banh mi (called a banh de, which I am guessing is a play on DeCoursy, the surname of the brother-owners) with a shooter of cucumber juice was likeable. And James didn't have complaints about his fried chicken, mashed root vegetables and succotash. But the food was all secondary at this point.
I hate service to overshadow a meal and I'm trying to temper knee-jerk harshness but there were glitches I couldn't get past. It wasn't Williamsburg-bad, there was a semblance of professionalism but I didn't care for the way things played out.  I wanted to like the place and the components were all there: tasty reasonably priced food, eclectic juke box (The Vaselines and Exploding Hearts were both pleasing) and potentially fun cocktails. Yet nothing gelled.
Sunshine, too, started off with promise before evolving into a horror flick. Sometimes you don't know what you've gotten yourself into before it's too late.
Sidecar * 560 Fifth Ave., Brooklyn, NY