Sunday Night Special: Black Bean Shrimp & Braised Eggplant
I take back what I said not too long ago about Sundays not counting calorically. After last weekend's Super Bowl (I just realized that Superbowl isn't one smooshed word, and I'm not about to go back and fix it) Sunday bounty, I had to cool my jets this weekend with healthy Chinese inspired recipes from A Spoonful of Ginger, a practical cookbook that tweaks Asian classics while retaining the spirit of the original. I should really use it more often.
I tweaked Nina Simonds adaptation of steamed shrimp with black bean sauce and substituted scallops. I didn't have plain black beans but a prepared sauce that already contained garlic so I added slightly less of that ingredient. You briefly bake the seafood in a foil-covered dish, then allow it to steam for about ten minutes. Of course, I could've just used a steamer, but it's one less thing to worry about on stovetop in a cramped kitchen. Supposedly, fermented black beans are good for depression, stress and ridding toxins. It couldn't hurt to eat them every now and then.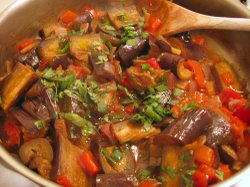 A curried pumpkin dish was suggested as a side but I thought a stewy eggplant braise would be better. I spruced up the recipe by adding a small handful of chopped cilantro and a drizzle of chile oil at the end. The two layers of chile heat really popped and the eggplant was way more unctuous than you'd expect with the tiny amount of fat that was used. Hmm, the side note accompanying this recipe is a little less appetizing than the relieving depression bit from the former. It says that eggplant is used to ease bowl movements with hemorrhoids in Chinese medicine. Good to know, huh?
Baked Black Bean Shrimp
2 pounds large shrimp (16 to 20 per pound), shelled and deveined
Shrimp Marinade:
3 ½ tablespoons rice wine or sake
2 tablespoons minced fresh ginger
1 tablespoon canola or corn oil
Seasonings:
2 tablespoons fermented black beans, rinsed and drained
2 tablespoons minced scallions, white part only
1 tablespoon minced fresh ginger
1 tablespoon minced garlic
1 teaspoon dried chile flakes
Sauce:
¾ cup chicken broth
2 ½ tablespoons soy sauce
2 tablespoons rice wine or sake
1 tablespoon sugar
1 ½ teaspoons cornstarch
2 tablespoons minced scallion greens
Rinse the shrimp, drain, and pat dry. Using a sharp knife, carefully cut along the back and open each shrimp to butterfly it. Put the shrimp in a bowl and add the marinade. Toss lightly to coat, cover with plastic wrap, and refrigerate for 20 minutes.
Preheat the oven to 450 degrees F. Arrange the butterflied shrimp shell side down, with the flaps open, in 1 or 2 heatproof quiche or pie pans.
Heat a wok or heavy skillet over high heat, add the oil, and heat until very hot. Add the seasonings and stir-fry for about 10 seconds with a slotted spoon or spatula until fragrant. Add the premixed sauce and cook, stirring, to prevent lumps, until it has thickened. Then spoon the sauce over the butterflied shrimp and cover with aluminum foil. (Alternatively, you may place the fish pan in a steamer over boiling water.)
Bake the shrimp on the middle rack for about 8 to 9 minutes, or until they have become opaque. (Steam for 10 to 12 minutes.) Uncover the pan and sprinkle the minced scallion greens over the shrimp. Serve immediately with steamed rice and a vegetable.
Serves 6
Saucy Braised Eggplant
1 1/2 pounds eggplant, ends trimmed, and cut lengthwise into 1/2-inch thick slices
1 teaspoon salt
Seasonings:
1 1/2 teaspoons hot chile paste
1 1/2 tablespoons minced garlic
1 1/2 tablespoons minced fresh ginger
Braising Liquid:
1 1/2 cups chicken broth (vegetable broth can be substituted)
2 1/2 tablespoons soy sauce
1 1/2 tablespoons rice wine or sake
1 tablespoon Chinese black vinegar or Worcestershire sauce
1 tablespoon sugar
1 teaspoon cornstarch
1 tablespoon canola oil
2 cups red onion cut into 1/2-inch dice
1 medium red pepper, cored, seeded and cut into 1/2-inch dice
2 tablespoons minced scallion greens
Arrange eggplant slices on a cookie sheet lined with paper towels and sprinkle both sides with salt. Let them sit 1 hour, then pat them dry and cut into 1 1/2-inch-long pieces.
Prepare the Seasonings and mix the Braising Liquid ingredients in a bowl. Set by the stove.
Heat a large flame-proof casserole or Dutch oven. Add the oil and heat until hot. Add the chile paste and stir-fry for 5 seconds over high heat, then add the other seasonings and stir-fry until fragrant. Add the red onions and sauté about 1 1/2 minutes, then add the red pepper and sauté another minute. Add the eggplant cubes and stir-fry for 2 to 3 minutes.
Add the braising liquid, cover, and heat until boiling. Reduce the heat to medium, cover, and cook about 12 to 14 minutes, or until the eggplant is tender. Uncover, increase the heat to high, and cook until the sauce is reduced to a glaze. Transfer to a serving platter and sprinkle with the scallion greens.
Serves 6
Recipes from A Spoonful of Ginger
by Nina Simonds. Knopf, 1999