Ureña

I don't tend to revisit higher end restaurants, even when I've had a remarkable meal. There are such an overwhelming number of options in NYC (sometimes I wonder if living in a second-tier city would be more manageable food-wise and otherwise). I could eat at a new-to-me establishment weekly and barely make a dent in my to-try list by year's end. But I thought Ureña warranted a second look, especially since it'd been almost a year since my first visit. And lord knows the creative yet un-flashy (some might say frumpy by New York standards, on the other hand, it looks like an respectable, non-casino restaurant in Las Vegas) restaurant might not last until next winter.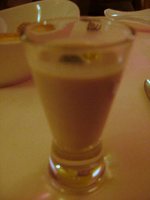 They have dimmed the lights, which was a criticism when they first opened (moody is nice but it makes crisp flash-less photo taking problematic) Service is gracious and never stuffy. With recent attention drawn to discrimination lawsuits, I couldn't help but note that the wait staff was entirely Hispanic. I have no issues with accents, but when we were presented with an amuse both James and I thought our server said martian rather than mushroom. We kind of hoped we'd heard correctly since a shot of Martian soup would've been brilliantly bonkers. I would expect such a thing more from Moto, but that's tomorrow evening's dinner (assuming that this blizzard lets up soon).
We started with cocktails at the bar. I had a Martine with lemongrass, bitter orange and possibly rum (I'm blanking on the spirit). With dinner we chose a sparkling, scarlet Mont-Ferrant Rosé Cava. I love the promotional copy I found this morning, "a spring like cava, perfect for young people." See, I'm a young person. Actually, we were easily the least decrepit diners in the room for about half or our meal. The narrow space was around 75% full when we arrived and only 25% occupied when we left around 10pm. That might not be good business for them but it's rare to be granted a spacious four-seater for two with an empty table separating you from the nearest party.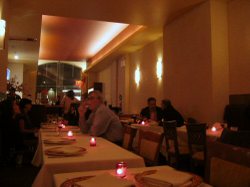 Unfortunately, a bland (the guy was prep school attractive, the female was dull, ponytailed and turtlenecked), likely younger twosome with MBAs (which I obviously wouldn't have known if they hadn't been squawking about their degrees) were eventually seated next to us. The male sent a bottle of wine back, which I almost could've predicted. (I've never understood the etiquette. I always thought that it was the customer's responsibility to choose wisely with or without advice from a sommelier, but sending a wine back would only be warranted if there was something wrong with the wine, not that the flavor wasn't to your liking. Anyone who sends wine back becomes an automatic asshole in my eyes. It's not impressive.)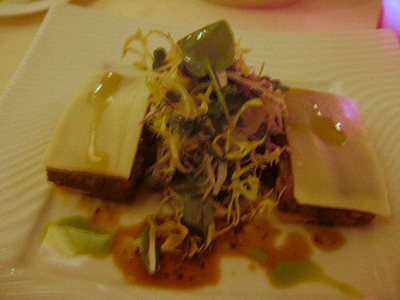 Tarta de Ropa Vieja: foie gras, duck confit, short ribs, suckling pig and micro greens.
There wasn't any mention of cheese so the dairy was a surprise. I'm assuming that the different meats had been shredded and combined into one carnivorous powerhouse. Everything was placed on crouton toasts.

Empanada de Cordero: lamb and goat cheese, Bunuelo de Queso: manchego, chorizo and stout beer fritter, Piquillo Relleno.
I couldn't really taste the sausage in the fitters but these liquid-centered cheese balls were insanely good. I could eat a bowl-full. These were James's tapas and I didn't try the other two dishes.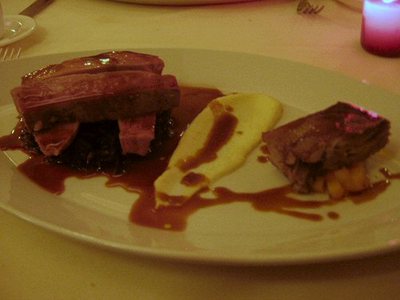 Pato en Dos Texturas: poached duck breast, confit thigh, braised red cabbage, carmelized quince, parsnip puree, star anise sauce.
Perfect for the weather. I was mildly wary of duck minus its crispy skin but there were no disappointments. The breast strips were soft and tender but obviously not as meltingly so as the confit. The quince nearly mimicked chunky applesauce, star anise was a vivid aromatic touch and along with the tangy, sweet cabbage the dish was lifted out of the Spanish realm.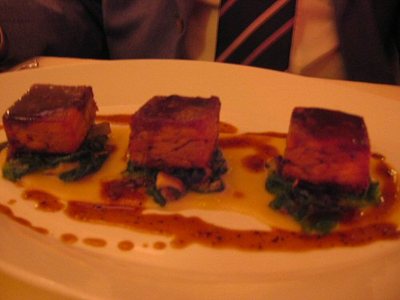 Cochinillo Confitado: confit suckling pig, granny smith apple puree, shitake mushrooms, wilted green leaf lettuce, truffle sauce.
I'd wanted to try this but I realized that it was essentially the same dish I had last March but with squares of suckling pig instead of pork belly. It went to James.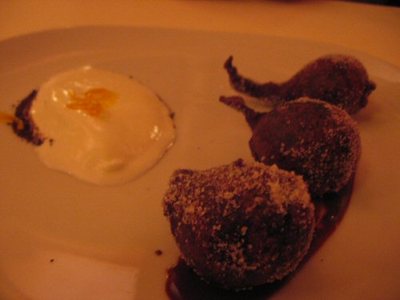 Bunuelo De Chocolate Y Crema Catalina: chocolate and creme filled fritter, orange and dried apricot puree, yogurt sorbet.
Our second fritters of the night. The little puffs were gone in an instant. I don't think the original pastry chef, Caryn Stabinsky, is still around. According to their barebones website, Alex Ureña is listed as pastry chef. (2/13/07)
Everyone seems to be having a field day knocking the bourgeois dcor and less than subtle lighting at Urea. It didn't bother James, and I only mention that because it was his birthday dinner and I would've have wanted to offend his sensibilities on a special occasion. But then, it made sense to me. It was as if his mother (who's fond of giving James off kilter knick knacks and cast offs that he refuses to throw out) had tricked out the space with her Marshall's aesthetic. Heavens. I would say the bright (yet for all the light, my photos still turned out dark and grainy) beigey room is really more boring than offensive, kind of like a hotel dining room, and not a boutique hotel.
Maybe I'm reading too much into this, as I'm wont to do, but is this what happens when you're talented without the finances to back up the goods? That's always been one of my biggest gripes in life (and no, life's not fair, duh. Growing up, my mom repeated that phrase to me ad infinitum when I whined, which was often). New York City is so about the flash, that thriving tends to be about who can put on the best show.
I know next to nothing about Sascha Lyon. I haven't eaten anywhere he's cooked. I only single him out because it seems like his new restaurant compound has been mentioned a million times in the press and he's also taking the self-titled approach (as is Morimoto, but that's a different beast altogether. Which reminds me, I visited the Philadelphia location quite some time ago, also for James's birthday and I can't even remember the details). It sounds completely over the top:10,000 square feet, Meatpacking district, multi-level space, casual and fine dining, retail bakery and outdoor seating. All that's missing is the onsite gym, pool and post office. Perhaps Sascha is the bizarro Ureña.
Ok, let's talk about Ureña's strengths. Clearly, it's the food. The house-made rolls and focaccia served with a pequillo pepper puree was a welcome change from olive oil or butter. A curried soup shot that was very similar to an amuse I recently had at Blue Hill Stone Barn, came out first. Speaking of, the tasting menu at Blue Hill almost killed us, so I've learned my lesson about multi-courses on a weeknight. Too much, too long.
Having been on a recent Basque bender, a crisp effervescent Txacoli appealed to me. I think fizz goes with everything. A majority of the wines were under $50–ours was two dollars shy–and many were well beneath that figure.
I started with the texturas de foie gras. Every Wednesday evening should begin so decadently. The first style was seared and served with candied kumquats, the second was a sweet smudge on the plate that they called a praline. I'm a freak for sugar with meat so the fig balsamic worked for me. The third version was sour and consisted of yogurt and with pale currants, presented in a tiny cup.
I ended up giving myself a stomach ache from ordering such rich selections. (It didn't help that I'd eaten a large portion of take out Chinese roast pork for lunch earlier. And I wonder why I can't lose weight.) I had to have the pork belly because crispy-tender cubes always make me happy. The green apple puree did provide nice acid to counteract the fat. A smattering of shiitakes also played a role. I became convinced I was eating lettuce (upon further research, I think it was wilted watercress), which while perfectly nice tasting, is a texture that weirds me out. Stir fried lettuce scares me and warm cucumbers create the same panic (like when you warm up a leftover banh mi and cucumber spear gets hot–ick).
I don't mind pointedly cerebral desserts because they're not the sort of thing I'd whip up at home. Besides, there would be old fashioned frosting and sugar galore later–I'd baked a red velvet cake (but dyed it blue)–so why not a vegetal dessert. Remolacha con chocolate is an interesting way of putting it, but it's beet panna cotta, no way around it. By itself, the wobbly purple mound was a little weird, but combined with the chocolate cookie crumbles, sour cream ice cream and orange salt, the result was intriguing.
Extras:

Salty chocolate, honeyed marcona almond and something gelled.

Prawns with manchego rice

I honestly can't remember the details of this beef dish–it's not mentioned in any reviews or on Menupages. (3/22/06)
Ureña * 37 E. 28th St., New York, NY