Sunday Night Special: Soy & Paella
As is often the case, Sunday I was feeling bored and lazy and couldn't be bothered to make anything too ambitious. I wanted to make do (urgh, or is that due—I've always been confused) with what was already in the house. I had a bunch of frozen drumsticks and a bunch of mint that was rapidly blackening.
I found something to make use of both in Terrific Pacific. I'm sure I've mentioned recipes (i.e. violated copyright) from this book before. It's surprising, how much use I've gotten out of this collection over the years. It must be the accessible versions of Southeast Asian cuisine that manage to stay un-bastardized. Though I'll admit the name has never done much for me.
Sometimes I'm bothered when a cookbook is written by someone not native to the cuisine, but that's never been the case with Anya Von Bremzen. Allowances are made in this book like using anchovy paste instead of shrimp paste, but it's a suggestion not mandatory. Plus, the book is a decade old—I think American tastes have expanded since the '90s.
Sweet Soy and Citrus Baked Chicken
3 ½ pounds chicken pieces
2 teaspoons ground coriander
1 teaspoon ground cayenne pepper
Salt, to taste
1/3 cup Ketjap Manis or sweet soy sauce
1 small seedless orange, peeled and chopped
4 cloves garlic, chopped
1 tablespoon grated orange zest
1 tablespoon grated lime zest
1 tablespoon white wine vinegar
2 tablespoons fresh lime juice
1 ½ tablespoons maple syrup
¼ cup chopped fresh mint leaves
½ teaspoon dried red pepper flakes
½ cup chicken stock or canned broth, or more as needed.
Rinse the chicken pieces well and pat dry with paper towels. Prick the skin all over with tines of a fork.
In a small bowl, combine the coriander, cayenne and salt. Rub the chicken with the mixture. Set aside.
Combine the soy sauces, orange, garlic, orange and lime zests, vinegar, lime juice, maple syrup, mint and pepper flakes in a food processor and process to a puree.
Place the chicken in a large shallow dish, add the marinade and turn the pieces to coat well. Cover and refrigerate for 4 to 6 hours, or overnight.
Preheat the oven to 400 degrees F.
Place the chicken and marinade in a roasting pan. Roast until the chicken begins to brown, about 15 minutes, then reduce the oven temperature to 350 degrees F. Pour the stock into the pan and roast the chicken until cooked through, about 25 more minutes, basting with the pan juices. Add some more stock if the bottom of the pan looks dry.
Transfer the chicken to a serving platter, spoon the pan juices over it, and serve.
Serves 4 to 6
From Terrific Pacific by Anya Von Bremzen. Workman Publishing, 1995.
* * *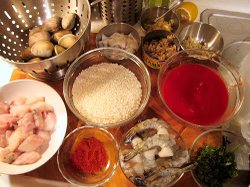 While vaguely on the topic of this cookbook author (whom I have a minor fixation with–and you thought I was just nutty for Malan Breton): In March, I bought James a slew of Spanish groceries like sweet and hot pimenton, saffron, squid ink, rice from Despaña for his birthday. I'd been wondering when they'd get put to use. Last week he used a paella recipe from Anya Von Bremzen's most recent (I got it for Christmas) foray into Spanish cuisine, The New Spanish Table. I haven't made anything from it, maybe I'm more intimidated by Spanish cooking than Asian.
Chiringuito Seafood Paella
Paella a la Marinera
About 5 cups shrimp shell stock or 3 ½ cups clam juice diluted with 1 ½ cups water
1 large pinch of saffron, pulverized in a mortar
5 tablespoons extra-virgin olive oil
½ pound monkfish or other firm-fleshed fish, cut into 1-inch chunks
Coarse salt (kosher or sea)
4 to 6 ounces cleaned squid, bodies and tentacles cut into 1-inch pieces
10 medium-size garlic cloves; crushed with a garlic press, 2 minced
2 large, ripe tomatoes, cut in half and grated on a box grater, skin discarded
1 ½ teaspoon sweet (not smoked) paprika
1 ¾ cups short-to medium-grain rice
½ cup minced fresh flat-leaf parsley
12 small little neck clams, scrubbed
12 jumbo shrimp, shelled and deveined
2 lemons, cut into wedges, for serving
Allioli, for serving
Place the shrimp stock in a medium-size saucepan and bring to a simmer over medium heat. Add the saffron and keep the stock at a simmer until ready to use.
Place 3 tablespoons of the olive oil in a 15- or 16-inch paella pan set over a single burner and heat on medium until it starts to smoke. Add the monkfish and cook until barely seared, about 1 minute, seasoning it lightly with salt. Using a slotted spoon, transfer the fish to a bowl. Cook squid, stirring, until just seared, about 2 minutes, seasoning it with salt.
Push squid to edge of the paella pan, where it's not as hot. Add 1 tablespoon of the olive oil to center of the pan. Add crushed garlic and cook until fragrant, about 30 seconds. Add tomatoes to the center of the pan, reduce heat to low, and cook, stirring the tomatoes several times, until thickened and reduced, 5 to 7 minutes. Using two wooden spoons, push squid toward center of pan and mix it up with the tomatoes. Add the paprika and stir for a few seconds.
Preheat the oven to 425 degrees F.
Add the rice to the paella pan and stir it gently to coat with the pan mixture. Pour in 3 1/2 cups of simmering stock (5 cups if you are using bomba rice), keeping remaining stock simmering in case it is needed later. Set the paella pan over two burners, stir in parsley, and shake the pan gently to distribute the rice evenly. Cook over medium heat 5 minutes. Periodically move and rotate the pan so that the liquid boils evenly.
Press the clams and the monkfish into the top of the rice and cook until the cooking liquid is almost level with the rice but the rice is still rather soupy, another 2 to 3 minutes. If the liquid is absorbed too fast and the rice still seems too raw, sprinkle on some more stock.
Transfer the paella pan to oven and bake until the clams open and the rice is tender but still a little al dente, about 15 minutes. Check the paella a few times and sprinkle more stock over the rice if it seems too al dente. Remove the paella from the oven and discard any clams that have not opened. Cover the pan with aluminum foil and let stand for 5 minutes. Uncover the pan and let stand another 5 minutes (the rice gets better as it stands).
While the rice is standing, heat the remaining 1 tablespoon olive oil in a large skillet or wok over high heat. Stir-fry shrimp, a few at a time, adding some of minced garlic to each batch, until shrimp are bright pink and just cooked through, 2 to 3 minutes per batch. Transfer the shrimp to a bowl and keep warm.
To serve, arrange lemon wedges around the edge of the paella and decorate the top with the shrimp. Serve paella straight from pan, along with the allioli, for stirring into rice.
Serves 6 as a first course, 4 as a main course
From The New Spanish Table by Anya Von Bremzen. Workman Publishing, 2005.