Sunday Night Special: Pad Prik King
I recently occured to me that the only cooking I ever document is what I do on Sundays. That's simply because Sunday night is the only evening when I have the time and energy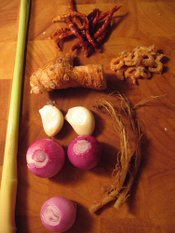 for silly crap like snapping photos of ingredients and typing up ingredient lists. Why fight it? I'm starting a new category: Sunday Night Special. The following recipe is from last Sunday, not today. I don't ever actually post anything in real time–I tend to mull things over, but mostly I'm just lazy. Let's see if the fish curry I plan to embark on in a hour or so ever makes it up here or not.
I never see cilantro with the roots intact, so when I found a dirt-caked pile of rooty herbs at Western Beef, I bought some with the primary intent of cutting, cleaning and saving the roots for later use in Thai recipes that always seem to call for them when I'm empty-handed. (Last week, for the first time, I saw rau ram, a.k.a. laksa leaves at Hong Kong Supermarket in Sunset Park. But I wasn't sure how well they'd hold up in the freezer and I didn't have any plans for any Malaysian recipes in the immediate future, so I was forced to pass.)
I decided to make a dry curry using pork and long beans David Thompson's paperback Thai cookbook from the early '90s, not the encyclopedic behemoth, Thai Cooking, that dazzled everyone a few years ago. I love that obsessive tome, but for a simple every day recipe, the smaller book usually suffices. I followed it fairly closely, though I didn't de-seed my chiles and used short ribs (I thought I had pork belly in the freezer, but I couldn't find it) primarily because I don't have a cleaver to chop down big ribs.
The result was very strong and rich, though not from coconut milk. I guess the ingredients were naturally rich. I tried a canned prik khing paste last night for a similar recipe and thought the one from scratch was superior (though James seemed to like the prepared sauce better, but that's psychological because he bought the can)  I think even the good canned pastes, end up being too salty and flat. The freshly pureed paste was also considerably hotter than the canned version, which I had to spruce up with a couple chopped chiles.
Pork with Snake Beans and Chile Paste
Pad Prik King Tua Fak Yaew
2 tablespoons safflower oil or 4 tablespoons if using pork ribs or leg
2 cloves garlic, crushed
7 ounces pork belly, fresh bacon or pork ribs or leg, steamed and sliced into smalls strips
3 tablespoons of the chile paste
2 tablespoons fish sauce
1 tablespoon white sugar
2 ounces snake beans, cut into 1 ¼" lengths
6 kaffir lime leaves, shredded
3 fresh large red chiles, halved and deseeded
Chile Paste
5-10 dried red long chiles, deseeded and chopped
3 red shallots, chopped
2 cloves garlic
½ stalk lemongrass, sliced
1 teaspoon galangal, peeled and chopped
3 cilantro roots
1 tablespoon dried shrimp, rinsed
1 teaspoon salt
In a medium pan, heat the oil, add the garlic and fry until golden. Add the pork and fry until it begins to color. Add the chile paste and fry for about 5-8 minutes or until fragrant; if necessary, moisten with a little water to prevent the paste from sticking. Add the fish sauce and sugar. Mix in the beans, kaffir lime leaves and chiles, fry for another 2-3 minutes, or until the beans are cooked. It will taste quite rich and spicy.
To make chile paste, puree all the ingredients in a food processor (or mortar and pestle), using as little water as possible, until fine.
Adapted from Classic Thai Cuisine by David Thompson. Ten Speed Press. 1993.
Here's a fun site with Thai cooking videos. Watch stir-fried pork with long beans being made (scroll down to #9). They're not scared of MSG in Thailand.