It's a Mockery
If I don't watch it, I'm going to turn into Rachael Ray, mangling traditional food with shortcuts and messed up ingredients. I'm not ashamed. Last night I was in a pinch and wanted to make something easy with stuff I had on hand, so I turned to a packet of Brahim's instant rendang that I bought at a Carrefour in Singapore.
I find many of the packaged pastes in Asia to be a notch above many mainstream American counterparts, but maybe I'm just thinking of McCormick taco seasoning and powdered alfredo sauces (James likes the Knorr carbonara sauce, but I'm not completely convinced).
The Brahim's is a just add chopped meat and water and simmer affair. Simple. But I didn't have traditional beef on hand, or even chicken in its ideal form. Using boneless, skinless chicken breast instead of a hacked up chicken was very American of me. I definitely prefer the bones and the skin, but I had two giant bags of breasts from Costco in the freezer that needed to get used. Plus, somehow I can justify the oil and coconut milk when using a leaner, albeit less flavorful, cut of poultry.
I needed a basic vegetable side dish and thought of stir-fried water spinach, kangkung, kangkong, whatever you like to call it (not king kong, however) but that's not going to happen on a Sunday night in Carroll Gardens. Korean deli spinach is as good as it gets, and it sufficed.
Mock Kangkung Belacan
5 bird chiles
4 cloves of garlic
2 tablespoons dried shrimp, soaked in water and drained
1 tablespoon shrimp paste
1 bunch of spinach
1 tablespoon oil
¼ cup water
Puree chiles, garlic, dried shrimp and shrimp paste in a food processor or mortar and pestle. Fry paste in oil for about four minutes (normally, you'd use 3-4 times the oil, but I'm skimpy with cooking fats and use a nonstick pan). Add the spinach and water and toss until wilted and cooked down.
Serves 4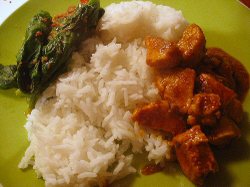 I'm not really bothered by strong smells (I think I'm permanently stuffed up) so shrimp paste doesn't bug me. It is pungent, though, so novices beware. We opened up a bunch of windows and you could still smell the belacan fumes all night. Also, a pinch of sugar probably would've been a nice addition, but it didn't occur to me until right now.