Mustard Seed Magic
Sunday evening I was inspired to make a few recipes from the January 2006 (typing 2006 is really frightening) Food & Wine. You never know what will jump out at you, but I liked the simplicity and flair of Sai Viswanath's Indian inflected creations from DeWolf Tavern in Rhode Island. I decided on replicating two dishes, the garam masala-crusted chicken with fig jus and green bean-chile stir-fry. The tumeric-ginger cauliflower also sounded appealing, but I figured I'd save that side for another night.
  I was hoping to use things I had around the house. All I had to run out in the freezing afternoon cold for were green beans, dried figs (which I thought I had—I swear I have every other dried fruit known to man all baggied up in the cupboard) and a jalapeño (I always have birds eye chiles on hand, but didn't want to deviate. As it turned out, I could've gotten away with a little extra heat, the jalapeño was nearly imperceptible in the beans). The recipes were straightforward enough that this could've been a weeknight dinner (I try to reserve Sundays for time consuming endeavors) though you can't totally ignore the chicken, it needs a little tending to.
James asked if I had used five spice, which I hadn't, it was garam masala. But that made sense. It had never occurred to me before that the combo of cumin, coriander, black pepper, cloves and cinnamon (of course, there are countless variations) is totally an Indian five spice powder. I didn't make my own, but went with a scoop from a 99-cent packet of Swad brand blend. I'm obsessed with Swad, seriously, but I'll save my fervor for another time. The oil and spice slathered bird smelled very sweet as it roasted.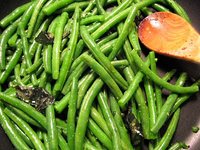 While at The Met (which isn't great, but compared to the world's most heinous Key Food it's almost heavenly), picking up ingredients, I tried to find an ice cream that would compliment the leftover caramel sauce I'd made the weekend before to go with sticky toffee pudding. I ended up with a pint of the limited edition Haagan Dazs eggnog flavor, but haven't tried it yet since I was too full after eating dinner and downright tipsy after swigging a bottle of Czech beer, also a party remainder. I didn't realize how strong the effects of 10% alcohol actually were outside of the celebratory context. I guess that's why they call it social drinking.
P.S. Did anyone else use the '70s Keys to Reading textbooks with stoner titles like "Mustard Seed Magic" and "Air Pudding and Wind Sauce"?