Outlet Mall Applebee's

1/2 
"It doesnt look like the picture." Well, of course not. I'm not sure when James got the idea that what shows up on the plate should actually resemble the sparkly semi-appetizing promotional shots. What do you expect from an outlet mall eatery, anyway?
Without intention, the Woodbury Common Applebees has become a Christmas shopping tradition. Some might equate Rockefeller Center, classic shop window displays from Macys and Bloomingdales, the skating rink, giant Christmas tree and the like with the holidays. I'm beginning to associate tour busses, Le Creuset seconds and marked down Gap goods with the season.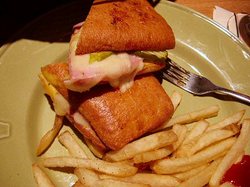 Applebees is no great shakes, but compared to the food court offerings (Wasabi Jane's Rice and Noodle Works, anyone?) its no contest. Plus, they have alcohol. And if you go after 7pm the wait isnt even insane (why people will wait up to an hour for chain restaurants is beyond me). I'm not scared of Applebees, even after being told by friends a few weeks ago that this very restaurant (not location) made them go vegetarian two years ago after being food poisoned.
I started with a nice Malibu-spiked Bahama Mama. Classy, and it paired nicely with the nachos, which were kind of unremarkable. I wanted there to be more stuff smothering the chips. Lots of stuff, i.e. melted cheese is practically an Applebees hallmark. I then eschewed the riblets and steak and shrimp combos for a sassy sandwich with Latino flair, Ruebens Cuban Panini. Never mind that by definition a cubano is pressed, people are freaking panini crazy like they were for wraps like five years ago. It wasn't horrible, though the ham had a faint chemical undertone. The bread was the strange (yet tasty) component, it almost appeared deep-fried, crisp, spongy and oily at the same time like a beignet.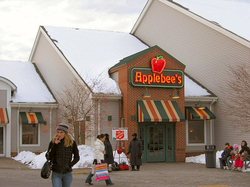 And speaking of crunchy, sweet dough, we had to finish with their new dessert the Crispy Bread Pudding, despite already being stuffed silly. It also didn't look like the picture. There wasn't any whipped cream, there wasn't any caramel drizzled over the scoop of vanilla ice cream. The dipping sauce came in a plastic to go container rather than a proper serving dish and we were given two spoons instead of forks. How are you supposed to dip the damn sugar and cinnamon crusted bread chunks with a spoon? I like super sweet sweets, but this concoction almost put me into a coma. Of course, we cleaned the plate anyway. (12/10/05)
Oh, the gluttonous excess of the chain restaurant. I realize the food is neither unique nor crafted with loving care. Applebee's does not dupe me. It's about oomph, intensity, plenitude–all downright American ideals. It's a patriotic duty to load up on cheese and oil (they'll put cheese where it doesn't belong and fry it up whether you like it or not).
Who says chains aren't creative? Most have an uncanny corporate knack for crazy combos. Cheesecake chimichanga? Oh, I'm there.
I honestly like this food; it's highly seasoned, fat laden and flavor packed. They say your tastes are formed in the first three years of life and this sad truth is my greasy albatross. How many people do you know in their 20s who gave up cigarettes, work out four times a week and still have high blood pressure? These places will ruin you. Fortunately, I only make it to the suburbs say, once a month, if I'm lucky. It's real food for me the other 353 days.
Applebee's is the poster child for efficiency. Scarily so. If you're in the mood to see someone squirm, go to a chain restaurant and eat really, really slow. Actually, just chew your food, pause between bites and make conversation with your dining companion(s). This will be enough to add precious minutes to your dining time and stress on your server.
Even the seating routine is a highly orchestrated endeavor. Used to the 60+ minute wait at Outback Steakhouse in NJ (it's a must when at the Edgewater Target), when they said, "your table will be ready in 20 minutes" we took it with a grain of salt and popped into the neighboring Calvin Klein store for a quick peek. We returned no more than 20 minutes later to a sharp reprimand and a boot back to the bottom of the list. In their overeffiency, our table had been given away. Timing is everything.
After eventually scoring a seat, we wanted the giant (I couldn't tell you how many ounces) beer. The waitress balked when I said I wanted one too. Not because it's impolite for a lady to down such a large drink (well, maybe, but by the same token, the nacho/chicken wing platter and 90% of their menu is far from ladylike) but because I'd likely drink it slower than a man. This was the first kink in her plan to pick up our pace.
Everyone else appeared to get their food in appropriate course order. However, our mains came while we still had a good 25% of our nachos left. It clearly pained our waitress when we told her we weren't finished yet. She grabbed the basket cheerily asking, "can I get that out of your way?" They absolutely never ask if you're done. Instead you receive a twisted question making it seem as if they are doing something helpful.
My burger wasn't even half finished before she came back to ask us about dessert. And yes, we did want dessert, that goddamn cheesecake chimichanga to be exact, but after we were done eating our meal. She tried to persuade us to order something then and there, as in her exact words, "it'll take 5-7 minutes for them to prepare it." She knew the prep time down to the minute. Wouldn't it be wonderful to put down your fork, swallow your last fry then have a gooey dessert plonked down in immediate succession? Er, no. Some people like to talk and breathe. And the odd thing was that there wasn't even a crowd waiting, as when we first arrived. She was on robotic herd 'em up and head 'em out autopilot.
None of these observations are complaints. You know what you're getting into when you choose to dine at an outlet mall. If anything, I'm mildly impressed with their ability to break down the dining experience into an exercise in optimum efficiency. Ask the right questions, subtly steer the customer towards ideal choices and at all costs keep them consistently chewing. It's someone's job to observe and record these patron/waitstaff transactions. Perfecting the whole soulless shebang with Henry Ford assembly line tactics is pure USA spirit. And who's not proud to be an American these days? (12/15/01)
Applebee's * 498 Red Apple Ct., Central Valley, NY