Onyx

On vacation, if there's a Michelin star in town I'll
try it. It's certain to beat the Nobu or Buddha Bar that every international
capital now advertises. In Budapest it's an easy decision because there are
only two choices, one star apiece. My inclination was to go with the restaurant
serving lentil foam, though both Onyx and Costes, the other option, do two
tasting menus, one using more traditional ingredients and one more
international. I'd have to be on a second visit before branching out into
pineapple and avocado.
Onyx is plush and glossy, that mix of tufted
banquettes, chandeliers, oversized chairs, damask wallpaper that's Vegas
Versailles, but with unexpected glowing surfaces and space age metal wall
installations that are more of a cold climate Miami. Somehow it wasn't too
much. The diners were almost exclusively young couples from countries with even
more favorable exchange rates (the menu is priced in Euros, not Forints) with a
business dinner where the local underlings slowly nursed glasses of wine and
laughed more than they had to at American khaki bosses' stories.
They do
not skimp on the bread. The basket comes with butter, pork rillettes and fresh
cheese. The wedge right in the center was mauve from red cabbage like a piece
of Hungarian ube pan de sal.
A puzzle
piece of squid is accented by dots of paprika sauce and a foamy milkshake, also
red pepper.
Danube
salmon, luke warm potato salad, crispy veal. That fried veal nugget showed up
again. When I first encountered it at Csalogány 26, I assumed it was a creative touch, but maybe it has Hungarian roots, after all.
Marinated
goose liver with plum textures. The puck of lacquered foie gras (you knew there
was going to be goose liver–even pubs and mom and pops in Budapest serve it) was
a lot of richness early on.  If I could
only eat one dish again, it would be this one, plus the bread basket. I basically want to eat nothing except fat and carbs for every meal.
Hungarian
sturgeon caviar with cauliflower puree, vegetables, "black soil." Thankfully,
the vegetable patch came next. I don't actually know what the dirt was crafted
from; I was more preoccupied with the world's tiniest melon hiding out near the
caviar.
Mangalitza
marmalade with lentil foam, and charbroiled mangalitza loin with lentil. It
wouldn't be a survey of Hungarian cuisine without the beloved mangalitza. As often happens, the meatiest course shows up when you're fuller and less appreciative.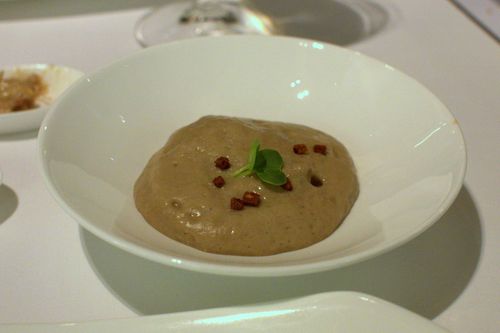 The foam,
with more of a pea soup body, got its own plate–and dark breadcrumbs.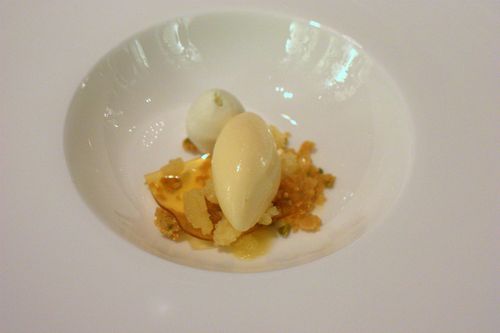 Intermediate
dessert of forgotten ingredients.
21st century
somlói sponge cake. On the final night of my week in Budapest, I was now on my
third version of somlói. With a thick layer of real, dense chocolate, not syrup,
this non-traditional style was my favorite.
Now here
is where it gets weird. The staff was mildly obsessed with getting people to
try the tableside Chemex coffee service. No one was biting. I kind of wanted to
peek at what was on the bar cart I'd seen making the rounds earlier, so I had
sour cherry palinka first. Maybe this upset the balance and order?
What I
really wanted was the petit four cart. Throughout the evening it has been
wheeled up to everyone's tables and I'd stealthily looked to see how many
treats they'd take (diners get shy when given no limits) and make a mental note
of which I wanted. The lavender marshmallows, for sure. Also, the mini canelés.
The
coffee is done with flourish on a portable induction burner. I'm truly not a
coffee aficionado, no Portland roasting obsession ever rubbed off on me. Do you
know what would've went well with the coffee? A lavender marshmallow.
And that
was it. No treats (minus the box of two you're sent home with). Did they run
out? Were they trying to close?  At this
point, not yet 11pm, there was only one other couple in the dining room,
another anomaly since I didn't consider 8pm an unusually late hour to begin an
evening meal.  They were not brought the
sweets cart either, but a plate with a small selection on it. In hindsight, I
should've just said something. If you're paying hundreds of dollars (this was
very much NYC-priced) you don't need to be a mignardises martyr. This exact
situation played out during an Eleven Madison Park lunch back before they went
four star, and it soured me on them; I've never wanted to go back. It's not the
note to end on.
On the
way out the door we passed by the candy cart, well-stocked and taunting.  
Onyx *
Vörösmarty tér 7-8, Budapest, Hungary