New York State of Mind
Despite
not trying a beef bacon burger at Dubai's Shake Shack, I was a little obsessed
with the possibility of doing so next to a faux ski slope in 110 degree
weather.  The new Lupa in Hong Kong stymied
me more than anything (is a lunch buffet true to form?)
Both of
those examples were included in a New York Times article this weekend about the
power of New York restaurant brands abroad (and I thought it was Brooklyn
getting all the attention, from Paris to Texas and even Bangkok). BLT restaurants, upcoming
Fatty Crabs, Michael White's Al Molo, and the fake Craftsteak (the company,
Dining Concepts, which is responsible for the Tourondel, Batali and White
restaurants in Hong Kong, also has a Nahm in its portfolio, which has nothing to do with David
Thompson, a non-Keller Bouchon, and a Blue Smoke that may be Danny
Meyer-approved but isn't explicit anywhere) also get mentions.
And yet
there are even more NYC brands, some big, some small, that have crept beyond
our borders:
In Dubai Magnolia
Bakery is in a Bloomingdale's in a mall. I would've loved to hear if women in
black abayas claimed to be "Carries" or "Samanthas," but
cupcakes were not making a daytime appearance during Ramadan.
I have no
idea what the Park Slope of Kuwait might be, but it's doubtful that breast-feeders
and  Mother's Milk Stout drinkers will
comingle at the Tea Lounge's new Middle Eastern franchise.
Sarabeth's can be found in Manhattan and area
Lord & Taylors, and now too in Tokyo.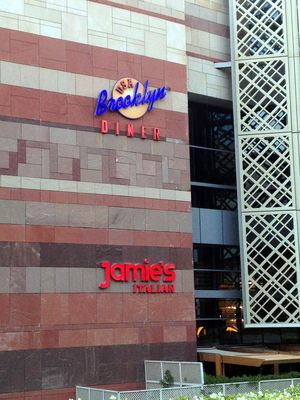 I don't
know that I would call The Brooklyn Diner (with its only two NYC locations in
Manhattan, it already sounds foreign-ized  and innacurate)an institution. In fact, I'd
never heard of it before seeing the name plastered on the wall at Dubai's
Festival Walk mall, just above a Jamie Oliver restaurant.
I must admit my favorite New York transplant is McSorley's
in Macau because the layers of international intrigue are nearly unimaginable:
an Irish bar in the East Village transported to a casino mimicking Venice from
Las Vegas and re-imagined and scaled larger for a Chinese Special
Administrative Region. The world should give up because Macau McSorley's has
won.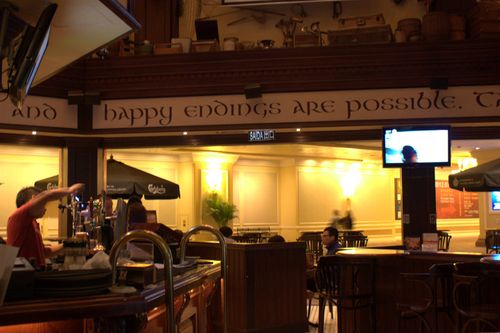 While drinking a beer at dark wood booth, I watched
a video slide slow on the wall-mounted TV showing a bag of rolls, brand name
Jussipussy, and a small child with the caption, "Fuck milk and cookies,
give me titties and beer." The B 52s and Jermaine Stewart played in the
background. There were no frat boys, just a few Chinese couples not drinking beer. Drinking is not a big part of Macanese casino culture. Perhaps what happens in Macau, does not stay in Macau.
Nathan's Famous has spread from Coney Island to Japan,
Kuwait, UAE and the Dominican Republic.
And while
not typically associated with New York, at least in its contemporary form, T.G.I.
Friday's, is the original local kid makes good. The singles bar turned flair
popularizer has penetrated every continent on earth.