Csalogány 26

Though the wines are all regional at Csalogány
26–it's your chance to sample from
Slovenia and Moldova–the food isn't overtly Hungarian.
It's a solid in-between restaurant, not too formal or casual with a menu that
changes regularly. And while you can dine a la carte, the prixe fixes, four or
eight courses, with wine pairings, is the way to go. The shorter option worked
out to being just $49.
I didn't take real photos because I was trying to be in
relaxed enjoy-your-meal mode instead of obnoxious tourist mode. And then it
happened that we were seated next to the other Americans (isn't it the worst
how Americans never want to be anywhere near another American abroad?)
walk-ins, a young woman in yoga pants, Toms and a $260 sweater (she said so)
with her bro friend and an SLR.
The amuse and my first course were both pressed meat. In
fact, the chosen dish was called presskopf, which turned out to be a
fat-encased slices of pig's head terrine accompanied by chopped pickles and
sliced radishes. The crisp-skinned sea bass was in a completely different vein,
but also had a tart and briny flavor from capers tossed into the risotto.
The third dish bridged the Eastern European and
Mediterranean with polenta and more composed meat. A veal tenderloin comes with
more veal, cheeks, cubed, panko-crusted and fried, reminiscent of the pork nuggets
at totally American Char no. 4. For dessert I chose the cheese plate with a
puree of walnut, the chestnut paste of Hungary. An extra sweet appeared. Despite
the presence of cookies, it was more of a breakfast–unless you consider Farina-like
porridge with dried fruit a traditional dessert.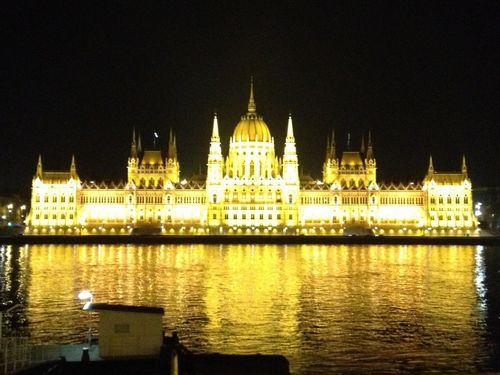 On the walk back to the subway–cheap, super efficient and
old-school Soviet with doors that slam shut so violently they'd easily chop off
a limb–you probably won't miss the glowing parliament building, which I
assumed was yet another castle. It's impressive at night, and probably more so
when captured by camera that's not an iPhone.
Csalogány 26 *
Csalogány utca 26, Budapest, Hungary