Eaten, Barely Blogged: Locals Only
I'll admit I kind of liked complaining about Carroll
Gardens (and I did so with gusto–there's a grocer/sandwichery that called me
out on citing them three times–Google alerts, clearly–in my blanket
overhype condemnation). But as they say, love it or leave it, and so I did. There's nothing worse than whiners who don't take action.
And I can be honest and say that there's not a lot going
on over here in my far northeastern corner of Clinton Hill (and technically none of what follows is in Clinton Hill–you don't really need to hear about the perfunctory sashimi and Caribbean snacks and melon cocktails I've encountered). But at least there are no
illusions. A majority of the restaurants on Court and Smith streets were/are mediocre,
and despite perfectly good meals at Buttermilk Channel and Frankies, I see no
need to wait over an hour for a bowl of pasta or fried chicken anywhere.
So that said, my standards aren't as stringent in
these parts. It's like in high school where there was a class called Reading
and the students did nothing but read books on couches amidst a bunch of potted plants because
they had bad grades and were underachievers. Ok, my standards aren't that low;
I'm just saying there are different measures of success.
Dictated by the
neighborhood made up of  Pratt students, old-timers, public housing
inhabitants, and yes, the errant brownstone dweller (I don't think the Hasids play any role)  the dining options tend to
be inexpensive and un-ambitious. The new busineseses all seem to be burger joints or wifi cafes, which don't mean much to me. The Wallace, which is more upscale, is already using Scoutmob and was recently on Blackboard Eats, which aren't typically good signs even though I've been known to use both. I assume Lulu & Po is still going strong (I need to revisit) and I haven't heard a peep about Prospect since it opened.
(I was going to say that the white bougie
family influx hasn't hit hard yet, but just a few hours ago a preschooler sat
down on the barstool next to me and then her Scandinavian-accented father asked
her if she wanted to have her birthday party at "the new house" or in
France. He then told her Bono was "a nice guy" after she failed to
pay proper attention to the song playing that I didn't recognize. "I like it," she said.
"You're not even listening!" he replied, but softly, not snappily
because he was foreign.)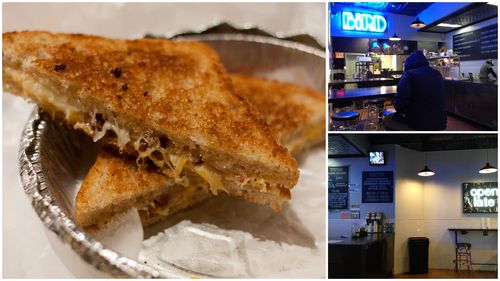 Brooklyn Bird Opened a few weeks ago to zero bloggy
fanfare, this diner-styled restaurant that feels more suited to takeout is nothing special (I do feel bad that no one ever seems to be in there) but it's a block away
and they serve food until 4am. They are advertising beer and wine coming soon. Plus, they've created a lesser-known-regional-fare trifecta with their upstate New York spiedie (nearby Speedy Romeo and
Brooklyn Koalache Co. round out the mini-trend with St. Louis pizza and Czech
by way of Texas, koalaches). I just tried a grilled cheese (cheddar and gruyere) sandwich with bacon and truffle oil. Of course, it didn't really need the truffle oil. I may be inclined to try the ghost pepper hot wings and that chicken spiedie some late night soon.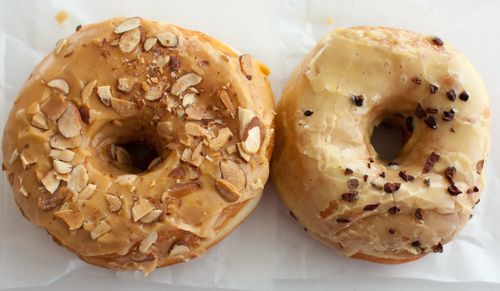 Dough It's only a block from the nearest subway
station, but it's still a solid 12-minute walk from my apartment, so it's on
the fringes of what I'd consider "my neighborhood." It's not like
Dough is a secret; they made a name for themselves at the Brooklyn Flea. But
even for someone who rarely eats doughnuts,  I can say unequivocally that it's the best
$2.25 you'll spend for something of the raised yeast variety. (It took me three
months to finally walk over there, and the main reason I did was to break the
twenty dollar bill I had on me to tip the Fresh Direct driver who was arriving
in less than an hour. Mildly related and good to know: the 99-cent store on the
ground floor of my building–yes, I live in the same structure as a discount
store and it rules–advertises an atm that distributes $10s, but I only wanted
to tip $5.) Tart frostings are kind of their thing. I'd had a hibiscus doughnut
before, and the passionfruit is in a similar vein. What sets it apart are the
cocoa nibs that give it a bitter crunch. The dulce de leche with slivered
almonds is more full-on sweet and makes you want to go back to sleep after
eating it. That is not a criticism.
SCRATCHbread Another five minutes southeast from
Dough and unquestionably in Bed-Stuy (I'm a newcomer and I already know that
Classon is the cutoff despite brokers pushing Bedford as the dividing line). I didn't
fully get that Scratchbread is doing crazy things until I actually ate a few
baked goods. The sticky buns may look innocent, but there are a million things
happening. I'm still not completely sure what. The bread itself is
wheat-y and vaguely wholesome, and then the caramel isn't particularly sweet but
burnt and spicy–both hot spicy and cardamom-spiced–and there are more of those cocoa nibs. I kind of just wanted sweet
caramel and pecans. If you're going to go this direction, though, I bet you
could do a cool caramel with fish sauce.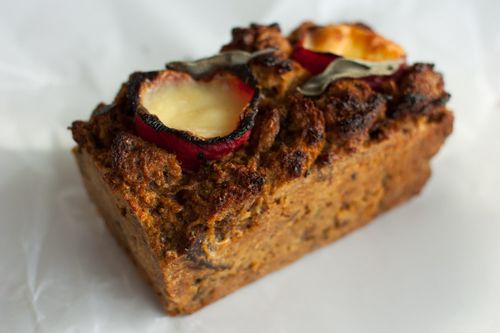 I also picked up a loaf of the bread custard,
but it wasn't the seasonal loaf I'd seen mentioned elsewhere. I do think the
guts were soft from roasted squash, but instead of rosemary there was sage and
there was no trace of prosciutto. Instead, two cheese-filled red peppers had
been stuffed into the bread like little Crater Lakes, almost treading into
foreign Pizza Hut territory. It was a Christmas Eve hit, of course.
Lola f.k.a. Chez Lola. I guess the former bistro and
Myrtle Ave. pioneer is now calling itself a gastropub? The revamp entails new
cocktails (too sweet, though it was my own fault for ordering the Brooklyn Beauregard,
essentially a whiskey sour with Jim Beam Honey Tea Bourbon and St. Germain) and
a move towards American cuisine, meaning Canada, US and Mexico. The menu sort of
reads like a Kitchen Nightmares overhaul: pared down, nearly foolproof to
prepare, a bit of repetition, but overall inoffensive. Canada is represented by
a duck poutine, which is a glorious drunk food (I wasn't drunk, though). The fries, cheese curds and confit
could've use a little more gravy it was decided. I love a thin crust tarte flambee and their goat cheese, onion and bacon version was ok. A salad of smoked chicken, apples and cashews wasn't really more than just that. They
do serve late for the area, until 2am, and nothing is over $20 (most is under
$15) so there is an appeal if you want something other than pizza or Chinese  in
the immediate vicinity. And I think they still do a $15 all-you-can-eat mussels
deal on Thursdays, so there's that. They're also on Scoutmob, by the way.