New Orleans Between Bread: Muffalettas & Po' Boys
Despite the plethora of sandwiches in NYC–these types of round-ups and columns make me cry–I rarely eat them out of some misguided carb-shunning measure that just gets bested by overeating multigrain crispbreads or corn tortillas instead. Both old-timer and newcomer favorites, Defonte's and Court Street Grocers are mere blocks from my apartment, yet I've never been to either.
On vacations, though, sadness wanes and sandwiches are fair game. And in New Orleans you'd be crazy to pass up two classics: the muffaletta, a very specific sandwich, and po' boys, a genre that can include nearly any type of filling.
Whereas a first-timer could easily skip Mother's for po' boys (though I would never disparage the choice–a Facebook friend posted a Mother's pic just days after I returned from New Orleans and I kept comments to myself) the same isn't true of Central Grocery. The much lauded mufaletta is worth experiencing–it is the original, after all. It's just that after trying it on our past three visits, it felt like time to branch out.
Everyone else seems to do a warm version.  In addition to its Pimm's Cup, Napoleon House is also known for its mufaletta (and I wouldn't stray beyond those two items). A whole one is good-sized and plenty for two to share, but not as massive as the original. Less oily and dense with a lighter, fluffy bread and enough melted provolone to create strings when pulling apart the quarters, this style draws less attention to the cold cuts.  The chopped green olive condiment, cheese, and bread dominate.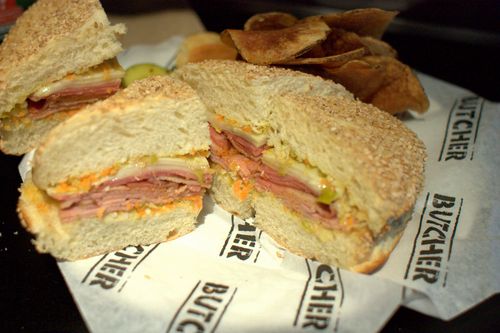 Cochon Butcher, who also presents its version heated, is all about the charcuterie–ham, salami, mortadella– as implied by the name of the establishment. Clearly, it's the more artisanal of the two. This style, too, uses a springier sesame-seed-studded bread than the original, which makes it easier to eat without totally blowing your appetite for the day.
The Buckboard Bacon Melt, actually impressed me more with assertive and unexpected flavors. Essentially, it's a grilled cheese with Swiss, meaty bacon, a mess of tangy stewed collard greens for contrast, and  spiced aioli for extra richness. I want to swap lettuce for greens on all of my sandwiches, now.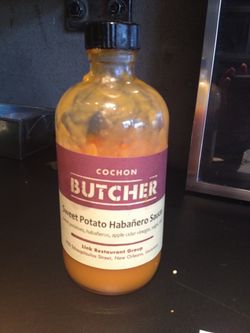 Whether or not they were meant to be eaten with hot sauce, the house sweet potato, habanero blend added a sweet-hot kick that was irresistible. I ended up buying a bottle of the thick orange condiment to take home, as well as a bacon praline, which worked a little better as a spin on that candy than the Aunt Sally's version using Tabasco. I had no idea that the sweet potato was such as part of the region's identity. Over four days I saw the tuber's presence in a drink called the Casserole Cocktail (it tasted like Thanksgiving) at the Swizzle Stick, pickled in an amuse bouche at Sweet Olive, and mentioned in an ad for an upcoming beer dinner where one course was paired with Lazy Magnolia's Sweet Potato Cream Stout (I never found it in a bar, but their Southern Pecan Ale is very good).
(As an aside, I would recommend both  Cochon Butcher and Cochon, but didn't get the big deal with Herbsaint where we only went because I had heard gumbo recommendations. Normally, I find service complaints to verge on nitpicky and Yelpy and I wasn't even going to blog about this, but the recent Pete Wells/Roberta's post made me think more on the issue. We were scolded for calling to make a same-day-reservation on a Monday, not an unheard of practice in NYC, then were seated in a corner next to drafty window [which wouldn't have been an problem two days later when the weather radically shifted from blustery to tropical]. Minor issues, I guess. But being brought the check before asking seemed off for a place that presents itself as the caliber of restaurant where you shouldn't think you could make a morning reservation for that evening. When we left, the hostess podium was unmanned and neither a thanks or good-bye was offered by anyone on site. The food was average–small plates were better than mains–but the overall experience clouded that impression. Maybe it was better than average, but my opinion was tainted by the end of the meal?)
Ok, po' boys.  They can really be crammed with anything like a hero/sub/hoagie. For me, the differentiator is that you can almost always get fried seafood, which I don't typically associate with sandwiches of this type in other regions. Of course, roast beef with gravy and "debris" a.k.a. bits of gravy-soaked-meat that have fallen off in the cooking process, is also very popular and has nothing to do with the sea.
Mother's (my food diary, not blog, from the early '00s was far less verbose and photo-reliant–now I'm just being old and sentimental because my first and most recent visits to New Orleans were the exact same week ten years apart) and Domilise's have been done before, and now Parkway Tavern and Liuzza's By the Track can finally be added to my repertoire (these barely scratch the surface, but are probably the most popular four). Of the two excursions on this trip, my favorite po' boy was at Parkway (which they actually spell poor boy, which is the only sane way to pronounce it unless you genuinely don't enunciate R's at the ends of your words) but just by a hair. They do make their own bread, which is a soft baguette with a crackly top, soft enough to not cut up your mouth but with enough chew to give it character. I may have also been influenced by the double bloody mary.  Stuffed with little breaded, fried shrimp and dressed with the requisite mayonnaise, tomato, pickles and shredded lettuce, this was a near perfect rendition, a blend of hot and cold, both pillowy and firm. 
Instead of ordering the surf and turf, which is roast beef and fried shrimp, we ordered both components as separate po' boys. I'm biased against insanely messy sandwiches, so the roast beef oozing with gravy wasn't my friend, and I can't imagine what a beast the surf and turf would be to wrangle. Since we were swapping halves (these are larges, by the way, not regulars) and I started with my favorite, by the time I got to this sandwich the bread was a disintegrated mess and the top slice wouldn't stay in synch with the bottom, each bite sliding the two farther apart. James, however, preferred this over the shrimp, so it's just a matter of taste. He also insisted on taking the photo and it kept blurring and we got into a tiff–roast beef po' boys cause problems, that's all I'm saying.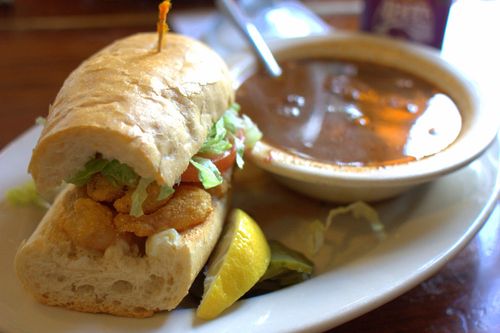 It's always about personal biases, though. The only reason why Liuzza's By the Track (not the same as Liuzza's that's not by the racetrack and is more of a sit-down restaurant that stays open past 7pm) was minutely less winsome to me was because the mayo was applied with a heavy hand and instead of melding into a soup with the vegetables, it remained thick and blobby, a psychological culinary barrier. With that said, this was a very good po' boy.

As was the rendition with fried, garlicky oysters (kind of like that other New Orleans specialty, charbroiled oysters, in sandwich form) that wasn't photographed. I didn't notice the soft-shell crab special on the wall until after I'd ordered–I would've loved to try that one.
I'm also afraid we didn't give Liuzza's the same attention as Parkway because we'd already eaten a lunch buffet at Dooky Chase's (we really just wanted to sample the fried chicken but got sucked into trying more). Without a car, and limited number of meals, we had to cram in restaurants that were relatively near each other (actually Parkway is also walkable from Liuzza's, if you wanted to do a same-day taste test) to maximize foot journeys once off the streetcar. Luckily, I figured out that the bus that runs down Esplanade Ave., a block from Liuzza's, zigzagged and would drop us off right in front of our hotel on Poydras St. The only thing I forget is that once out of NYC, cars are the norm so public transportation tends to be a weirdo-magnet. It's hard to justify a cab, though, when fares are only $1.25. Cheapness will prevail over freaks-avoidance. (During the day, at least–we did get a bad vibe being the the only ones on foot in the desolate Central Business District one evening, and refused to engage with a woman on a bike who started following us.)
And I must also add that the thin-style gumbo filled with andouille, shrimp, and chicken was my favorite iteration of the iconic dish that's done in so many ways that I'm not even going to attempt rating or discussing it. This cup was light (or maybe didn't use it at all) on the file powder, the ground sassafras leaves that thicken and give everything that quintessential New Orleans smell  and flavor that's akin to spiced dirt, the very essence of earthiness. Cajun or Creole, I'm not sure, but a little goes a long way.
Napoleon House * 500 Chartres St., New Orleans, LA
Cochon Butcher * 930 Tchoupitoulas St., New Orleans, LA
Parkway Bakery and Tavern * 538 Hagan Ave., New Orleans, LA
Liuzza's By the Track * 1518 N. Lopez St., New Orleans, LA