Eaten, Barely Blogged: Cuttlefish, Tripe & Chinese Crawfish
Celestino. It's that time of year again when I play along with the boyfriend's Lent thing even though I don't get why it's a big deal to not eat meat one day a week (pizza's not punishment, right?). You're not even restricted to vegetables. Sea creatures are totally fair game. So, Celestino, where the only meat is in the meatballs on the kids' selection of two items, was fitting. Super cute, whitewashed and hiply nautical (I still need to see Littleneck for comparison) with very good prices, it's the kind of restaurant that would be packed in Carroll Gardens, but was only a quarter full on a Friday night. A juice glass of a tart Italian white wine that wasn't the Chardonnay or the Pinot Grigio was only $5 and bracing with oysters from Massachusetts and a kale salad, crunchy and oil-slicked with anchovies draped on top of the pile of greens. I wasn't expecting something so dense and stewy from the grilled cuttlefish with peas and polenta description–the peas played more of a prominent role than anticipated–though the damp, drizzly evening called for something savory and rib-sticking.
Rocky Sullivan's. After being traumatized by the sheer volume of under-26s at both places–Fulton Grand and Hot Bird–where we attempted to have a drink after Celestino (Hot Bird is a large space, and you literally couldn't get one foot in the door it was so packed) I sought solace in a no nonsense bar bar the next evening (this is not me being a grandma–in my 20s I didn't enjoy claustrophobic situations with 20-minute-waits for drinks either) and a Sixpoint Brownstone Ale and jalapeno poppers did the trick.
El Bohemio Jarocho. I have all but given up on house-hunting. After seeing a nicely designed, overpriced co op in Clinton Hill next to the projects that already had four all-cash bids (seriously who the fuck are all these Brooklynites will millions to spare? The crank in me says all of the 20-somethings now filling the neighborhood bars in ten more years) then a so-so whole house in Sunset Park, in hopes of less-trodden neighborhoods being less competitive, I just needed a taco…or two. I've never head a peep about El Bohemio Jarocho, but it happened to be on the block we parked on and had more customers than the empty alternative across the street. Sometimes you need some crispy tripe and pineapple-sweetened al pastor with Monkey Trouble playing on two TVs and no English interactions. The steak el huevo advertised on the chalkboard turned out to be a massive plate of everything (maybe a Mexican garbage plate?): steak and eggs, obviously, but also a slab of white cheese, grilled bulbous green onion, nopales, jalapeño, avocados, tomatoes, refried beans, chips, rice, and potatoes. Phew.
New World Mall. This is the fanciest of the subterranean Flushing food courts. I didn't encounter crawfish in New Orleans (we were about a month pre-season) but they were selling the ma la-style for $9.99 at Sliced Noodles. I was tempted, but tried the beef soup with hand-pulled noodles since it was the original craving that drew me there (though I was thinking of Hong Kong-style, which this super-greens-filled Henanese version is not).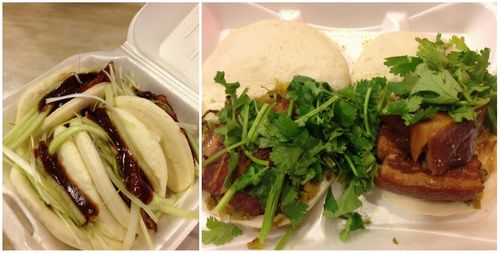 The dollar peking duck buns from across the street are a bargain, but pale in comparison to the not-much-more-expensive gua bao ($4.95 for two) from the Taiwanese stall. My favorite item of the afternoon: big fat soy-braised slabs of pork belly placed on fluffy buns and garnished with a pile of cilantro and pickled mustard greens, and given a crushed peanut finish. I saved one for breakfast the next day and wish this part of my daily first meal regimen instead of almonds and clementines.