Picnic Garden

H Mart—at least the brand new one in Edison, New Jersey that anchors a sprouted-up strip mall—is the grocery store of my dreams. I would swap it for Fairway without a second thought. We have one of these Korean supermarkets in Flushing, but as with so much of New York City, businesses become larger, cleaner, brighter, better stocked and more amenable the farther you get from the city's center, like a pond ripple showing suburbia's finest at the outer rings.
I've never seen a supermarket with so many free samples (and we'd just come from Costco—I don't know where they've gotten the reputation for being sample-centric—in my experience if you see one lady handing out apple pieces, it's a good day), an entire entourage of tables along the perimeter of the produce section offered tastes of miso soup, roasted sweet potatoes and more.
Upon entering, to your left you'll see a food court with a vendor, Kono, not Kyedong, selling fried chicken, pork belly and blood sausage, and at the edge is a small platform featuring a lone microphone that apparently can be commandeered by anyone shopping or eating to sing pop songs and ballads. On the right is a tray-and-tongs bakery, Tous Les Jours, that was fairly decimated around 6pm. What most caught my eye when walking in the door was the sign reading no photography (as well as the two teens with Jesus signs strumming guitars and singing on the sidewalk). It only implied what I was feeling, that this was no mere grocery store but an attraction that had already drawn enough snap-happy to the annoy of the management.
So, no photos of the take-out by the pound tables including marinated meats destined for the grill, refrigerated walls of kimchi, pickles and preserves, the pristine fish section with everything clearly marked and ordering instructions. And now I know where to buy a variety of fish heads, a problem I encountered when trying to reproduce Singaporean fish head curry. Most shocking, considering the store is primarily Korean with a few nods the rest of Asia, was seeing fresh galangal. I've always relied on a mushy knob I keep in the freezer and slice off as needed for Thai curry pastes.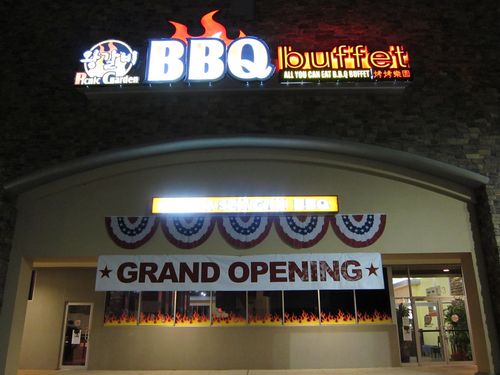 H Mart is flanked by two restaurants, a tofu house and Picnic Garden, an all-you-can-grill Korean bbq joint that also has a branch in Flushing. The interior is larger than it appears from the outside with three separate seating areas—each table with an individual grill, of course—and a central buffet that houses rice, a few side dishes and a selection of marinated meats to be taken back to your seat.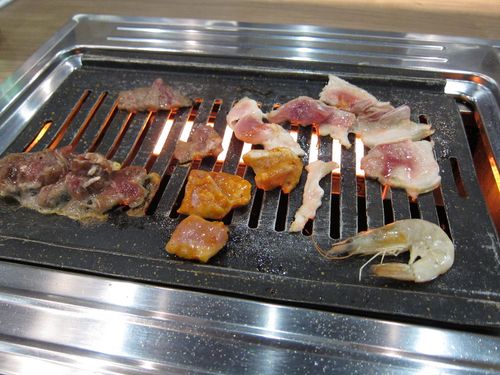 I was initially confused by the process—it's not leisurely or solitary. If you come back to your table with a small plate of food intended to feed just yourself, to cook on your own, you would be wrong. As soon as a head-setted staffer sees meat at your table, they come by, toss it on the grill and begin snipping it into bite-sized pieces. They might come back in a few minutes and turn everything over.
I finally got into the groove. You're supposed to bring back a big plate teaming with meat for the entire table (in my case, just two of us) it all cooks up at once and then you dip in chile paste, wrap with lettuce and eat. Another round means a swapped out grill and you start the process again (I would hate to be the grill-scrubber at the end of the night—on the way to the bathroom I saw an enormous wheeled plastic tub filled with the dirty once-used metal grates).

The selection is more than sufficient but not huge. For non-grillable items there were kimbap, octopus legs, noodles, tempura vegetables, fried chicken, ribs, whole grilled fish, romaine chunks with chile-flecked dressing and a few more things that I'm forgetting. For meats they had shrimp, pork belly, pork ribs, kalbi, bulgogi beef, chicken, sausages—no organ meats or soondae. Dessert is a plate of oranges.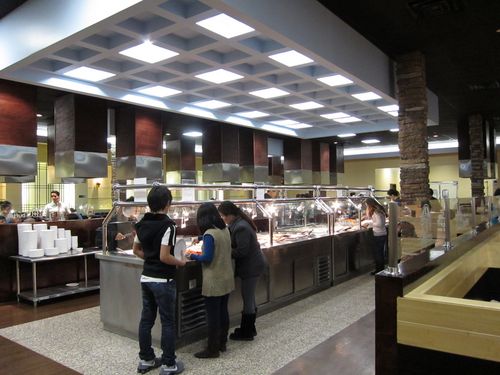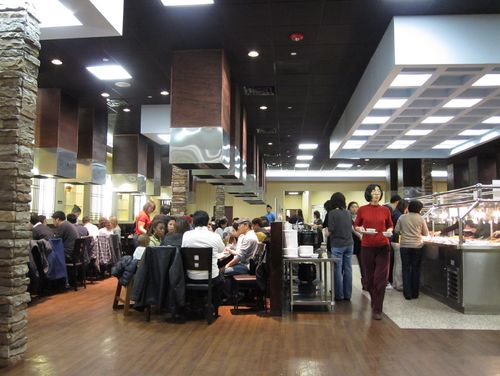 It's fun, you do get your $27 worth (the dinner price on weekends–$15 during the week sounds like a bargain). I only wish they had beer instead of barley tea. Maybe alcohol would just induce lingering?
Picnic Garden * 1763 Route 27, Edison, NJ