Me & My Egg Roll

Earlier this week I spied a shocking development on the corner of Court and 2nd. I'm surprised I noticed it at all because normally during my home-to-subway walk I'm zombified but speedy (more 28 Days Later  than Walking Dead) rarely noticing anything in my path. There was no doubt about this, though. Even I could see that Me & My Egg Roll, the Chinese takeout place with the best name for miles, had not only re-opened its permanently gate-down, lights-out dining room, but was now advertising Vietnamese sandwiches and bubble tea on a crisp new awning.
When I moved to Carroll Gardens (last week I realized I'm one-month shy of seven years, far longer than I've lived in any one place in my adult life. No wonder I've become so burnt out on the neighborhood despite the fondness everyone else in the city seems to have for it) I never would've anticipated a banh mi shop appearing around the corner. I'd given up on convenient tacos (do not try convincing me that Calexico and Oaxaca serve real Mexican food) and Vietnamese sandwiches after leaving Sunset Park in 2004.
Better late than never. And just because I declared a banh mi ban in 2009, doesn't mean that I'm not happy to finally have the beloved sandwich being made four blocks from my apartment. Luckily, this work-from-home snow day coincided with their opening, so I could pop over during my lunch break.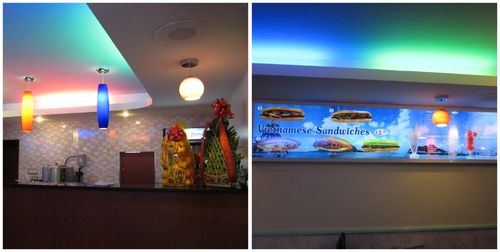 I can't say if they've redecorated the dining room filled with about eight-to-ten four-seaters because I never got a good look at the dim space before (I'm fairly certain that when I did first move here, you could still dine-in).The room is utilitarian with recessed ceiling emanting colorful glowing light and a few pendant lamps for good measure, but not dreary like sitting in the one or two plastic booths you might find at your corner takeout spot. A twosome who appeared to be a middle-aged son and mother were sipping coffees (the woman asked the man if my bubble tea was a smoothie, which reminded jaded me that decade-old Taiwanese trends aren't a part of everyone's word) out of paper cups, a younger man was eating in and waiting a bit for his food like I was and a lot of passerbys stopped to peek inside.
You can order from the Me & My Egg Roll menu (I'll admit that when I'm in the mood for Chinese-American takeout I choose Wing Hua because they're the only ones who serve crab rangoon) or the new one, which devotes most space to drinks—37 of them—five sandwiches and three resolutely American salads.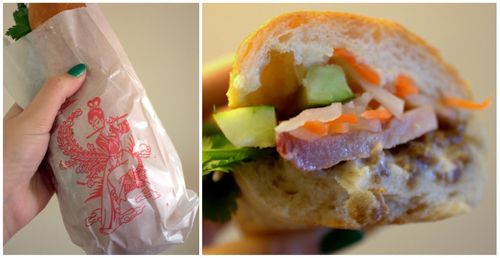 Banh mi are $5 apiece, which is fair (you don't want me to tell you about how they were only $1.50 in Portland a million years ago again, do you?) and falls between Chinatown and contemporary Vietnamese in Manhattan pricing.
The house special was good for an opening day sandwich. One of the staffers admitted that they were still getting it right. Most of the components were there: lunchmeats, cucumbers, pickled daikon and carrots, cilantro, ground and bbq pork, mayonnaise… but the balance skewed a little sweet, maybe from a sugary pickling liquid and thickly sliced char siu. What it lacked was chiles and the pate, both mentioned on the menu. A little heat and creaminess would've added more dimension. Sriricha is always on my shelf, so that was easily rectified. The bread was fresh and pliable with a little chew, though not particularly crackly. Given the neighborhood, it's probably Italian bread, not a traditional French baguette.
I realized the taro bubble tea was a mistake after I got out the door. The mauve beverage filled with brown orbs draws attention. Also, I needed my arms for balance while trudging through slippery piles of slush and navigating single-file paths carved out of feet of snow (not easy with the amount of dog and stroller traffic in the area—I really don't enjoy playing chicken with strangers in the slush).
I tried squeezing past two boys, shovelers for hire, and one turned to ask me something. Oh no, I read enough police blotters to know that kids are always punching people and snatching their iPhones (I'm more concerned that they'll discover that I only have a Cliq XT and punch me harder because it's such a piece of shit phone).
"Where did you get that drink?" he said.
Oh, right, everyone's into food these days. "Um, at the Chinese place down the street, Me and My Egg Roll," I replied.
"So, it's like a milkshake?" he asked.
"Yeah, I like it," I said and then wondered why I said I like it instead of answering the question. I guess bubble tea is like a milkshake. Did he really need me to go on about Taiwanese tea being co-opted by Vietnamese and now sold by Chinese in Brooklyn? No, that deserves a punch.
Now I wonder if the kids who have been known to eat monochromatic fried combo meals from Styrofoam containers (and get into altercations with the staff) while gathered outside Me & My Egg Roll's takeout door, will start asking for milkshakes.
Me & My Egg Roll * 407 Court St., Brooklyn, NY