But Will There Be Beggar's Purses?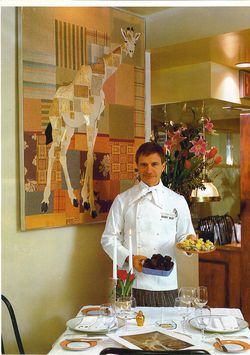 Finally. As much as I disparage false nostalgia in music and fashion, I have been waiting for the '80s to show up in cuisine, even if only for a night (and far more highbrow than my first-hand experiences). Vinegar Hill House will viewing the decade through the lens of American Psycho for New Year's Eve.
My suburban take would feature Cajun blackened redfish, Southwestern something, quiche, wine coolers, goat cheese, raspberry vinaigrette, taco salads in giant fried tortillas—and obviously, bread bowls. Odd how sun-dried tomatoes, artichoke hearts, sushi and pesto never went away.
Photo of Quilted Giraffe's beggar's purses and truffles from Insatiable Critic