Last year I embraced the ubiquitous year-end best of list without adding my own to the online clutter.
This year I present only a single micro-trend: fried, shredded beef tongue with flowers, a curiosity that I non-purposely encountered three times this year in three geographically diverse restaurants. It only leads me to believe that there must be many more renditions being executed around the globe.
Has anyone else had a run-in with flowery tongue?
April 2011, Mugaritz, San Sebastian, Spain. "Shhh…muerdete la lengua," is all the menu gives away. You are brought the tangle of  mystery meat and asked to guess its origin after eating it. Despite the clue in the description , I would not have identified the crispy floss as tongue. This is the type of playfulness I would expect from an iconic Basque restaurant, and assumed it was a unique house creation.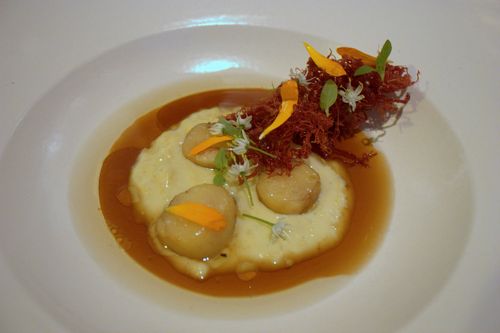 July 2011, Castagna, Portland, Oregon. My hometown is a lot of things food-wise–it's hard to get more seasonal, local, handmade, food trucky–but cutting-edge, it's not.  My visit coincided with Chef Matthew Lightner's final week at Castagna before decamping to NYC (Atera still hasn't opened) and I was charmed by the ambitious style of cooking. Then bafflement took over when Summer Squash with Beef Marrow, Tongue, Onion Blossom arrived with a cascade of beef tongue wisps adorned with leaves and flower petals cleaving to the side of the dish. A coincidence or homage?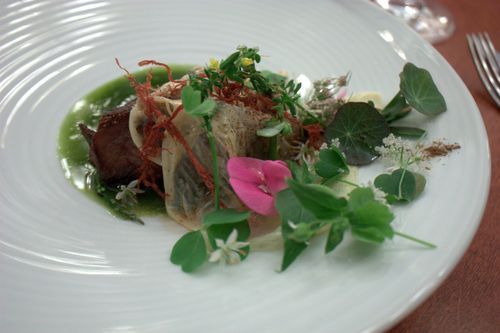 September 2011, Town House, Chilhowie, Virginia.  Experiencing acutely on-trend food–ashes, pine, hay, and weedy herbs galore–in the middle of nowhere was pleasantly jarring.  The unexpected continued with Beef Cheek…Pastoral. The colorful tableau was graced with ruddy strands of fried  beef tongue! Flowers were a given. Used more as complement than a focus, its presence was still hard to ignore.
Should I be waiting for the trickle down effect? As long as we're still scared of pesto (yes, I'm obsessed with that story) I don't see beef tongue and flowers showing up at Olive Garden any time soon. Maybe Brick House Tavern + Tap–they're extreme, right?