Jose Tejas, the incongruously named Border Café that give the illusion of not being a chain, rules the Tex-Mex scene in Middlesex County. It's always packed, the parking lot overflowing well past the time other restaurants in the area are thinning out for the night. Chevy's in nearby Linden doesn't really compare, so we kept going south down Route 1 until we hit On the Border in New Brunswick where you can always see a new movie in an uncrowded multiplex.
Not surprising for a Saturday night, the restaurant was bustling and we were quoted a short wait. What I was surprised by was the predominantly Indian clientele. That's why I like New Jersey so much. Sure, it's the suburbs but it's not the all-American West Coast suburbs of my youth. The setting would've been ripe for painful Outsourced-style humor involving Sikh turbans.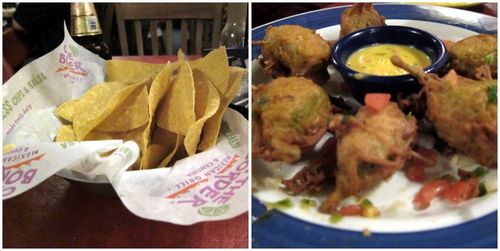 The chicken-and-cheese stuffed jalapeños (they didn't call them poppers) aren't so different from mirchi bajji, really.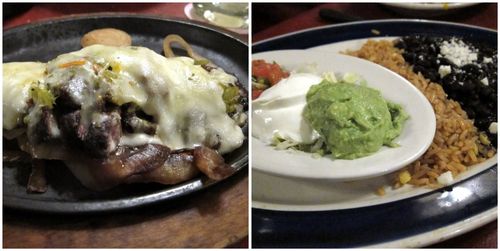 Their fall Hatch chiles menu is kind of on trend. This year in particular, they've been getting a lot of press. The weird thing was that I didn't really taste the green chile and I didn't expect cheese on my grilled meat. Of course, melted cheese in the trademark of any fine chain, but I was asked if I wanted cheese or guacamole, and I went for the latter if only to lower my cholesterol marginally.
I ordered one agave margarita, which tasted bitter and lingered like it contained artificial sweetener. My second, a standard version, tasted exactly the same, so then I was confused. I will say that one thing Jose Tejas definitely has over On the Border is the margaritas.
On The Border * 51 US 1, New Brunswick, NJ