Lotus of Siam NY

1/2 Assessing a restaurant like Lotus of Siam, which popped up out of nowhere in a shocking I Didn't Know I Was Pregnant style, is problematic. Do you compare it to the Las Vegas original even though it's a different beast? I prefer the strip mall version. Do you match it against the existing Thai restaurants in the city? I still favor Chao Thai or Sripraphai in Queens.
Based on the opening week tasting menu—yes, I'm curious to see the variety and pricing of the regular entrees—Lotus of Siam presents Thai food that ranges the gamut from regional Issan specialties to fancified inventions. And they're most successful when focusing on those two ends of the spectrum. The most disappointing dish turned out to be a generic green curry, something I wouldn't normally order anywhere of my own accord even in Thailand.
Tuna koi soy, a tartare, was the dish I was most concerned about when looking at the menu online, and it ended up being one of the most distinctly Thai flavored things I ate all night. Herby with vegetal lime leaf undertones, toasted rice powder chalkiness and a powerfully hot chile punch, this was a promising start. If this was what they could create with done to death tuna tartare (I really hope there's not a molten cake on the menu) my fears would all be misplaced.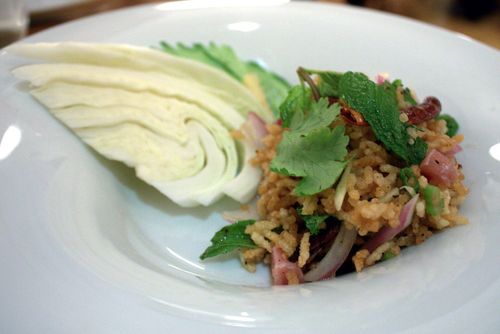 Two of the four starters–nam kao tod and koong sarong–were things I'd eaten before in Vegas, so that was also a good sign. The tangy crispy rice with sausage that's really more like cubed ham was fun and so were the tiki-esque fried bacon-wrapped shrimp enrobed in wonton skins with sweet-chile dipping sauce.
The satay was perfunctory (it's also one of those items I never order because it's rarely exciting and well, Malaysians and Singaporeans just do it better because they own it) and the pik kai yao sai, crispy chicken stuffed with its own meat and vegetables was solid, if not a bit Chinese in nature.
The rest of the tasting menu, two choices per course, was arbitrarily dispensed. I sampled both but only took photos of what was put in front of me first. Oddly enough, in nearly every case I was given the dish I would've chosen for myself.
The tom yum koong was appropriately salty, spicy and funky. I was pleased to see the shrimp head bobbing in the amber broth. It adds a welcome bitterness.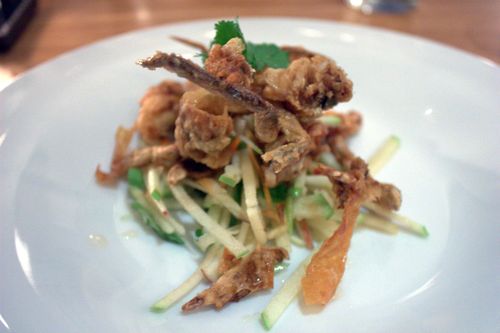 The soft shell crab yum using julienned green and red apples instead of shredded papaya is where they started to lose me. I might've been sold if the dish had heat to balance the fruit's sweetness but there wasn't even a speck of chile, fresh, powdered or flaked. If someone presented this to me as a nice salad and didn't say it was Thai, I would've liked it more.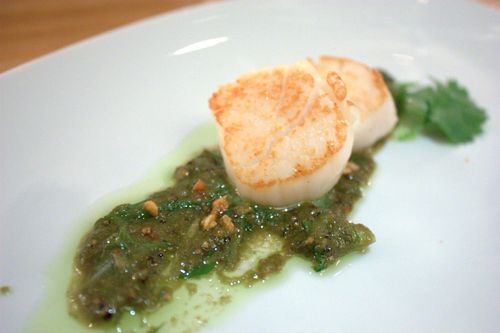 Scallops krathiam prik thai were an interesting diversion that came across as refined in presentation yet still Thai in flavor. The swamp green sludge was a viscous paste of cilantro, garlic and black pepper that was pungent but didn't overwhelm the seafood.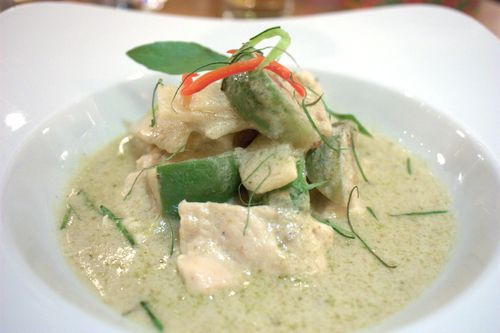 I'm glad they incorporated Thai apple eggplant (I wouldn't been ecstatic over those little pea-shaped ones) and that's the only nice thing I can say about the kang khiao wan. It was like a bowl of water with stuff in it and even the stuff tasted like water. Then again, I just really dislike chicken breast. (This didn't even come close to the anger-inducing chicken breast I was served at Spoon Thai in Chicago, though.) Tofu would've had more appeal. The packet of (unopened) curry paste I bought at Aw Taw Kaw eight months ago and rediscovered in my fridge's crisper drawer the night before this meal made a better curry.  The red curry beef, the other option for this course, was much more robust so I am not completely writing off Lotus of Siam's curries.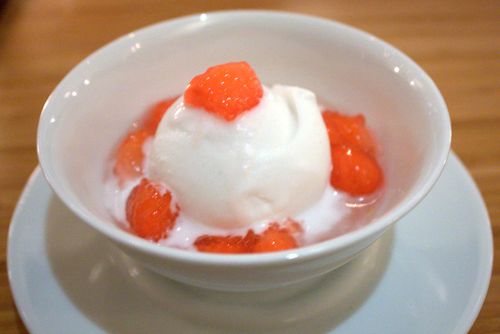 Thankfully, we were served a nice traditional scoop of coconut ice cream topped with strips of coconut meat, mango and "red rubies," a.k.a. water chestnuts coated in gelatinous pink tapioca starch and not molten cake. The common street vendor dessert might seem out of place on Fifth Avenue, but it brought me back to what Lotus of Siam is about.
Lotus of Siam is also a wine conscious restaurant, one of the strongest differentiators from NYC Thai, and I was happy to drink a few glasses of Reinhold Haart Riesling with my meal. There is also an on trend cocktail list, which I don't think exists in Vegas.
I have not tried Kin Shop yet, but it will be interesting to compare it to this experience since I think Lotus of Siam is closer in intent to that restaurant than most of the existing Thai venues in NYC.
Lotus of Siam * 248 Fifth Ave., New York, NY