Kasalta & Panadería España Repostería

Panadería España Repostería and Kasalta are similar operations. Both have long counters divided into sections: deli meats and cheeses with whole jamon serano hanging as an enticement, baked goods and confections and cooked foods and sandwiches. You order, pay, wait for your food, then find a table. Café con leche is popular in the morning, red wine an option for later in the day (though many drink soda).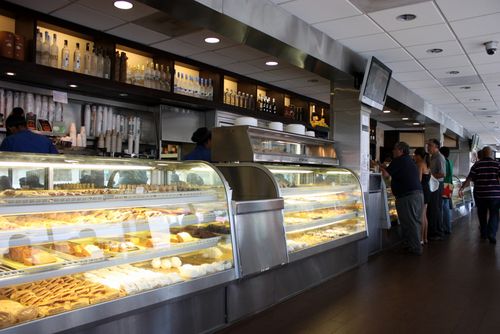 The second I learned about a ham and cheese sandwich served in a pan de mallorca, a popular sweet eggy roll, I knew I had to find one. La Bombonera is famous for theirs but we wanted to avoid the Old San Juan parking situation and instead headed to Kasalta, slightly out of the tourist zone (where the tight parking lot ended up being stressful anyway—the whistle-blowing attendant actually made things worse, not better).
A mallorca sandwich is a close kin of the monte cristo, possibly my favorite sandwich ever even though I never order one in NYC because they bungle them. I certainly can't think of another sandwich that comes doused in a snowfall of powdered sugar. Simple deli ham and swiss cheese add the savory to the flattened roll. I love sugary-meaty combos, though if I were to change one thing it would be the addition of mustard, like in a traditional monte cristo. It could use a little zing to offset all the fluffy sweetness.
I shared half-and-half and also split this pressed sandwich with crumbly slices of chorizo and cheese. Rich, oily and hefty. My kind of sandwich.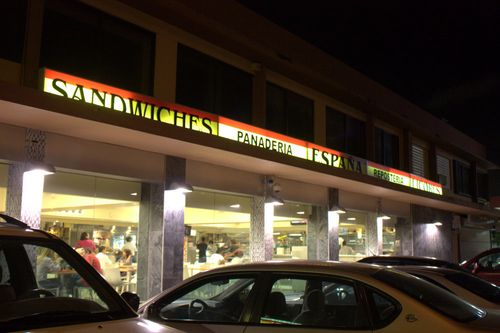 At Panadería España Repostería, another day, and at night instead of morning, we cobbled together a dinner from random things on display. Everyone seemed to be eating caldo gallego, so we did too. The soup is porky, flavored with both ham hock and little bit of cured chorizo. White beans, kale and potato chunks add more bulk.
Big fat rounds of octopus tentacles dressed in olive oil are also very Caribbean-Spanish. This salad is like the one at Margon, just declared number two of the Top 10 Best Things to Eat in Times Square by The Village Voice.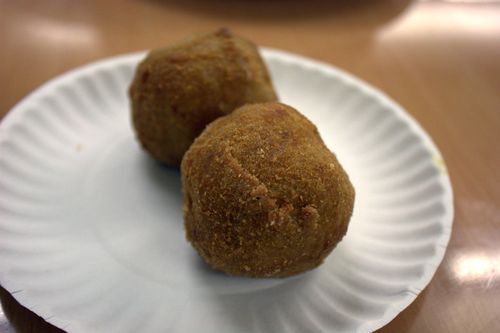 I thought I was getting an alcapurria from the glass case. These turned out to be balls of cheese, not gooey but warm and firm, very sharp and aged. Maybe a little too aged, it was hard to finish one.
This was the alcapurria, fried potato (and possibly yucca) molded around ground beef picadillo. There's almost something British about this fritter. Maybe if you added some peas and HP Sauce on the side.
Kasalta * 1966 Calle McLeary, San Juan, Puerto Rico
Panadería España Repostería * Centro Comercial Villamar, San Juan, Puerto Rico