Lechonera Los Pinos

1/2 In less time than it takes to drive from Carroll Gardens to Middlesex County, New Jersey—40 minutes, give or take—we were high up in the foliage-covered mountains of Guavate, navigating the barely two-laned, sharp-cornered road known as "La Ruta de Lechon" a.k.a. the pork highway.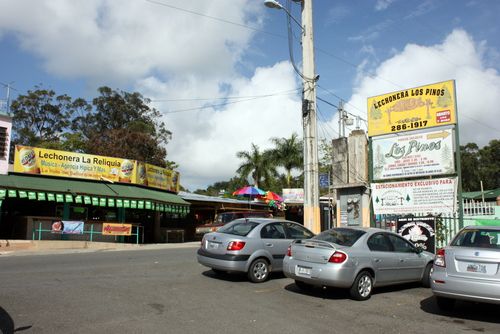 It's hard to know when to stop. It doesn't seem wise to pick the first lechoneras that appear on the horizon, no low hanging pork for us, so we carried on a few more miles until we hit a dense patch, parked and weighed our options. El Rancho Original was where the party was happening; their covered dance floor was booming with live salsa music and couples, many elderly, were putting on a show. We came back later for a drink and to hang out in the back picnic area with a little stream and wooden cabanas.
I'd heard about Lechonera Reliquia, it might've been mentioned in the Times. Compared to bustling Lechonera Los Pinos across the street, the open air dining room was kind of desolate (this was a Saturday afternoon—Sunday is the bigger day to go). Pinos, it was.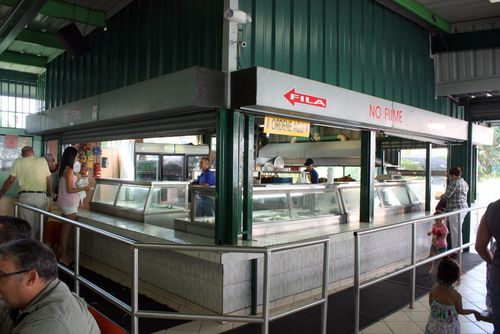 Despite everything I'd heard, you don't have to speak Spanish to communicate with the counter guys. I can speak basic Spanish and have a large food vocabulary—it's practically the only thing I can talk about confidently—but as soon as they realize you're not a local, they turn to English.
We ordered a pound of pork. I knew I wanted morcilla, but just a little because I was still kind of full from breakfast (not realizing how quick the trip would be, we ate giant sandwiches at Kasalta before heading out of San Juan). They gave us a lot. Blood sausage signals that you're serious about food. We started getting sides pushed on us like crazy, in a we're happy to show off our food, not a running up the bill way. Even if you went wild, I doubt you could spend over $50. Trying to stay on course, we asked for pasteles and rice and beans, no more. A cold bottle of Medalla, and you're set.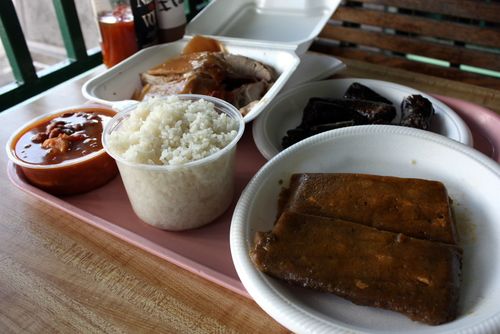 This was our spread. Minus the big helping of rice (I'm not a big rice-eater), this would've been an acceptable lunch for a hungry twosome. We ended up taking half of our food to go. I was knocked out until 10pm when came up with an un-starchy dinner idea: ceviche.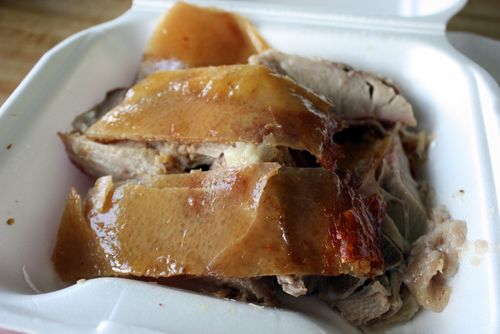 The moist slices of meat had just enough fat attached to remind you that you weren't eating lean, low-flavor American pork. And the skin? It was like hard candy, brittle and shard-like on the surface with a gelatinous chew. Looking at this Styrofoam container now, I feel like I could've eaten the entire thing. In reality, one hunk is meal-endingly rich.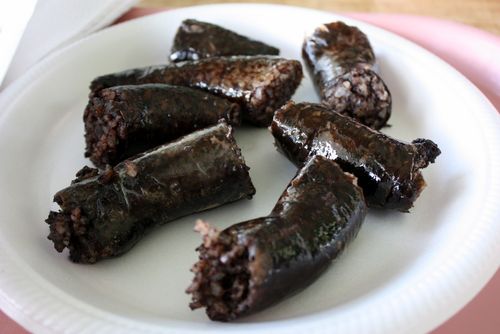 Puerto Rican morcilla is heavy on the rice and closer to Spanish morcilla de Burgos than the blood sausage I generally encounter in NYC. It was also spicier than I'd expected. In my experience, the only heat you get in Latin Caribbean food is from vinegary chile sauces offered on the side, not the food itself. Los Pinos offered such a hot sauce in appropriated vodka bottles.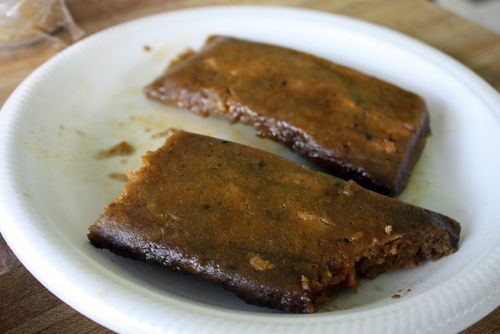 In addition to cilantro, chiles, coconut and avocado, banana leaves are another Southeast Asian-Latin American similarity. Pasteles are like tamales made with a plantain dough, usually filled with pork and steamed in banana leaves. I could imagine a non-traditional pastele stuffed with fish and red curry.
The band was setting up as we were about to leave.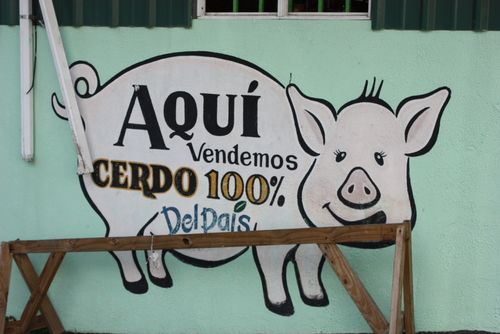 Oh, while just looking up the exact address—they use kilometer markers—I discovered that Los Pinos is where Tony Bourdain went on No Reservations. I'm not surprised; it felt like the most enticing lechonera on that stretch of Carretera 184.

Lechonera Los Pinos * Barrio Guavate, Carr. 184, Km. 27.7, Cayey, Puerto Rico