Kaiten, a.k.a. conveyor belt sushi, was oddly popular in the malls of both Penang and Bangkok. The glory didn't belong to a single chain either; competitors resided on the same floors or one above the other like Sushi King and Sakae Sushi in Gurney Plaza.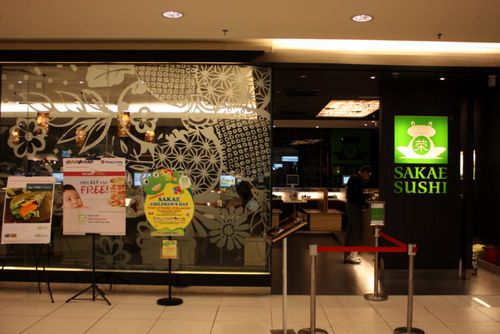 We chose Sakae Sushi, a Singaporean chain, which I'm now seeing has/had (the URL is dead) a midtown and West Village location. I had no idea. I would not be surprised if this hyped in 2008 restaurant was already kaput because the food isn't anything special once you get past the novelty.
But if I'm in a foreign country for at least five days, I feel ok with branching out into other cuisines than what's native. We'd crammed in so much laksa, rojak, satay and char kway teow into our first few days in Penang that I was ready for something lighter, maybe Japanese. Inevitably we ended up with lots of ricey/fried dishes so my original intent was lost.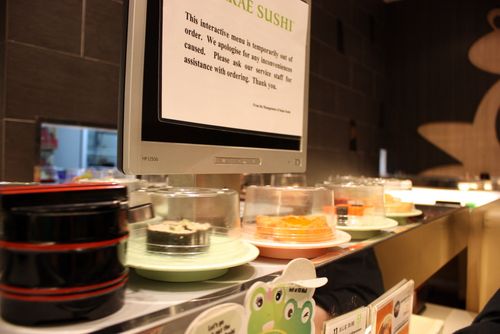 I was a little excited about the touch screens at each table so you could order with zero human interaction, but we got the loser space for two with a broken monitor. This was a strange aspect of Penang—we always got horrible seats. Others had huge booths for small groups while we got a cramped tiny table hidden in the back. Being the only Westerner in a place can go two ways—either you get uncomfortable, over-the-top service or the staff gets weirded out and tries not to interact with you. This was the latter.
You pay by the plate, which are color coded. On the low end a green plate of simple vegetarian sushi might cost 60 cents and a special black plate prawn concoction with kimchi and tomatoes might cost $3.75. Nothing is outrageously priced, which is why we were surprised that we managed to spend $45 (tax and 10% service charge included—to tip or not to tip always posed such a dilemma), our most expensive meal in Malaysia at that point. A couple Tiger beers were also involved.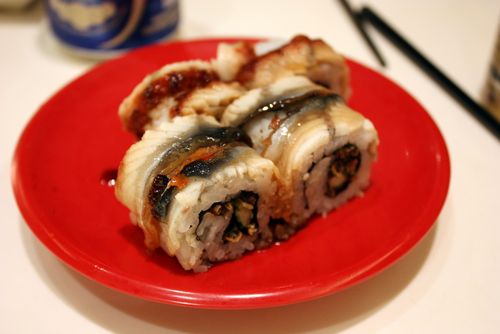 Eel-wrapped something or another.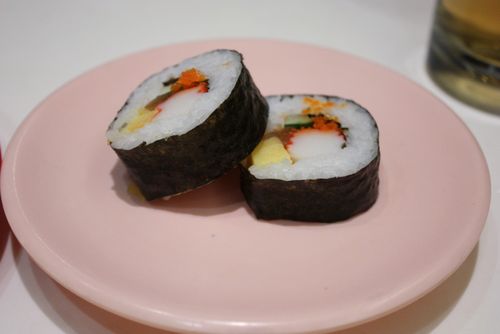 Some cheapo crab stick, omelet sushi.
Soft shell crab tempura with ponzu dipping sauce off the menu.
Sashimi, also off the menu. They go for practicality over presentation, leaving the icepack beneath the raw seafood.
Fried chicken nuggets. I grabbed the plate because of the fish cake sails.
I just like the fried fish head popping out of the roll.
Tempura'd sushi.
Sakae Sushi * Gurney Plaza 170-03-87/88/89, Penang, Malaysia