Air Itam Laksa

"Laksa," the taxi drivers hovering at the bottom of our hotel's driveway in Penang started calling out when we'd walk past. "You like laksa! You want more laksa?" Embarrassed and a little proud, we'd have to turn then down, "No, we're just walking."
Penang is not a huge place, so after one of the men drove us out to Air Itam for laksa on our first day on the island, we became recognized as the laksa-lovers. I liked that about Penang, that locals were kind of amused but didn't think it was particularly odd that the Westerners wanted to go on laksa excursions.
For contrast, in Bangkok, we used Saochingcha, the Giant Swing, as a landmark to direct taxis, not because we wanted to see the monument or the wat next to it, but Saochingcha was a word we could pronounce and that would be recognized and happened to be near a good eating neighborhood off the subway system, away from the hotel strips of Sukhumvit and Silom.
But when we asked our doorman at our first hotel to explain our destination to the cab driver (one of the most humbling aspects of traveling in a non-English or Spanish speaking country) he was discouraging and warned, "There's nothing to do there." Our "Oh, we're going to eat" reassurance just baffled him further. Later in the vacation when we told the man directing cabs at MBK that we needed to get to Saochingcha he actually shook his head at another staffer and rolled his eyes.
Air Itam, a community that's also home to Penang Hill (sadly, they closed the funicular just a week before we arrived—not that the rickety incline during a rainstorm didn't jangle my nerves on our last visit) and Kek Lok Si temple, is just under four miles from the Gurney Drive area but feels much more isolated. I actually saw a man using a kandar, a long wooden pole atop his shoulder to carry plastic grocery bags, a modern nod, rather than balancing pots or baskets of yore. The entire area west of Air Itam on Google Maps is blank.
Air Itam is also known for its laksa. I had read that this corner stand is a tour bus stop and feared mobs, but when we arrived in the early afternoon no one else was seated at the few metal tables.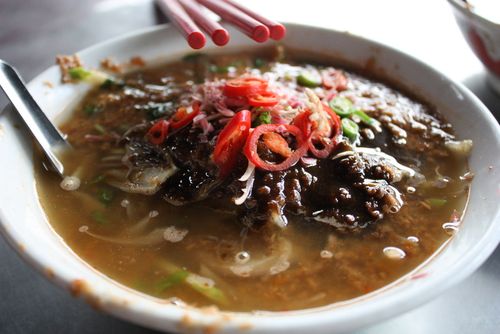 The first thing you'll notice about this soup is that it's much chunkier than what you typically find at stalls. They use a base that contains a larger proportion of flaked mackerel. Combined with the fat, round rice noodles just below the surface, even a smallish bowl (they have one standard size for RM3.00, which seemed to be the going rate for laksa in Penang, about 90 cents) is hearty. We were asked if we wanted chiles. Yes, and you should too. Malaysian food is spicy but rarely hot. The red chile rings meld with the sludgy topping of mint, onion, cucumber, bunga kantan (torch ginger bud—not that that means much of anything here either) and black prawn paste, and makes the whole hodgepodge taste like…well, laksa.
Easier said than done. I've never attempted to cook this asam style at home but my forays into laksa lemak and Sarawakian laksa (using a paste straight from the Malaysian state) fell flat. Something is lacking (don't say love) and the flavors always end up dulled. Good enough for NYC but not great.
Air Itam Laksa * Jalan Pasar next to the Air Itam Market, Penang, Malaysia