Lizarran

Is it shameful to eat chain tapas in a city with a grasp on creative Spanish nibbles (unlike other places in the US where eggrolls, sliders and mini-pizzas have been bestowed with the T word)? As someone who has eaten chain tapas on their home turf, Cañas y Tapas in Madrid, I say no.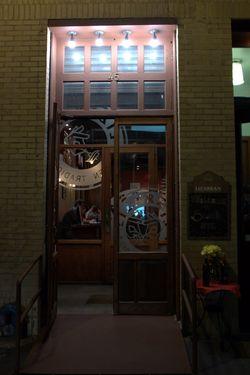 When I heard that, Lizarran, whose parent company also owns Spanish chains like Cantina Mariachi and CH!NA ¡BOOM!, had spread as far as Russia and even had a location in a place called Walmart Commercial Centre in Shouzou, I needed to see their first NYC outpost in person.
Despite being in Soho, the restaurant feels more awkward and earnest than its surroundings. Maybe I'm just responding to the little table with flowers and bottles of sitting outside the front door. Welcome to Spain! handwritten in rainbow chalk above the tableau.
I feared a reliance on greatest hits—brie on the cheese plate didn't put me at ease—and while a good deal of the printed menu was perfunctory, blackboard specials like carrilladas (pig's cheeks), morcilla (blood sausage) and callos (tripe) were more adventurous than the tortilla and gambas everyone knows and loves. 
On the early side of Friday night, the narrow brick-walled room with a large amount of tables in the back, was far from bustling. I know I can be crowd-phobic but tapas demand an element of conviviality (indoor smoking wouldn't hurt the mood either). Diners were composed of an after-work group enjoying pitchers of sangria, gallery girls making a dinner of a single vegetarian pintxo, and a young couple lording over an item each like they were entrees. I would never occur to me to stop in a tapas bar to eat a bowl of soup.
Pintxos, things served atop slices of bread and held together with a toothpick, are housed under see-through domes at the counter much like you'd see in Barcelona. Periodically, servers will pass by tables with a sampling, and you can pick and choose, $2.50 a piece. We ate two. The rest of this meal we ordered from the menu.
This was a simple chorizo pintxo like you'd get for free with a drink in Madrid.
The fried piquillo was a bit more elaborate. Our server had no idea what the pepper was stuffed with so I took a chance assuming it was salt cod. It turned out to be shredded meat, more beefy than porky. No, I couldn't say for sure and this wasn't alarming.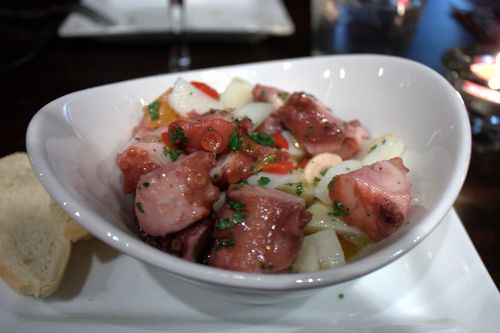 Pulpo a feira wasn't terribly paprika'd but the octopus was tender.
Huevos estrellados con chistorra sounded similar to the good and greasy huevos rotos we'd encountered in Madrid. The concept was the same. These sliced boiled potatoes were too healthy, though. A crisp-fried base for the eggs and stubby Basque sausages would've been perfect.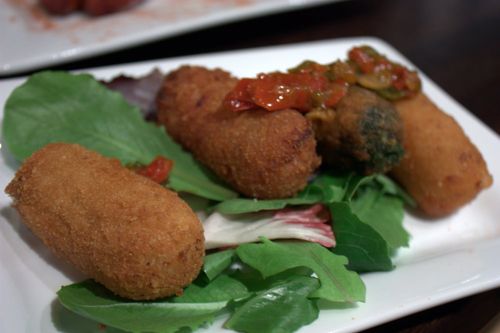 The two croquetas I ate from this sampler were made of ham and spinach raisin. I never find fault with croquetas.
I would like to see more emphasis on the pintxos because that's where Lizarran could differentiate themselves from other tapas bars. The setup was a little confusing; it wasn't clear if you were supposed to wait for someone to bring them by your table since there isn't a steady dim sum-style stream (or enough patrons to demand fast turnover) or if you should go up to the un-inviting counter and choose your own.
Lizarran * 45 Mercer St., New York, NY