What? No Paneer Poppers?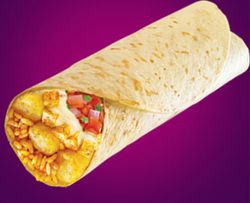 Of course I have a bit of a fixation with the worldwide spread of chain restaurants. No one else seems to share my fascination, which is why I'm surprised that the news of India's first Taco Bell has stirred up so much online chatter.
Maybe it's because the offerings sounds kind of good in a hippie junk food way. More spice and a "Mexican paneer" potato burrito (pictured)?
And in case you're not sure what a tortilla is, that's covered in the FAQ:
"It's a tongue twister, apart from being a product which looks like our 'chapatti' and is made with flour. This is filled with unique combinations of Mexican inspired ingredients & then rolled / folded / grilled to make great tasting, craveable products."
McDonald's who may increase spending in Asia as much as 20% this year, is also betting on heat—spicier sauces is one of their strategies.
Even the British with their stereotypically staid food have chosen fajitas as dinner party dish of choice. Tex-Mex? I'm still not sure that I believe that.