Mallard Reaction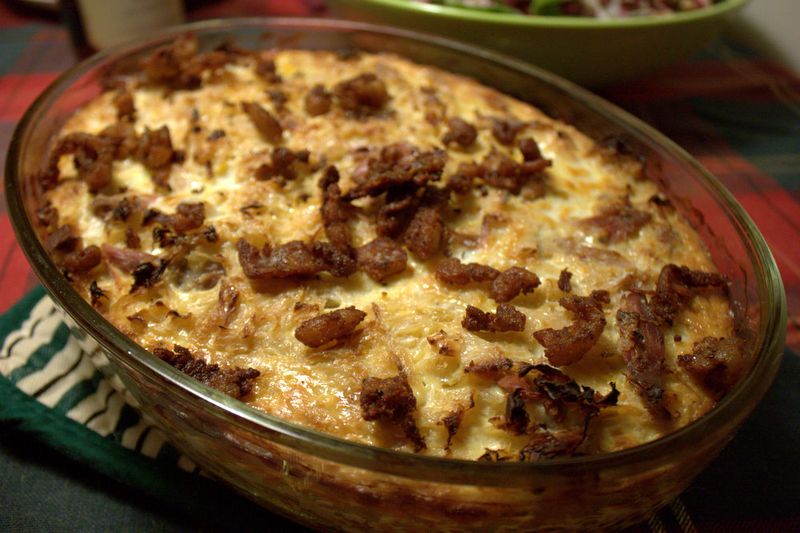 Christmas is done, over dead. So, twelve days ago. But now that chicken skin has been declared the new bacon so soon into the new decade, I must mention that duck skin is even better, a fact I discovered while piecing together a casual Christmas Day meal based on items I already had in the apartment.
I made classic Swiss fondue for the second time that week (and now I'm wondering why my pants are snug) as well as a salad using more gruyere, bitter radicchio and toasted walnuts. I also wanted a more substantial dish to go along with melted cheese. German? Austrian? Not themes I've ever dabbled in. Ok, then, Alsatian?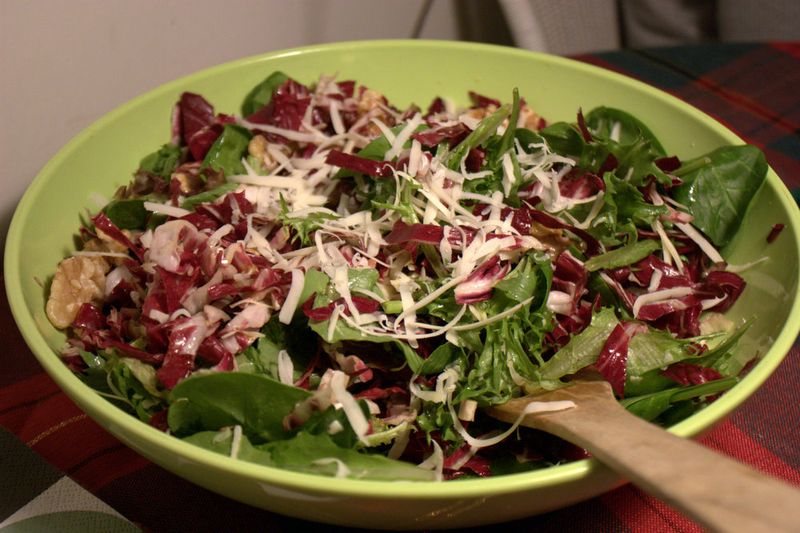 I had the necessary eggs, cream, milk, nutmeg and duck confit (courtesy of Costco—these legs had been in our freezer for an emergency quick meal. What I didn't realize was that they came coated in a ginger-orange sauce) for an unusual gratin. Only the sauerkraut and juniper berries were lacking. Yes, a casserole using two pounds of pickled cabbage.
Carroll Gardens can be a frustrating neighborhood for like ten million reasons and my complaints shift daily, but on Christmas Eve my beef was with the absence of a normal pesticidey fruit and processed cheese selling store. You cannot buy sauerkraut at Korean delis or Caputo's or Gourmet Fresh or the brand new useless Union Market or the Trader Joe's that had two lines wrapped around the entire circumference of the store and only one wedge of Emmental left on the shelf.
Ultimately, I ended up at the Met (which I don't consider a quick one-ingredient neighborhood grocer because it's eight blocks away) where a nice refrigerated bag of White Rose, (Krasdale's kissing cousin) sauerkraut was on sale for $2.09. Thank you, regular grocery store.
I won't even get into juniper berries. I'm certain if I'd walked the extra few blocks to Sahadi's I could've found them but one patience-trying wait was all I could take on one almost-holiday afternoon. Note to self: next time you see juniper berries, buy them to stash for later. This will practically guarantee never needing them for a recipe again. I ended up splashing a bit of Bombay Sapphire into the pan hoping to capture a little juniper essence.
But back to the skin. You remove the fatty layer from the duck legs, shred the meat into the sauerkraut and custard, which gets baked, and then slice and slowly pan-fry the strips until brown and crunchy. They become the salty, crisp-chewy garnish.
I even managed to an alleged duck-hater to sample a bit of this dish. I actually thought the sauerkraut would be the hard sell, not the water fowl. But there you go. Rich poultry and fermented cabbage are not so bad together.
Duck skin wrapped dates stuffed with blue cheese? Peking duck poppers? Canard croutons? So many pork-free possibilities.