Convivio

No more Convivio or Alto. (3/4/2011)
One-day's notice won't have you dining at Marea or Scarpetta earlier than 10pm while Convivio will grant you 1,000 Open Table points during all hours not just at geriatric 6:45pm, the exact time I willingly paid a visit to the Tudor City restaurant, glowing warmly from afar on a snowy, otherwise lifeless block. The only other time I've been that far east on 42nd Street was to meet with a library recruiter (they exist) in the lobby of her coop. It's that kind of neighborhood.
Beyond salumi, sharp cheese, crostini maybe with chicken liver or fava puree and little dishes of marinated vegetables eaten with inexpensive red wine, I never initiate an Italian meal. Something about the holidays and drop in temperature, though, demanded not just pasta but hearty Southern Italian, the same cuisine I avoid like landmines near my apartment.
The $62 prix fixe (two sfizi or one antipasti, pasta, meat or fish and dessert) is really a good deal and a substantial amount of food (which didn't hit me until I stood up and had to think twice about eggnog at The Campbell Apartment. It turned out that don't serve it anyway so my system was spared the creamy beverage…temporarily. A glass of eggnog did end up in my hand at Waterfront Ale House later) and the wine list was also friendly to those with little interest in pricy mature reds. I chose a bottle of Occhipinti SP68, a Sicilian Nero D'Avola/Frappato blend ($55).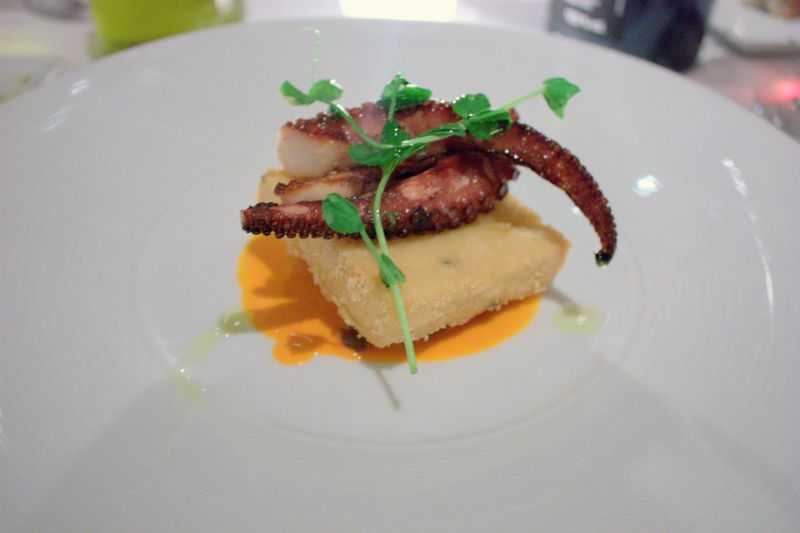 polipo/grilled octopus, chickpea panissa, olives, red peppers
Both the chickpea cake and octopus legs were light; the cephalopod with just enough chew and the panissa especially flaky. I could see this being done with polenta, but that would bog the whole thing down.

rigatoni/marsala braised tripe, cannellini beans, spinach, pecorino grand cru
Rarely a pasta-craver, rigatoni would never be an obvious choice to me because the fat tubes are a lot of noodle. It's always about the accompaniments, though, and I'm glad that I didn't shy away from what appeared to be the humblest of the ten available pastas offered. Gelatinous rectangles of honeycomb tripe—a cut I associate strictly with menudo or dim sum—definitely held up to the rigatoni. There was a lot of crunch from miniature cubes of celery and carrot, which worked against the softness of the cannellini beans.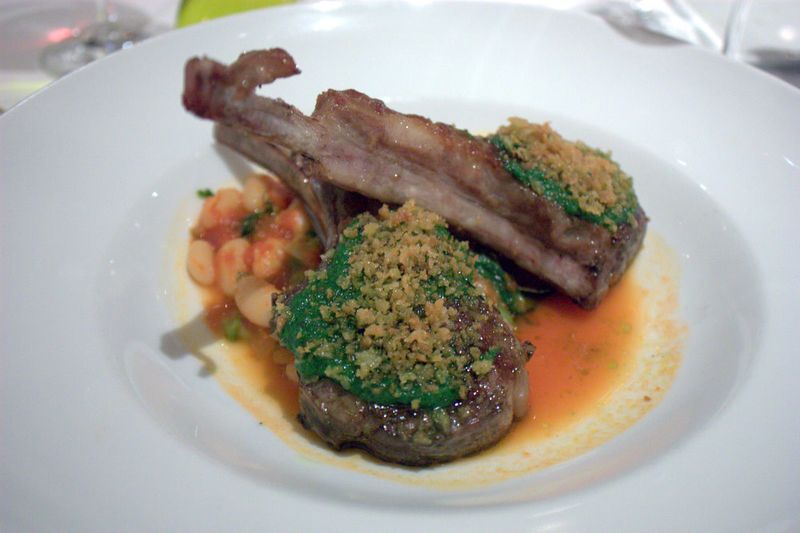 scottadito di agnello/grilled lamb chops, salsa verde, escarole, beans
It's hard not to love a medium-rare lamb chop ringed with a few bites of charred fat. The vinegary salsa verde cut a bit of the richness. Ack, but those cannellinis again. (Nothing against the beans—I just used them tonight along with canned tomatoes and frozen fish in a lowerbrow version of Eric Ripert's roasted cod with white beans, tomato and truffle oil. It was the best I could come up with since I haven't gone grocery shopping since before Christmas.) I mean, it did say beans in the description, I was just imagining a different legume from the rigatoni. And while I am loathe to admit food aversions (it makes you look narrow minded) cooked tomatoes, the main reason why I'm prejudiced against Italian-American food, ever excite me. I feel the same about Provençal dishes like ratatouille. I wouldn't even see the movie with the same name. Ok, I'm a fussbudget.
So, the lamb was near perfect and the side and sauce were dull according to my biases. If you love tomato sauce and don't order a starter with cannellinis, you'll probably enjoy this greatly.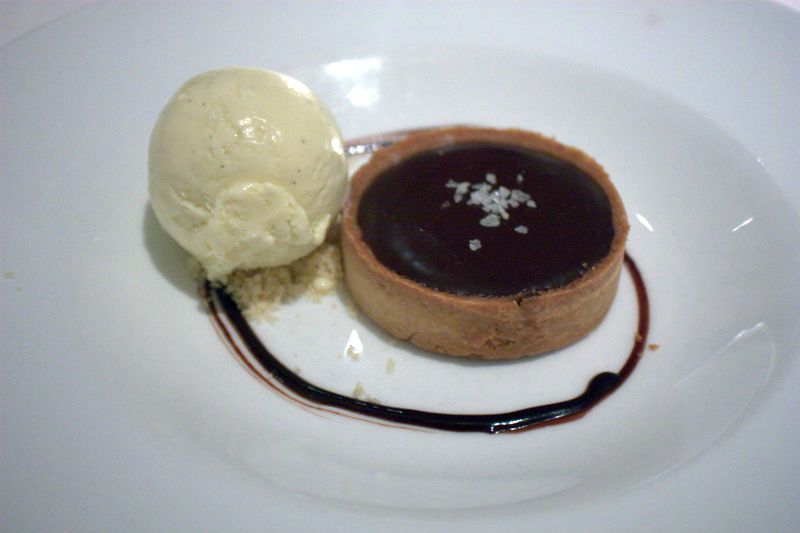 tartaletta di caramelle/valhrona chocolate ganache, salted caramel, vanilla gelato
I was swayed by the salt and caramel, but this firm little tart was also very much about the thick chocolate layer. The gelato added an overall creaminess but the vanilla flavor was a little quiet. Would caramel gelato be overkill?
Chef Julian Medina was seated with a group in a nearby curved banquette and was the only person who seemed to notice when my camera came out (never with flash and always lightning fast—no attempts at professional quality are made). A mildly consternated expression crossed his face insinuating, "Eh, bloggers." I am the enemy.
Convivio * 45 Tudor City Pl., New York, NY