Marco Polo

I didn't anticipate eating fish on Thanksgiving. I didn't have any plans at all for El Dia de Acción de Gracias, quite possibly the longest phrase ever to approximate one compound English word. But that Thursday afternoon I had one last open spot for a full meal and took the opportunity to try Marco Polo, a reasonably priced seafood restaurant that is a favorite with locals with outdoor seating and clay oven. Everyone says the location along El Llano park is better than the one in the center of town so that's where I went.
The rack on the left contains dishes waiting for their turn in the wood-burning oven.
Tostadas, crackers and bread, all bases covered. Marco Polo seemed particularly concerned with hygiene. The bread basket and ceramic dish of chipotle mayonnaise both came wrapped in plastic and the servers all wore surgical face masks.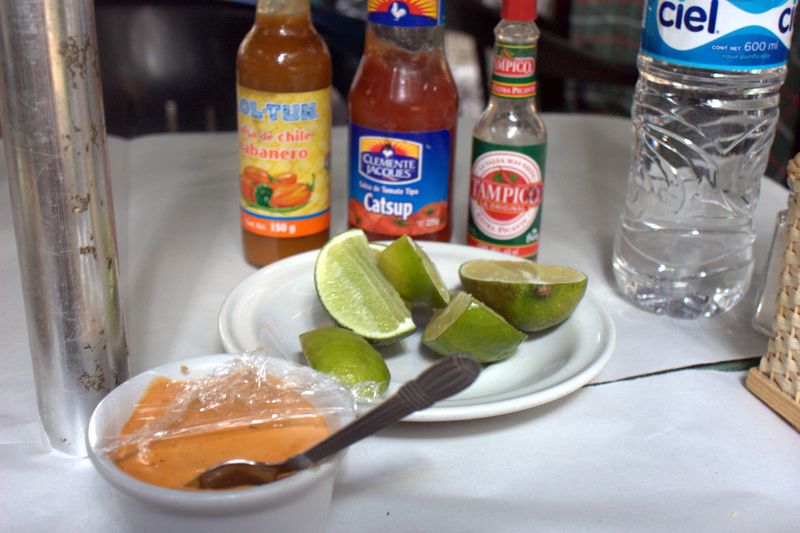 Condiments aplenty. I wasn't sure how the mayonnaise fit in but observed others slathering it on the dried corn tortillas.
I chose the small shrimp cocktail to start with. There were endless combinations of seafood in sauces as well as ceviches. This was one of the few that didn't contain ketchup. I just wanted to taste the shrimp enhanced by lime, tomatoes and jalapeños.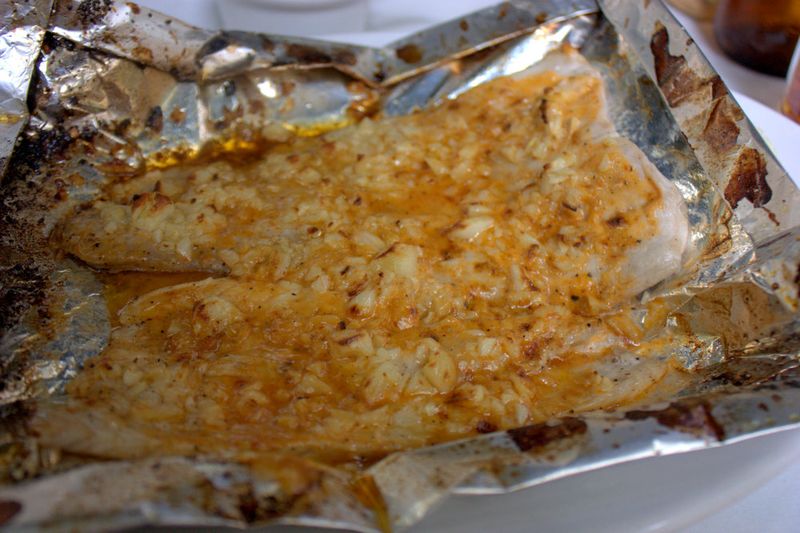 The huachinango al horno (red snapper) was so simple and wonderful. The baked fish is coated with chipotle mayonnaise (apparently their trademark), which keeps the flesh moist and is liberally sprinkled with roughly chopped garlic (they ask if you want garlic or not—I think you do).
If not being able to share a plate of botanas was the biggest downside to being a solo diner, never having room for dessert was a close second. Not once did I have the appetite for a postre, and here it seemed like a genuine shame. I'd heard and read from numerous sources (including two waiters who were disappointed when I declined) about the plantains and rompope that also get the wood-burning oven treatment. Dear lord, I searched Flickr using keywords: bananas marco polo, and this is what I found.
Marco Polo * Pino Suárez 806, Oaxaca, Mexico