Los Danzantes

1/2 Los Danzantes was by far the prettiest, chicest restaurant I dined at in Oaxaca. Dramatic at night, the open-air courtyard strewn with foliage, fountains and surrounded by towering bottom-lit stone walls, actually made me feel more alone than relaxed. The space and elegant take on local cuisine (they're adherents the Slow Food movement) scream date restaurant. While my meal was impressive, I did start having second thoughts about visiting higher end Casa Oaxaca later in the week. I would've felt even more solo, I think.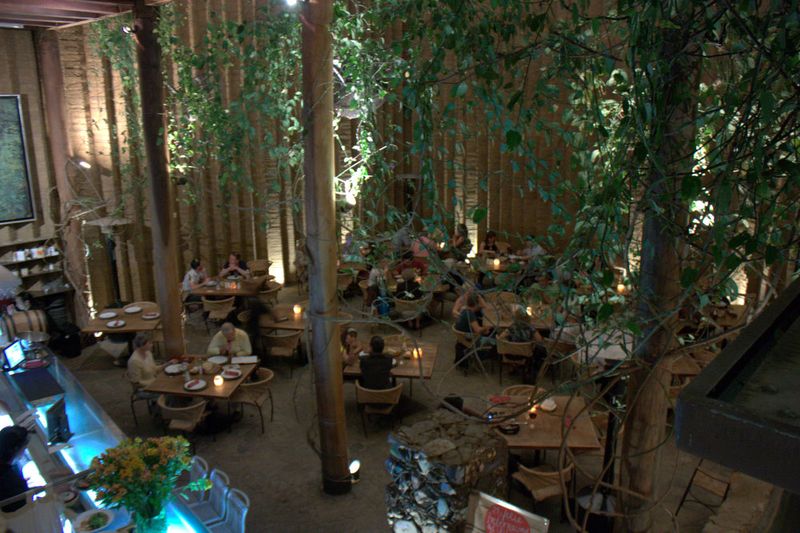 I was surrounded by couples, exclusively tourists or expats it seemed. I couldn't ignore a nearby large table that appeared to be occupied by a Spanish-speaking man with grown children and a ruddy, boomer American woman, who I could've determined was American without hearing her speak, those drawstring cuffed cropped cargo pants did all the talking. She was loud, animated, self-possessed, not a New Yorker, earthy, well-off, a Whole Foods shopper. I really only took notice about half-way through my quiet meal when her college-aged son showed up and she went hysterical and emotional and if I heard correctly (I had no choice; despite the tables' generous spacing, sound carried) she hadn't seen him since August. It was only November. Clearly, I have no understanding of close-knit families as I can go years without seeing my mom in person.
Demomstrative was all I could think. Posing and photo snapping began, flashes. When I caught the son glancing at his watch as if he had someplace more pressing to be, I felt slightly relieved.
Maybe Los Danzantes is made for family reunions. Via Twitter I noticed that Top Chef Master, himself, Rick Bayless was there this week for an annual Christmas with family. He exudes Midwestern wholesomeness and he's chatty as heck on Twitter; I wouldn't be surprised if Rick was the demomstrative member of his family.
I started with a cocktail that I can't remember clearly now, though I'm fairly certain it was a margarita with a smoky element. I do love how the bread baskets are a mish mash of both said bread and tortillas, salsas and butter as accompaniments.
Flor de Calabaza Rellena de Queso y Hoja de Aguacate con Sopa Ligera de Chayote y Chapulines/Cheese-Stuffed Squash Blossom and Avocado Leaf with Light Soup of Chayote and Grasshoppers 
Clearly they meant light in flavor not texture. I was only given a fork with this (possibly an oversight—my service was a little wonky, as scrawled in my notebook, "Slow Food but oddly harried atmosphere." The black-clad waiters with ponytails, facial hair and Converse moved faster than anyone I'd seen in leisurely Oaxaca. I had to slow down my walking pace 70% to not mow down pedestrians on narrow sidewalks) but the soup was thick enough to eat in that manner. The focus was definitely on the squash blossoms filled with mild cheese. Small, dried bugs do not scare me (the thought of sago worms, on the other hand, makes my stomach seize up) so I felt compelled to order the starter involving chaupulines. I did end up nibbling them straight up, the more traditional way, later in the week. It's hard to describe the flavor because it's the chewiness that is more prominent. They really don't have a distinctive taste beyond a slight tangy saltiness.
Escalopas de Pato al Chichilo con Verduras, Papas y Pepitas/Duck Breast in Mole Chichilo with Vegetables, Potatoes and Pumpkin Seeds
Chichilo is one of the so-called seven moles of Oaxaca and incorporates local chiles like chilhuacle negro and is less rich and sweet than the popular mole negro. This is definitely nuevo and I got caught up in the duck, which I'm often drawn to. But the protein, vegetable, potato convention is a bit continental for my taste. Hotel-like. The carrots and zucchini weren't terribly exciting but the duck was perfectly medium-rare.
Los Danzantes showcases a large number of artisanal mezcals and have their own distillery. I sampled the joven (and later bought a bottle to take home at their retail shop, a block from my hotel) because that was what was suggested to me but they also have a golden reposado and darker anejo. I am still kicking myself for not picking up any sal de gusano, the traditional ground worm, chile-laced accompaniment for mezcal. It's savory, salty, spicy, a little umami, and impossible to find in NYC. I can't even find it for sale online.
The she-jaguar in the women's bathroom stall is a bit jarring. Maybe more so after a few cocktails.
Los Danzantes * Macedonio Alcalá 403-4, Oaxaca, Mexico