The Cardinal Rule
Ah, Super Bowl. The perfect excuse to drink too much on a Sunday and fry the heck out of things. Luckily, the lack of an F train (could a subway line possibly be more useless? And don't say the G, it's always come through for me) didn't dampen spirits or scare away guests.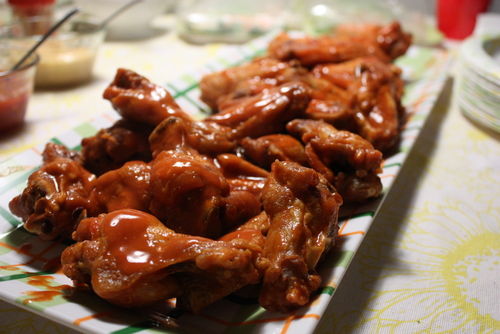 Of course there were wings. And unusually hot this year. I think someone got carried away with the cayenne pepper.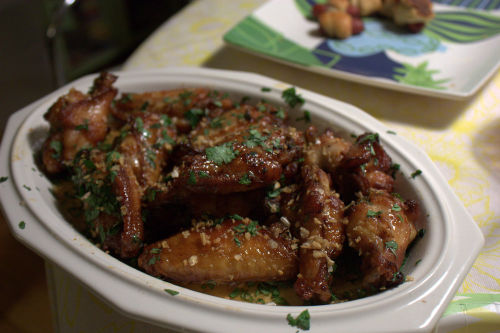 My annual plea for non-Buffalo wings was finally granted this year. I never man the fryer but I do try to influence what gets dipped into the bubbling oil. This Vietnamese-ish recipe came from the chef of Pok Pok, a Portland Thai restaurant that I always read good things about but have never tried because I am bad and never visit my hometown. Thai food is not enough of a draw, I'm afraid. These were sweet and salty. I would've liked to have eaten more than one.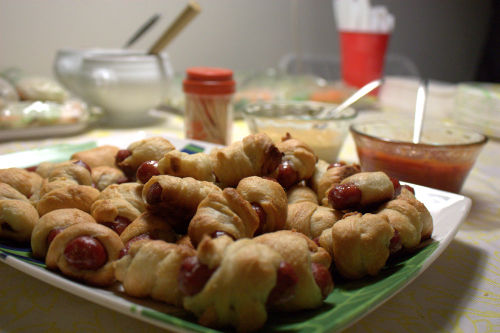 I've never made wiener wraps out of Lit'l Smokies in my life, and then the one year I do someone brings a big pack from Stew Leonard's. Call them lowbrow if you will but there was not a single piglet in a blanket left by the end of the evening.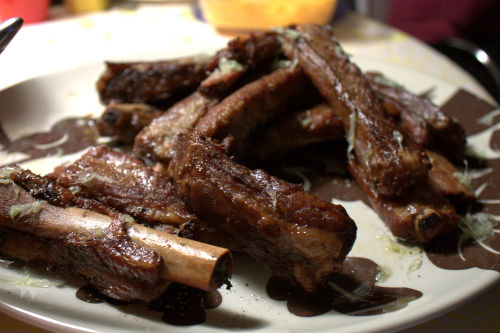 An attempt to recreate the salt and pepper ribs at Irving Mill was not unsuccessful though not exactly the same either. These were braised in soy-orange juice blend, which added a touch of sweetness. And the finishing lime squeeze added more citrus punch, as you can see pulp got all over the place. As you can also see, the pile was decimated by the time I realized ribs had been brought out. The crisp-and-tender interplay was right on.
Trying to balance the fried with the fresh, I made Vietnamese rolls (there wasn't an intentional Vietnamese theme), some with pork belly and shrimp, others with smoked tofu. The vegetables included bean sprouts, lettuce and carrots. I just can't bring myself to use rice vermicelli, a crime akin to rice inside a burrito. For dipping there was a hoisin-peanut sauce based on White on Rice Couple's recipe and a nuoc cham that used both lime juice and rice vinegar. Maybe a little too tart? You could make 50 of these (think I made around 35) and they will still all get eaten.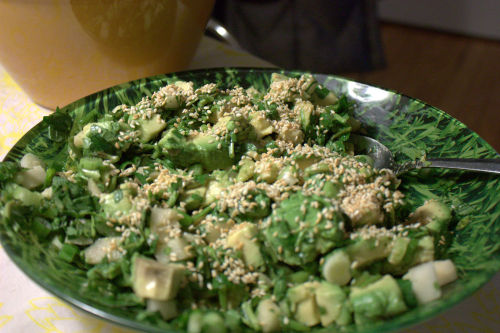 Also, a Japanese-flavored avocado dip/salad with jicama, watercress and wasabi-soy dressing for the sake of variety. I figured others would bring guacamole (for the love of god, don't say guac) and sure enough two showed up bearing the chunky green gift.
No photos of the two cakes that were randomly brought from New Jersey Wegmans by two different people. Everyone in the know goes to Wegmans.
For whatever reason, certain party-goers watch the smaller downstairs TV instead of the big HDTV in the living room. The 30-or-so seconds delay between analog and digital becomes apparent when wild screaming bellows from the basement and nothing exciting happens for upstairs until half a minute later.
I don't even follow sports. I just like having people over, drinking and making food (not the cleaning, however. James went on such a scrubbing and mopping rampage that he's now physically sick. I honestly don't think the average person notices dirt the way he does). However, guests did get riled up as evidenced in this video documenting the downstairs/upstairs divide. I had no idea such fervent Cardinals fans were in the house.